In addition to being useful pieces of furniture, bunk beds may also serve as a blank canvas for creative expression and cutting-edge design. Single bunk beds provide a wide range of unconventional design options for decorating a child's room, a guest room, or a small living area. In this blog, you'll delve into some enthralling design ideas that may turn a straightforward bunk bed into a focal point.
Single Bunk Beds
The days when single bunk beds were only used to save space are long gone. They provide an opportunity for you to give your living spaces personality, charisma, and creative flare today. Each design style has its own narrative to tell. In this blog, we set out on a voyage into the world of bunk bed design, looking at creative ideas that may turn these sleeping arrangements into artistic expressions of individuality and style rather than just functional furniture.
You'll explore alternative design ideas by Tender Sleep in the parts that follow, each of which will give your area a distinctive feel.
Nature's Embrace: Cosy and Rustic
Imagine having a bunk bed with mattresses that brings the cosiness and peace of nature into your bedroom. Pick wooden picture frames with rich textures, earthy colours, and natural finishes. To complete the effect, add touches of lush green, cosy blankets in warm colours, and botanically themed artwork. This layout will produce a calm and welcoming environment that will give you the impression that you are resting in a tranquil woodland.
Modern Simplicity: A Minimalistic Marvel
A minimalist bunk bed design is the way to go for folks who like clear lines and tidy areas. Select slick metal frames and match them with simple hues like white, grey, and black. Simple geometric motifs and useful storage options should be used for the decor. This type of decor will make your space feel more spacious.
Coastal charm in Nautical Dreams
With a nautically themed bunk beds design, you may instantly transport yourself to the shore. Pick a colour scheme that is mostly blue and white, and then fill the room with nautical details like rope, worn wood, and artwork with nautical themes. Your space will have a light, seaside feel.
Urban Chic Industrial Fusion
Consider an industrial-themed bunk bed design for a tough and urban feel. Combine metal pieces with exposed hardware and rough-surfaced hardwood components. For a current yet classic urban loft look, accessorise with decor and lighting fixtures with vintage influences.
Wonders of the Whimsical: Playful Imaginations
A quirky bunk bed with mattresses may be magical for both children and adults. Design bunk beds that resemble treehouses, castles, or even spacecraft by using your imagination. Make use of inventive forms, fun colours, and accessories to pique the imagination. For individuals who believe in preserving their inner kid, this design aesthetic is ideal.
Classic Charm: Elegant Timelessness
A retro bunk bed design may take your room back in time. Add aged finishes, baroque detailing, and distressed wood. Choose vintage patterns to bring back memories, such as flower prints or elaborate motifs.
Scandinavian Simplicity: Comfortable Function
Functionality and comfort are the main goals of Scandinavian design. Pick light-coloured wood, simple designs, and useful storage options. To create a cosy and welcoming environment, add warm fabrics to the space, such as wool blankets and fake fur rugs.
Bohemian Rhapsody: Eclectic Freedom
A boho design aesthetic will add a splash of colour, patterns, and textures to your bunk bed setup. Combine bold hues, erratic patterns, and a lot of pillows and throws. To give your area an eclectic feel, include natural materials like woven baskets and macrae decor.
Fan of Sports: Dynamic Energy
The single bunk bed design that incorporates sports-themed components is a terrific option for sports enthusiasts. Add club colours, jerseys, and sports gear to personalise the bunk bed. Use sports-themed wall art and furniture to show off your enthusiasm and infuse the space with life.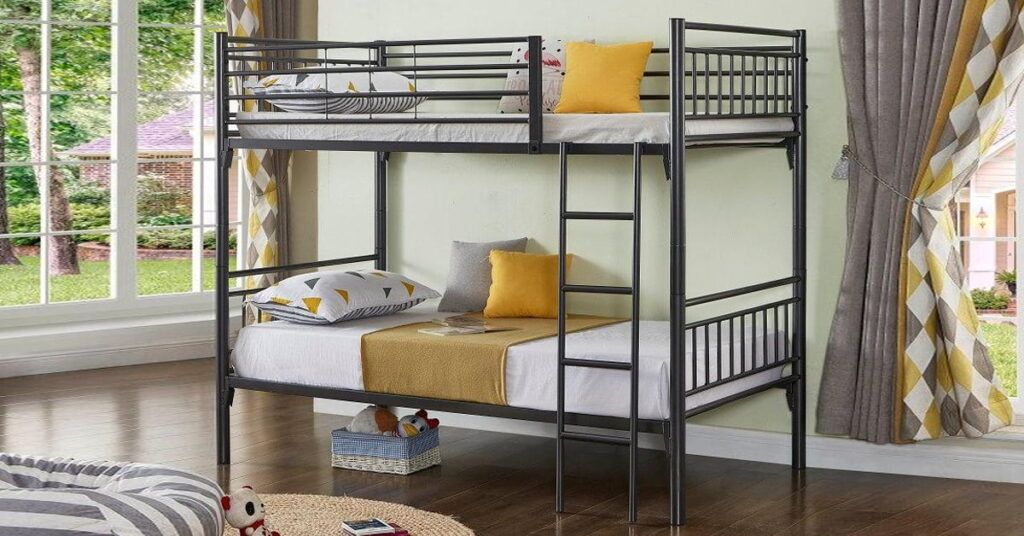 Futuristic Fusion with a Modern Edge
With a futuristic bunk beds design, embrace modernism. Choose modern materials like glass and metal with elegant lines and LED lighting. Create a space-age aesthetic that is both practical and eye-catching by combining high-tech elements with minimalist design.
Conclusion
In conclusion, there are many design options available for single bunk beds. In order to create a place that genuinely reflects your own taste and style, it is important to balance aesthetics, utility, and personal preferences while designing a bunk bed. As we come to a close on our tour of imaginative single bunk bed designs, it is abundantly obvious that these simple pieces of furniture have the ability to influence not just the atmosphere of our homes but also our attitudes and feelings. We've looked at how a bunk bed with thoughtful design may go beyond serving a functional purpose and reveal a person's character, passions, and goals.