Divan Base is one of the most popular and affordable bed options. As compared to other types of modern bed frames divan is the most common. It's an ideal option for people, looking for a cheap bed set without compromising on style. As compared with standard size bed frames, divan offer an extensive range of features and great value for your money.
A divan bed base is an ideal option for people looking for a complete bed. It comes with a headboard, stylish fabric upholstery, mattress and chrome legs. Otherwise, you also have the option to purchase the simple Divan base and optional mattress.
Divan Bed is in two parts. Q-clips help assemble the base. You have to option to buy the base with headboard, mattress, and chrome legs/wheels. Divan base is of hardwood frame and stainless-steel components. The solid slat base delivers a sturdy base for the mattress and the sleeper. Tender Sleep offers divan beds in a variety of colours and designs.
Depending on the size of the divan bed. You have the opportunity to add storage drawers. You can have up to 4 drawers in a single bed base. Moreover, you can pair the Divan base with a high-quality mattress and colourful fabric upholstered headboard. The divan base provides a comfortable and firmer sleeping experience.
Reasons for choosing a Divan Bed:
The fabric headboard is available in various colour options. The designs match any bedroom interior. This bed will help you to make your room more perceptible. From a budget perspective, this is the best solution. These beds are easily adaptable to the previous décor simply by enhancing bedroom functionality and storage capacity.
A Divan is a space retrenchment storage bed that fits impeccably even in the smallest size bedroom. The Divan is the ideal bed with many customizable options, delivering a fashionable exterior. Below the bed, storage drawers allow customers to lessen the clutter in their room.
Divan Bed can be purchased in small, small double, double, king, and super king-size depending upon your needs. Measuring the leftover space in your room will help greatly set up the bed when it arrives at your home. Furthermore, you have the option to choose between wheels, castors and chrome legs. To combat clutter, you can add a storage option to your divan bed. Customization adds flair to the overall bed.
Divan Bed Reinforcement to avert sinking or breakages:
Dealing with a shaky and sagging divan bed? The first solution that comes to our mind is its replacement. But you have the option to reinforce it by yourself without spending too much. Here we are explaining a few options to reinforce your divan base to prevent sinking and breakages.
Bed Frame
Start with adjusting the bed frame centre support. But for this, you need to open up the support structure of the divan bed base. Down in the middle of the platform base, there is a piece of wood or metal running down the centre. Where you have to place the mattress. You can add extra strength to the base of the bed. With larger and wider support legs or wheel casters along the central plinth. It will help you to support the weight of the bed by making the platform stronger and sturdier.
Panels
You must replace the panels that run horizontally across the divan base. But if you feel some of them are weak, damaged, bent, cracked or need replacement then change it. That will help you to instantly add strength to your bed.
Plywood
Still, if you are not satisfied with the base and feel it's not supported perfectly. Then you can put a sheet of plywood over the slats of your single divan bed. After changing it now you can again put your mattress. Enjoy having a strong and sturdy base. This flat sheet will help you to prevent the sagging and dipping of the mattress. Instead, you will find firmer support.
CHOOSE EVERY COMPONENT YOURSELF!
Here, you can check out alternate ways to improvise your simple Divan base. This allows you to configure every single component for your bed. Tender Sleep offers you this exclusive opportunity to do so. Follow these steps to improvise your Divan base by choosing every single component.
THE DIVAN BED BASE
The first thing that you should do is revamp the divan base. By selecting the style, fabric, and height of the divan base. Adding a headboard to your divan base will help lessen abrasion in the room. Make your selection from amazing fabric upholstery options to match it with your bedroom interior. The platform base of the Divan Bed is sturdier in every way possible. This enables you to get a good night's sleep.
The Legs

Another thing that you can add to your Divan base is its legs. You have the option to add casters, wheels, or chrome legs to your divan base depending upon your needs. If you love to have a high bed, then opt to install legs to your Divan base. Otherwise, go for the wheels or casters. Chrome legs with link bars will look immaculate for your divan base. Tender Sleep offers these options on the house. You don't have to pay anything extra for this attachment. With a divan bed king-size, both high and low bases are available with an eye-catching bedroom exterior.
THE HEADBOARD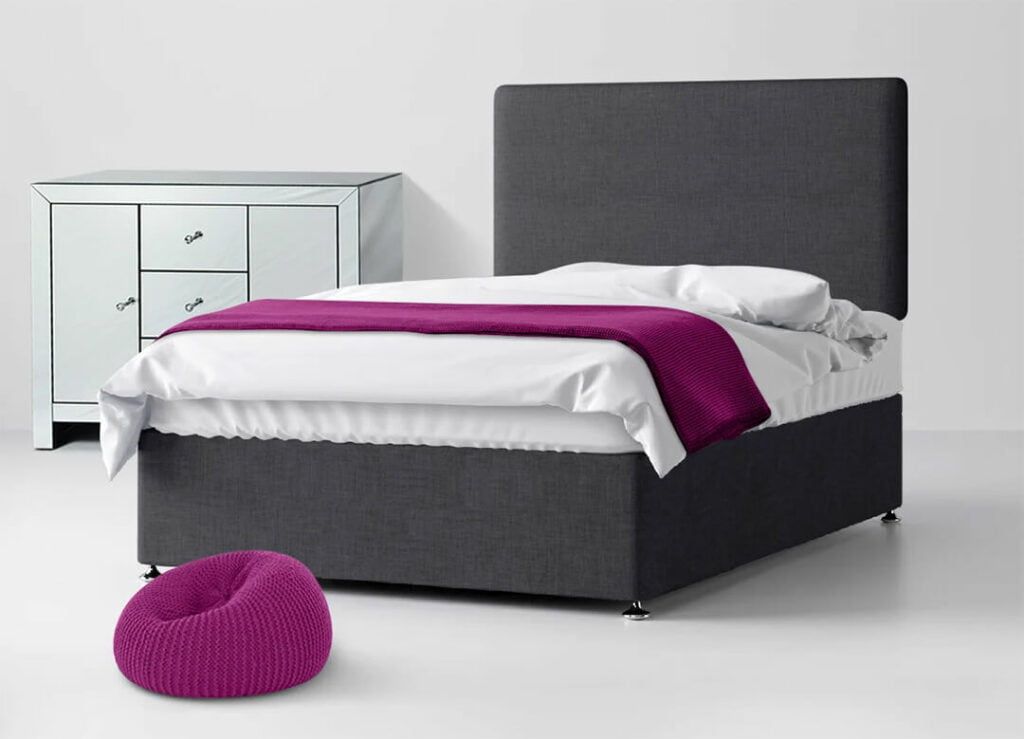 The most eye-catching enhancement that you can make to your divan base is its headboard. You can easily choose the fabric, colour, style, and design of the headboard according to your choice. Simply pick the headboard that matches your bedroom interior. You can select a simple classic, studded, or chesterfield design for your bed. These additions will help you to make it look more appealing and stylish depending upon your needs.
THE MATTRESS
Tender Sleep customers the option to add a majestic mattress to their order. Do check our exclusive range of mattresses. The 2000 pocket sprung mattress is the best candidate for this type of bed. The mattress offers support like no other. An occupant who relies on this mattress for their sleeping experience always feels charged.
Advantages of Divan Beds
Buying a Divan Bed is more beneficial as compared to other bed frames. It's effortless to extemporize the divan base and make it look stylish. If you have a small bedroom space present then a divan bed is an ideal choice for you. Divan storage beds will provide you with enough space for everything. You have the option to add storage drawers to the Divan base. It will help you to keep everything arranged without capturing much space in the room.
The best thing about divan beds is its capacity to customize with headboards.
You can select the bed base without headboards. Choose the number of drawers you want and select the wheels or feet of the base that you need to arrange. This sort of customization is viewed as the ideal, particularly for little rooms.
The assembly of a Divan bed is simple; it requires very little amount of effort on your behalf. Divan bed base is considered to be ideal for people not interested in having a metal or strong wooden beds. The divan bed arrives in a couple of parts, depending upon the size of the base that you have picked. You simply need to change both the bases with a clasp/ad joiner. Picking the divan bed will be useful as it requires less time to assemble.