Sleep apps provide insight into your sleep habits. Sleep trackers and Sleep cycle calculators help you determine the amount of time you are in bed and asleep. These trackers help estimate your overall time in bed and your time asleep by observing changes in your physical activity and your movement during the night. You can even add your bedtime, which will help keep track of your sleep. The in-bed period reflects the period you are lying in the bed to sleep. It gives you insight into how to improve your overall sleep schedule. 
On average, a normal person must receive up to seven to nine hours of sleep. Research has shown that most people get six hours of sleep. Using the app below, they can improve their sleep cycles. They can rely on Apple Watch or Samsung device to do the deed with ease. Here are the four best sleep apps to improve your sleeping schedule.
Apple's Health App
Keeping your iPhone out of the bed might help avoid any distractions you might face while you sleep. But the better alternative is to keep it under your pillow to help diagnose any sleeping issues you might have. With this sleep app, users can store their health information, which will help diagnose any sleep problems you might have. The sensors in your iPhone can provide necessary information regarding your physical movement whilst you are sleeping. These sleep trackers help enhance your overall sleep. Its analytics give you insight into how much time you spend sleeping.
The sleep app has done wonders for the IOS digital landscape. The health app is an actual hub through which you can view insights about your fitness, your diet, and your sleep. This information is collected with your consent and then evaluated. The reason I mention consent is that the sleep app is on standby, as the app does not collect any information unless you consent to it. This is the main reason why many customers are loyal to Apple for their privacy.
iOS Clock app
Your phone clock, which helps set up your alarms for morning wakeup, also has a bedtime feature. Once enabled, it asks you at what time you go to bed and at what time you must wake up. Only after a full month of use, you can start seeing results as your weekly averages are tabulated. Other third-party apps such as sleep cycle also enable your device to become a sleep tracker to measure different stages of sleep, quality of sleep and many other features.
The importance of using a sleep app involves storing information about your movements during your sleep state. The information present in your device helps create a weekly average that carefully predicts the amount of time spent inside the bed. My current average sleep is 7 hours. For a normal person, 9 hours of sleep is suitable. For me to improve my sleep time, I will need to start sleeping early, by doing it in small doses. The Apple Watch can do the job for me. Its sleep tracking capabilities help properly regulate my sleep routines.
This will help my body to accept the change gradually instead of swiftly. The information stored in the sleep app also helps users to diagnose sleep issues such as sleep apnea, which is very common. Other issues such as insomnia can be mitigated. Instead of going to the doctor for the first check-up, it is better to go with him with some valuable facts. These queries can only be answered by a doctor who specializes in sleep solutions.
The App is free on iOS and comes with your device. You don't need to pay extra for it.
Prime Nap
Users who are not on iOS and instead rely on the Android OS can get their hands on a similar app. This sleep app is free for a limited time and tracks your sleep, which in return is useful to evaluate your sleep times and overall quality. Like other similar apps, Prime Nap observes your sleep routines by recording your sleep movements using the device sensors. It comes with unique features such as alarms. A journal for daily habits and sleep sounds that help you doze off faster.
The sleep app is exclusively available for Android OS, and the features that are mentioned are most probably found in paid apps. It has an overall rating of the medium on Google Play. The only key downside for the app is that it requires consent to track your sleep patterns. This might be a downside, but privacy might be the reason it does that. Without consent, the app doesn't keep doing anything apart from sitting idle. This could be the best app of the bunch, but that truly depends on your choices.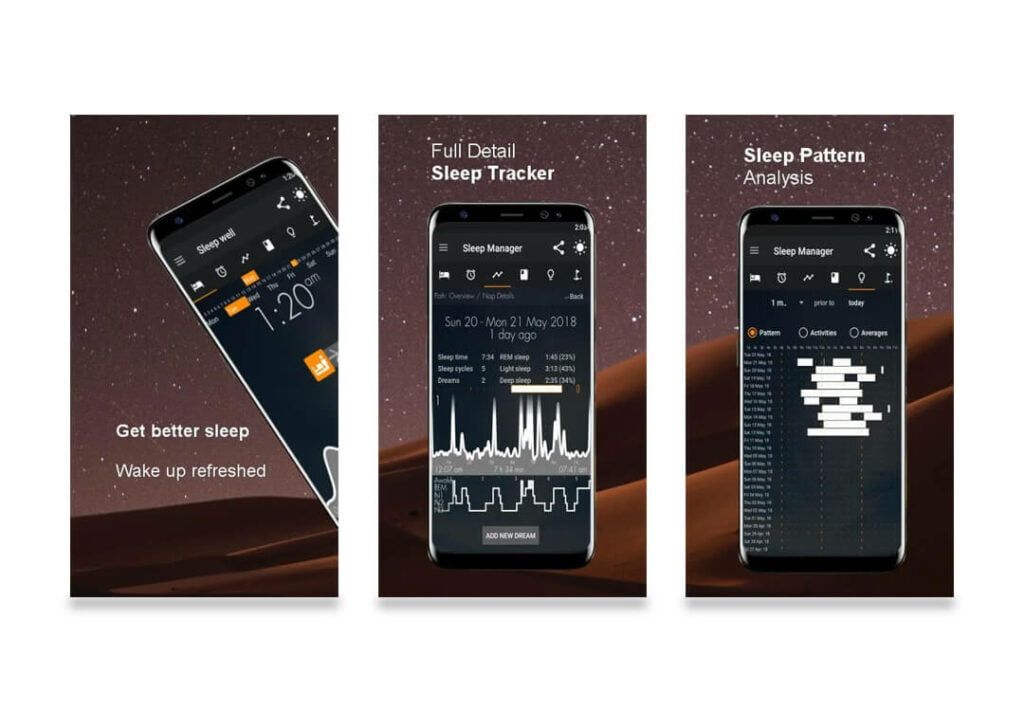 Sleep Cycle
The sleep cycle is a universal sleep app that is present on both the iOS and the Android operating systems. Sleep cycle gives users like yourself a simplified view of their sleep patterns. Its observation method is different as it uses audio cues to detect your sleep patterns. Audio cues such as snoring, talking, coughing and other sounds. As a bonus, the sleep app tracks your sleep cycle graphically and presents an overview of the sleep pattern to distinguish what is happening while you sleep. The sleep cycle is in the process of offering sleep statistics free of charge. This being the only free app for sleep cycle calculations is a blessing. But the free tier has its limitations as well.
Users who download the app don't need any other equipment to monitor their sleep routine. Like always, the app requires consent. The only downside for this app is that it can only analyse a single person and for users that have partners it will have a hard time distinguishing between each other. The app needs to be regulated every day to create a simple result. This could become a hassle if at any time you forget about the app. The app comes with a free trial and users can avail a paid version for £30. The paid version is for one year.
Author's Note
Users can do certain steps to overall improve their ability to go to bed early, such as taking a warm bath before going into bed. Most probably like 2-3 hours before. Other tasks include less use of digital devices and exercise to keep the body active. Other tasks include using YouTube music with serene sounds to put you to sleep early. My noise(https://mynoise.net/) is a free online tool that can provide serene sounds for work as well as sleeping. You have the option to control all the aspects of the sounds you want to receive.
The best option to have a comfortable sleep is to invest in a bed frame and mattress. Customers who experience restless sleep can invest in the Grey Plush Velvet Divan Bed with a 2000 Pocket Sprung Mattress.