Welcome to our thorough guide to divan beds, here you'll have the information you need to know about the fashionable and practical bedroom necessities. Beds are no longer only pieces of furniture require for sleeping. These days, they fulfill your utilitarian demands while serving as statement items that showcase your individual taste. The divan bed is a modern option that skillfully combines style and function. These beds provide a winning mix of comfort, storage, and design flexibility, whether you want to modernise your sleeping area or maximise limited room space.
To help you navigate the sea of alternatives and make a selection that best meets your needs, we'll examine the numerous features and varieties of divan beds in this guide.
So let's investigate the world of divan beds and see how these adaptable furnishings may make your bedroom a paradise of comfort and design. Following are the features to consider.
Storage Option
Divan beds are famous for having built-in storage possibilities. The option of ottoman storage or drawers offers a practical means of preventing clutter in your bedroom.
Mattress Support
Divan beds frequently have a sturdy foundation that provides great mattress support. This enhances sleep quality and increases the life of your mattress.
Headboard Design
A divan bed's headboard may give your space a touch of elegance. To fit your bedroom decor, you may select from a variety of materials, shapes, and finishes.
Fabric and Upholstery
A Divan bed comes in a variety of fabrics and upholstery choices, so you may match the bed's design to the style of your room. There is an option for every style, from elegant velvet to timeless linen.
Customisation
A lot of manufacturers provide you the chance to choose the fabric, colour, storage arrangement, and headboard style that best meets your tastes. Let's explore the types of divan bed to consider with customisation options.
Single Divan Bed
A Classic Single Divan Bed Base with a Super Orthopaedic Mattress and headboard is an amazing option for anyone looking to create a really attractive bedroom decor. Grab one of these affordable Divan beds with memory foam mattresses, available at Tender Sleep to make your bedroom more comfortable.
This Single Divan bed Base incorporates premium chipboard and fabric finishing to give it a beautiful and appealing appearance. It is wrapped with a fine damask cloth and filled with polyester fibres.
Single Bed with Mattress
Choose Tender Sleep to provide you a single bed with mattress. It is supplied with headboards and mattresses in various sizes and colours together with custom-made divan beds covered in a traditional cotton-linen fabric. High-quality cloth is used by the artisans to manufacture this wonderful item, which will keep you peaceful all night. It has a non-slip surface and is made of a natural, durable fabric with natural fibres to provide you a beautiful night's rest. This product's defining quality is its adaptability. The headboard may be either added or removed. In this configuration, drawers serve as the storage option.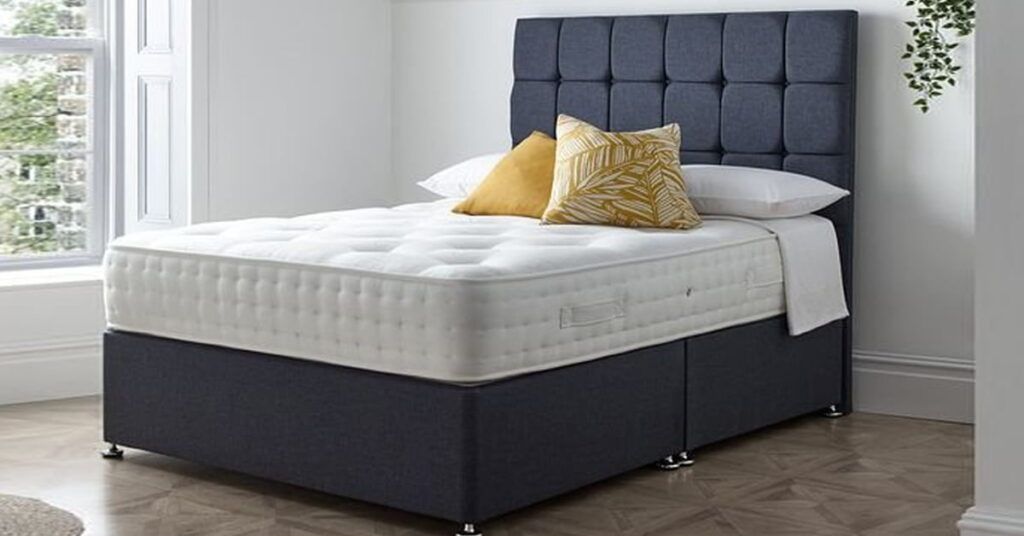 King Size Divan Bed
The king-size divan bed and mattress has an exquisite design. It uses the conventional layout of fundamental comfort and a variety of additions to improve the experience.These choices support your bed's objectives by converting it into a full bed with several uses. The addition of a fabric headboard raises the divan bed's total worth. Additionally, it stops abrasion. The fabric headboard can also offer support at the same time. Customers have the option of adding drawers to their king size divan bed. Depending on the amount of clutter, they can either install two or four drawers. The addition of any choices to the bed does not take away the bed frame's primary function that brings comfort.
Final Thoughts
Divan beds are a useful and adaptable addition to any bedroom. With the help of this thorough guide, you will make an informed choice and take advantage of a chic and useful divan bed. Choosing a right divan bed is a crucial decision. Measure your area to make sure the divan bed will fit properly without taking up too much room. Determine how much storage you need. Ottoman or drawer divan beds could be the ideal option if you want additional storage. Pick a fabric, upholstery, and headboard type that go well with the aesthetic of your bedroom. There are several pricing points for divan beds. Establish a budget and look into choices that suit it. Look into a trusted store like Tender Sleep that makes long-lasting, premium divan beds.