Children's bedrooms benefit greatly from the use of cabin beds and mid-sleeper beds since they offer more play and storage space while retaining a small footprint. It's important to take your child's age, size, and the amount of space in the room into account while looking for these kinds of beds. While cabin beds may include built-in drawers, shelves, or desks, mid-sleeper beds frequently have a raised platform that provides for additional storage or a play space beneath. Also, consider the weight limit to make sure the bed can handle your child's weight, and look for beds built of durable materials that can withstand use and wear. To make sure the bed blends in with the rest of the room's decor, keep in mind the bed's style, design, colour, and finish. At Tender Sleep, we provide solid, long-lasting bunk beds at affordable prices.
Compact Bunk Beds for Kids' Rooms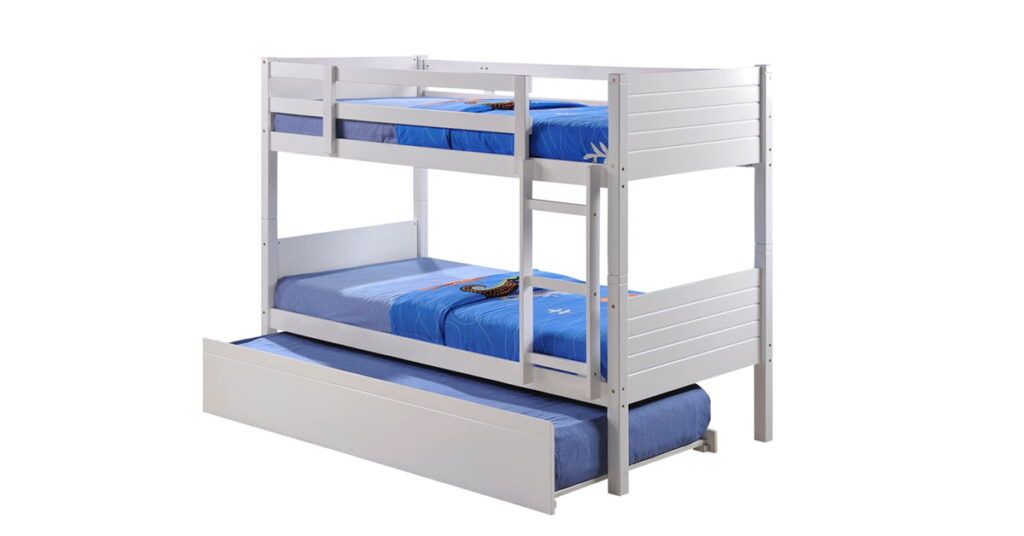 Families with limited room or children who like the notion of sleeping on a bunk bed may consider a bunk bed with trundle. Because they are composed of high-quality materials, these products will last for years and keep your kids safe. Additionally, they are made to make sleeping on the top and bottom bunks both pleasant and supportive. This is especially practical for families that need to rapidly set up a new sleeping arrangement for their kids.
Safety and Durability
To complement any bedroom design, our bunk beds are available in a range of colours. Therefore, you may choose the ideal colour to complement your current furnishings or develop a fresh style for your child's room. When buying a bunk bed, it's important to take safety into account and make sure the structure is strong enough to sustain the weight. In general, these products are a great option for making the most of available space and bringing practical style to any room.
Maximize Space with Wooden Bunk Beds
There are a few considerations to make while selecting wooden bunk beds. Take into account the room's dimensions and the available space first. This will enable you to choose the bunk bed's size and design that will fit your room the best. Next, consider the style of the bed. There are many different styles of wooden bunk beds available, from traditional to modern, so you are sure to find one that will fit your personal style and the decor of your room.
These items are excellent investments since they may offer a convenient and comfy sleeping option while taking up less room in your house. It may be passed down for many generations because of its sturdiness and endurance. Therefore, if you are looking for a bunk bed for your house, it's something to think about.
Revamp Your Room with Bunk Trundle Kids' Beds
For families that wish to make the most of their children's bedroom space, bunk trundle kids beds are a popular option. These beds have the top bunk for sleeping, and you can use the lower bunk to store a trundle bed when not in use. When you have guests staying over or sleepovers, you can drag out the trundle bed and use it as an extra bed. The layout is particularly ideal for households with many kids sharing a room since it gives each child a bed of their own without taking up too much room. Tender Sleep offers them in a variety of styles, colours, and sizes, making them suitable for individuals of all ages within a budget-friendly range.
Similarly, when choosing a bunk trundle kids bed, safety should come first. Make sure the bed is solid and constructed of high-quality materials. The staircase should be safe and easy to climb, and the top bunk should have guardrails to prevent falls. Additionally, it is essential to pick a bed that fits comfortably in the room and with the other furnishings. It may survive for many years with regular upkeep and repair, giving kids and visitors a cosy and useful sleeping area.