A mirror sliding door wardrobes not only makes for a grand statement, but also brings about functionality to your home. Selecting a wardrobe door to match your personal design style is easy with the variety of wardrobe choices that Tender Sleep offers. You can choose from our wide range of colours and panel options including a safety mirror, Glass Doors, vinyl-covered for a tough and resilient door, timber veneers, high-quality chipboard, or custom designed to meet your design aspirations.
You can simply go the customary route for the enrichment of your room, however, a few people incline toward the contemporary path too. A sliding wardrobe is furnished with current highlights and a chic plan. It comprises conventional or present-day doors which can be slid away. It offers you a sliding framework and gives you a cool redo of the customary closets. We do concur that conventional closets help in cost sparing, however, the contemporary ones make your room rich. The present-day sliding entryway closet is one of the sorts which add extreme beauty to the feel of the room.
Material of Mirror Sliding Wardrobes:
Mirror Sliding Wardrobes are made up of both glass and wood. It is totally your decision which one of the mixes is impeccable with your room's stylistic layout. Tender Sleep UK has an extensive variety of accumulation which differs in highlights and particulars. They are available to upgrade the client encounter, consequently, you can without much of a stretch pick the one which suits your stylistic theme the best.
Mirror Sliding Wardrobes Construction: 
You can choose from a range of panel options in sliding wardrobes to meet your design and style requirements – a safety mirror in either silver or bronze, or perhaps Glass Doors to add new features to your design toolbox. These sumptuous doors add an air of class and elegance to your home.
Quality bedroom wardrobes not only keep your space looking neat and tidy, but will help you find that outfit quickly when you're pushed for time. They help keep your room clutter-free, making your personal space feel calm and tranquil.
Installation for Mirror Wardrobe Doors:
Installation of wardrobe doors is easy, but you have to be extra careful while installing the mirrors. We deliver a wardrobe completely unassembled in flat packing. The package includes the instructions manual to guide you properly about the product assembly. Infect, you can also ask the company to provide assembly services, but for that, you have to pay assembly charges. Here at Tender Sleep, we offer a check warranty of all products, so yes you can check the wardrobe mirrors before paying for them. 
Glass doors can easily absorb shocks of vehicle movements during transit. Wardrobe mirrors can easily get cracked during transfers, but our delivery team transport the doors by wrapping them properly in packing blankets and ensuring they are completely secure. 
Stylish Bedroom interior:
No matter if you are building a new home, renovating the old one or are looking for a solution to your storage problem, a sliding door wardrobe can add value to your home. Using our Wardrobe range, you can get a wardrobe solution that is in line with your preferences and storage needs.
A mirror sliding wardrobe can make your wardrobe blend into your wall, or it can be a bold design statement that is both elegant and functional. But it's not just design that's important, it also needs to be durable. Our efficient track system and large roller increase the operation efficacy and lifetime of your wardrobe.
If your bedroom has a contemporary feel, opt for a model with mirrored sliding doors, white wardrobes lend themselves to a clean look, and wooden wardrobes fit into a traditional country theme. Wardrobes with drawers particularly help you maximize space and make room for a centrepiece feature like a king-size bed, or even indulge in a super king-size bed. Statement styles in natural wood can be coordinated with a matching dressing table. Alongside hanging space, handy drawers and convenient compartments make stowing folded items and accessories easy. When coupled with an ottoman and a bedside table, the right wardrobe makes short work of tidying away what might otherwise live on the floor.
Want flexibility? Pop-up mirror wardrobes can cleverly divide a room, creating space where you need it. A large wardrobe alongside a daybed with storage in a spare bedroom creates a handy place to keep clothes off-season or the new bedding sets and towels you treated yourself to. With everything squirrelled away in the right spot, there'll be no last-minute rummages to find that jacket you know is there somewhere.
Mirror Sliding Wardrobes sizes and assembly:
Our variety of size allows you to choose a wardrobe that suits your home and storage needs and helps save space in your bedroom. Our wardrobes come in a variety of colours and finishes, and the interior can also be custom-made according to your storage requirements. 
If you want to assemble and customize your new wardrobe yourself, you can do so thanks to our instruction manuals. We Do It Yourself (DIY) installation guides provide easy and clear instructions for self-assembly. But, if you'd like a little help, our professional installation service is available to take care of everything for you.
Whilst all our products are known for their long lifetimes, our product development team is continuously applying their technical expertise to take the durability of our products even further. One example of this is our new Patent-pending track-cleaning bottom wheel, which keeps the door runners clear of dust and debris. This ensures your sliding doors continue to glide as smoothly after years as the day you had them installed.
The Benefits of Mirror Sliding Wardrobes
Buying the Mirror Sliding Door Wardrobe will help you to spice up your bedroom interior. Analyse your bedroom space and decide whether you want to have a two-door wardrobe or a three-door wardrobe. Furthermore, you have lots of options available in the mirror style of the sliding wardrobe i-e full-length mirrors, one mirror, two mirrors, centre aligned mirror and full-sized 4 mirror panels. Here are a few benefits of having sliding Mirror Door wardrobes;
The Space Illusion:

The Sliding mirror door wardrobe help you of creating an illusion of having a bigger space in your room. Our wardrobes are not only space-saving, but mirror doors are meant to create the illusion of having a bigger room, allowing all types of bedrooms to create a fully optimized look. 
Space Optimization:

Our mirrored sliding door wardrobes come with a range of interior aspects too. Providing you with enough storage sections i-e shelves, hanging rails, drawers or dividers. Allowing you to store a range of different items in your wardrobe, to create an illusion of having a larger and tidier room. Having a full-sized mirror in your room will help you to see head to toe before leaving the home. 
Easier Access:

Having the sliding mirrored door wardrobe will help you to create easier access. Sliding doors require less space as compared to hinged doors, to help you save enough space. You can have two or three mirror door wardrobes depending upon the available space in your bedroom. 
Stylish; Here at Tender Sleep, we have a range of wardrobes available with sliding mirrored doors i-e Bonito wardrobe, Lux wardrobe, High Gloss Wardrobe and Alpha 2 Door Sliding Mirror Wardrobe. These stylish wardrobes can blend with all types of bedroom interiors, so grab your favourite one and decorate your room. The wardrobes will give you a sense of style, make your interior look great by enhancing the overall look. 
Why are Mirrored Wardrobe Doors Popular?
If you are planning a bedroom renovation, then choose a sliding mirror door wardrobe to get the stylish bedroom interior. While choosing the wardrobe, make sure you choose the accurate size, otherwise, it will make your room congested. 
Furnishing a bedroom correctly will help you to get the perfect interior. From choosing a night stand, beds, window hangings, beddings to selecting dressers, there are many details to consider. Another most important thing to consider while decorating the bedroom is the wardrobe style and its doors. Before taking this decision, you consider your bedroom space.
There are a number of sliding mirror wardrobe styles available in the market from which you can choose the one that suits your interior. Here are a few reasons why people like to have a sliding mirror door wardrobe in their bedroom;
Space-saving mirrored doors

 

wardrobe:

 
Sliding mirror door wardrobe is the best way to save space and create intuitive storage solutions. While facing space constraints, you must choose smart bedroom furniture to create the illusion of having a big bedroom. In this situation, it's best to choose a sliding mirror door wardrobe. 
Sliding doors are beautiful, they will blend perfectly with your bedroom interiors. If you are looking for a wardrobe that will make a small bedroom look larger, then vinyl doors aren't going to give you any favour. Instead, choosing a sliding mirror door wardrobe will be a good decision for you. It will help you to save enough space without making you feel cramped in a small bedroom.
Best storage solutions: 
Wardrobes are a great way to create intuitive storage solutions. The sliding doors will help you to save the door opening space in the congested bedroom. Whereas, mirror doors will help you to get a head to toe view before getting out of the home. Mirrors will help you to trick the mind into having a bigger space, especially if you will place the wardrobe beside your window. Angling mirrors at a specific focus point will create an illusion of depth to the room. 
All of our sliding wardrobes come with a wide range of shelves, racks, hanging rails, fittings and finishes. You can choose the one that matches perfectly with your existing décor to create continuity throughout. 
Bring natural light with mirror doors:
Natural light is good for humans, it boosts vitamin D, reduces cyclic depression and helps you to sleep better. Usage of natural light will enable you to reduce the usage of artificial light that will automatically save your money. Mirrors massively will reflect the light all around the rooms. According to the current trends, interior designers are choosing a full-length mirror door wardrobe. It will help you to feel more relaxed in the presence of natural light in your room. 
Different Types Of Mirrored Glass
We offer a range of sliding mirror door wardrobe that entail a wide range of finishes, profiles and frames. Mirror glass will always be a perfect choice for customers who want a contemporary style bedroom interior. Before buying the sliding mirror door wardrobe, you must know about different types of mirrored glass that you can have, described below; 
Clear Mirror

: It's the most popular type of mirror finishing used on most of our products. We use high-quality mirror glass on wardrobe doors to create a stylish exterior and allow much light reflection. 

Grey Mirror

: Another type of mirror used for wardrobe doors is a grey mirror. This mirror offers less reflection, ideal for small bedrooms. Furthermore, the grey mirror features a classy tint on a traditional mirror finishing.

Bronze Mirror

: It's also a classy type of mirror that offers less reflection as compared to a clean mirror. The tint on the mirror slightly changes the type of natural light, reflecting through it. This finishing is much popular with interior designers, used to match with the room décor.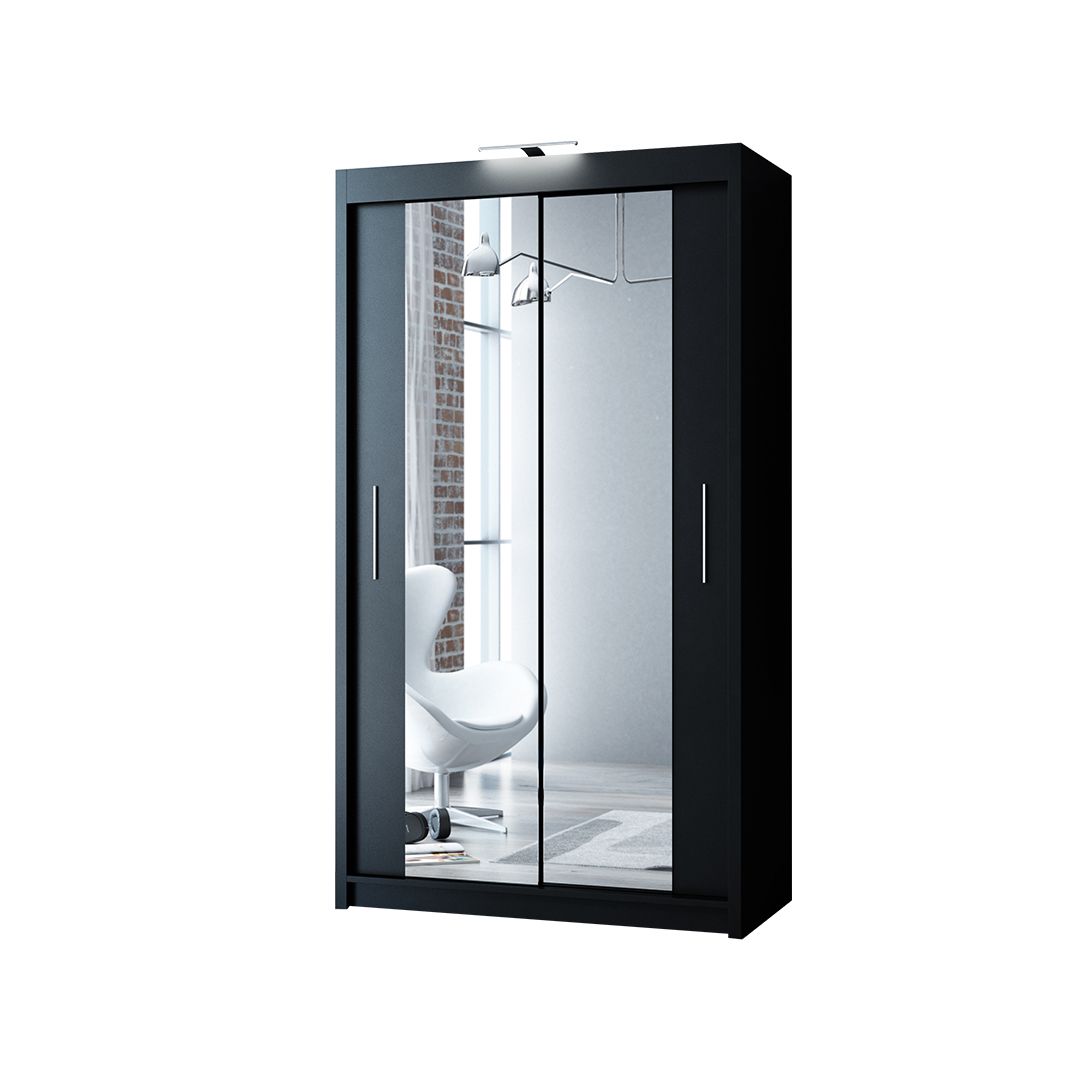 We, at Tender Sleep UK, have this exclusive white sliding wardrobe. It's not just a simple wardrobe, but it is loaded with features. It has a contemporary design and a very lavish outlook. This can easily add a luxurious look to your bedroom. You will love having this exquisite piece of furniture in your bedroom. This is designed for perfection. It will add a new and fresher look to your bedroom décor. You won't regret having this perfect bed in your room. The Berlin wardrobe is available in a variety of colours and sizes. You can choose the one which best fits your bedroom décor. 
You will not only fall for its stunning looks, but its exceptional properties too. Berlin sliding wardrobe is a phenomenal piece of furniture. It has many catchy features, which makes it even more admirable. The preposterous look, the elegant design and the extraordinary features are a catch. The style of this bed is flexible enough to suit everyone's choice. The colours available for the Berlin wardrobe are black, white, walnut and Wenge. You can pick the one which suits your bedroom décor. To produce this exceptional piece of furniture, the finest quality materials have been used. These quality materials make it long-lasting and durable.
The stylish mirror in the middle of the sliding door makes it an elegant and special one. Buy your new sliding door wardrobe from Tender Sleep UK at affordable prices . This black sliding wardrobe is delivered in flat packing that requires easy self-assembly.  
Wardrobe 120 cm includes:
2 sliding mirror doors

4 shelves

1 hanging rails
Wardrobe 150 cm includes:
2 sliding doors

6 shelves

2 hanging rails
Wardrobe 180 cm includes:
2 sliding doors

5 shelves

2 hanging rails
Wardrobe 203 cm includes:
2 sliding doors

10 shelves

4 hanging rails
Wardrobe 250 cm includes:

3 sliding doors

10 shelves

1 hanging rails

2 Drawers
 A full-sized mirror is located in this Berlin wardrobe. This makes the outlook of this wardrobe even more special and glamorous to look at. This will change the entire view and look of your bedroom. A new bedroom with the latest and modern furniture always looks like heaven. Some of its designs also come with a high gloss side strip. Apart from its extraordinary look, the Berlin wardrobe is equipped with features. It has multiple hanging rails and has an oak effect. You can easily store and stuff your materials inside this wardrobe.
LUX 3 Door Mirror Sliding Wardrobe:
The most stylish wardrobe we have here at Tender Sleep is Lux Sliding Mirror Door wardrobe. It features three large full-length mirrored panels to get the spacious feel. The wardrobe offers plenty of storage space with three separate sections that include 10 shelves, 1 hanging rail, 2 inner drawers. You can easily keep your clothing in the wardrobe without compromising on the bedroom interior. This wardrobe is ideal for small bedrooms as it reflects the light throughout the room, creating an illusion of a bigger bedroom. 
Paris Lux sliding door wardrobe is made up of high-quality chipboard and entails a matte finish exterior. Available in three appealing colours i-e Black, White and Grey. These neutral shades can blend with all types of bedroom interiors, designed to give a stylish contemporary feel to the bedroom. It entails Durable and scratch-resistant matte finished exterior, available with 3 mirror doors working on the self-closing mechanism. You also have the option to order the LED light with the wardrobe, for which you have to pay extra. Furthermore, you can ask to customize wardrobe interior according to your amazing choice.
Wardrobe Interior:
3 mirror sliding doors 

1 hanging rail is included (option to add more)

10 Shelves

2 Inner Drawers
This 3-door wardrobe is designed to get lavish bedroom interiors with huge storage space that fulfils everyone's needs. We use high-quality material while manufacturing these wonderful wardrobes. You can get these chic pieces at very affordable rates from Tender Sleep, we will deliver the product right to your doorstep, but shipping charges will be imposed.
Customizable wardrobes allow you to match or contrast it with the rest of the bedroom's interior and expand the scope of options even more. Here at Tender Sleep, we allow you to decide the number of compartments, hanging rails or shelves you want to have in the wardrobe.
BONITO 180cm Wide Wardrobe:
Searching the stylish Mirror Door Wardrobe at an affordable rate? Have a look at our new Bonito wardrobe. It's available in a range of 4 different sizes i-e 120 cm, 150 cm, 180 cm and 200 cm. This wardrobe offers plenty of storage space to its users and has a remarkable interior as It includes shelves and hanging rails. 
The 180 cm Wide Wardrobe provides an amazingly modern storage solution, especially for small bedrooms. The mirror doors reflect the light to create an illusion of having a bigger room than it actually is. The classic two mirror door wardrobes feature a slick design, meant to suit all types of bedroom interiors. This brand-new wardrobe comes with 2 eye-catching mirrors on both doors. The two sliding doors move seamlessly along strong rollers and runners, for a smooth opening, every time.
The clean lines and full-length mirror sliding doors of the wardrobe will add light to the bedroom and make the room look spacious with the reflection. Bonito Wardrobe is delivered in Flat Packing that requires self-assembly with easy instructions and fixings.
Bonito wardrobe interior according to different size are explained as follows:
2 sliding doors

6 shelves

2 hanging rails
2 sliding doors

6 shelves

2 hanging rails
2 sliding doors

6 shelves

2 hanging rails
200 cm Bonito Wardrobe:

2 sliding doors

12 shelves

2 hanging rails
 You can place this white wardrobe free-standing on a level floor or if levelled correctly as part of the assembly process, or can be secured to the wall if required. The Amendable soft-close pivots to hang doors straight and ensure a smooth closing of the sliding mirror door wardrobe. It's perfect for smaller bedrooms where you don't have space for doors that swing open.
A simple and elegant design of the Bonito wardrobe will blend with all types of bedroom interiors. High-quality chipboard is used while crafting this wonderful wardrobe. The Bonito wardrobe range is available in matte finishing and white colour in a range of sizes to blend with all types of the bedroom interior.
Marsylia High Gloss Sliding Door Wardrobe:
A sliding door wardrobe is essential for your master bedroom. It proves to be a great helper when it comes down to storing your bedroom clutter. Once you have the sliding door wardrobe in your room, it will prove to be your best friend. High gloss wardrobe has a very contemporary design. The best thing about this product is that it offers massive storage space. You can easily store and place your bedroom stuff and other things in this wardrobe. Apart from the very fascinating looks it provides, it also offers many extravagant features. To provide you with a wider storage experience, it also has top shelves within.
This will save a lot of your bedroom space, and you can easily access and approach your stuff easily. The highest and finest quality materials have been used for the production of the sliding door white gloss wardrobe. It also has a black glass effect, which makes it even more lavish and luxurious to look at. Along with many other features it provides, it has a full-length mirror. For its production, high-quality finish material has been used. It adds more glam and luxury to your room, and you won't regret buying this beautiful piece of furniture for yourself. It is available in many colours to suit your comfort.
The Marsylia wardrobe comes with LED light by default. The lighting improves the look and feel of the wardrobe and allows you to access your wardrobe at night without any trouble. No longer are you required to switch on the light of the entire room to access your wardrobe, you can just use the LED light of the black gloss wardrobe.
Interior of Marsylia Wardrobe:
The High Gloss Marsylia wardrobe with drawers is the perfect space solution to satiate your shopping addiction. It comes in two different variants; you can choose from it according to your storage needs.
 

208 cm Marsylia wardrobe:
2 Sliding Doors

2 Drawers

2 Hanging rails

7 Shelves 
 

255 cm Marsylia wardrobe:
3 Sliding Doors

3 Drawers

2 Hanging rails

6 Shelves
The sliding door wardrobe has an exquisite style. This is the reason that it is adored by the viewers and loved by everyone. It comes in white and black colour contrast, which is quite appealing and amazing to look at. It has a clear glass or mirror which helps it look more lavish and elegant. Furthermore, it has glossy side panels which are very delightful and pleasant to look at. The graceful finish and the overwhelming characteristics make it a complete package for modern wardrobe lovers. You will see a black glass placed on one side whereas a full-length mirror on the other side of the 3-door wardrobe with a mirror.
The Marsylia wardrobe comes flat-packed. You can either use our instructions manual to assemble or avail the assembly services of Tender Sleep to get the wardrobe assembled for you. Assembly charges may apply.
ALPHA 2-Door Wardrobe:
The Alpha 2-door wardrobe offers plenty of storage space in your bedroom to keep everything settled in its space. The sliding mirror door wardrobe is the perfect storage solution for any bedroom. Available in two size variations i-e two-doors and three-doors wardrobe, get the one that suits your bedroom. The two-door wardrobe comes with 2 sliding doors, while the three-door wardrobe comes with 3 hinged doors with a centre full-length mirror.
The Alpha door sliding wardrobe is available in two amazing colour combinations, i-e Full Black and Black n Walnut. The neutral colour combination of the 2 door sliding wardrobe is meant to blend with different types of bedroom interiors. It is constructed with high-quality chipboard to provide a strong and durable unit that makes it more resistant to damage. It features plenty of storage space with a large hanging rail and multiple shelves for your clothes and essentials.
Modernize the look of your bedroom with an Alpha sliding mirror door wardrobe. It's perfect for people facing space constraints in their bedroom. The Alpha wardrobe range will help you to update your bedroom at an affordable budget. It entails matte finishing with clean lines and classic sliding doors. Basically, it creates a fusion between design and practicality and strikes the perfect balance of simple clean lines and substantial storage.
 Interior of Alpha Wardrobe: 
The cheap sliding wardrobe is the perfect space solution to satiate your shopping addiction. It comes in two different variants; you can choose from it according to your storage needs.
1)
Wardrobe Alpha 2 door includes:
2 sliding doors

2 shelves

2 hanging rails
2)
Wardrobe Alpha 3 door includes:
3 doors

6 shelves

1 hanging rails
Perfectly practical, practically perfect, the Alpha 2-door Wardrobe features slimline bar handles for quiet and noise proof sliding doors. The sliding doors and discrete storage space of this wardrobe make it suitable for a small bedroom. The matte finish doors, frames and centrally aligned mirror makes it perfect for all types of bedroom.  
Chelsea Sliding Doors Wardrobe
Chelsea sliding wardrobe lies among one of the most lavish wardrobes. It has a very classy and chic outlook. The posture is quite unique and adds up to the grace of your bedroom. It has a square curve style mirror. This is located on the sliding door. The mirror on Chelsea sliding wardrobe adds attraction to its design. This presents a classy look whenever you enter your bedroom.
Chelsea sliding wardrobe is the centre of attention. It looks glamorous placed in your bedroom. To produce this unique piece, oak woods were used. They add up a quality effect, hence adding up to the age of the product. You will find it as a stunning piece of furniture. The parts have been assembled in a timely manner. Attention to detail has been given to all of its aspects. This provides user-friendliness and a modish view. Solid quality material has been used to make the panels and fittings of the Chelsea sliding wardrobe.
The storage space is massive. You can place the majority of your things in the wardrobe. The storage feature makes it more desirable for the customers. Apart from all the other features it provides, the storage one is an added advantage. Chelsea sliding wardrobe is long-lasting. The quality materials used in its production have made it strong. It portrays a very sturdy look – as firm as a rock. 
You can buy this prestigious furniture piece from us at a very reasonable cost. The prices of all the products are economical. Furniture is an integral part of the décor. This is the reason we have kept the prices at an affordable range. The multiple shelves, contemporary mirror design and hanging nails are completely influential.