In today's fast-paced world, many individuals and families place a high priority on making their living space as comfortable as possible. A wooden triple bunk beds set can be the ideal solution, whether you have a growing family or need to make the most of the small space in a dorm room or studio apartment. It not only offers sufficient sleeping space for numerous people, but it also gives any room a touch of style and functionality.
Wooden Bunk Beds
Homeowners frequently choose wooden bunk beds because of their dependability, adaptability, and natural beauty. These beds provide a solid and dependable sleeping option for both children and adults and are made from various types of wood, including pine, oak, or beech. There are many different designs available for these beds, ranging from classic styles with slatted headboards and footboards to more modern, streamlined choices.
The natural grains and finishes of the wood add to the beds' overall aesthetic appeal, making them the centre of attention in any bedroom. These beds' durability is among their many beneficial features. High-quality wooden frames are an excellent investment because they can withstand frequent use and last for many years. They also offer outstanding stability and support, ensuring a secure and comfortable sleep.
In terms of customization and individualization, they are flexible. They can be stained or painted to match existing furnishings, or you can leave them unfinished to give off a rustic or Scandinavian vibe. Additionally, they frequently split into two separate beds, giving parents flexibility as their children get older or the layout of their rooms changes.
Space-Saving Design:
The space-saving design of this piece is one of its main benefits. Three beds stacked vertically can efficiently use the vertical space, freeing up more floor space for other furniture or activities. It makes it possible to accommodate multiple people without compromising on comfort or style, whether it's in a kid's room, guest room, or shared living area.
Sturdy and Durable Construction:
It's important to consider durability when purchasing furniture. It is renowned for its durable design, which guarantees longevity and safety. The bed can withstand frequent use and support the weight of multiple people thanks to the strength and stability provided by high-quality wooden materials like solid pine or oak.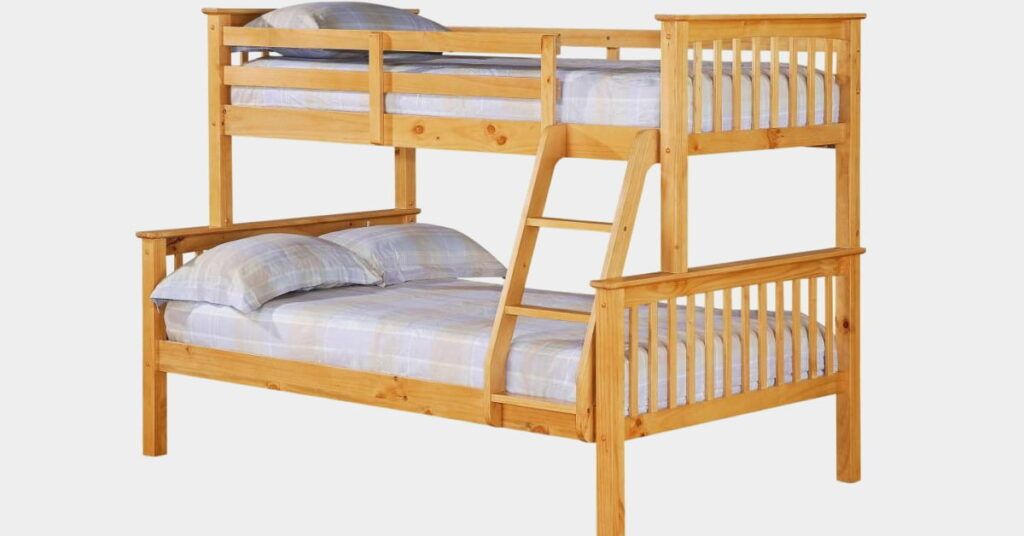 Bunk Beds in the UK
In the UK, bunk beds have long been a popular option for bedrooms, particularly in homes with limited space or many children. By stacking two beds vertically, these beds provide a useful and space-saving solution by effectively utilising the vertical space.
They come in a variety of styles, dimensions, and materials to suit a range of requirements. Every taste can be satisfied by a bunk bed style, which ranges from traditional wooden bunk beds to contemporary metal or upholstered options. To maximize functionality in small spaces, some bunk beds also include built-in play areas, desks, and storage spaces.
However, safety is a key factor to take into account when selecting bunk beds. These beds are strong, stable, and fitted with guardrails and safe ladders for stairways because manufacturers must follow strict safety regulations. To ensure that juveniles are sleeping in a safe environment, it is imperative to adhere to the suggested weight limits and safety recommendations.
Customizable Options:
There are many options available to suit your aesthetic preferences, from traditional to contemporary. To further individualise your bed set, some manufacturers also offer customization options like various finishes or colour selections.
Enhanced Safety Features:
Particularly when it comes to furniture for children or young adults, safety is of the utmost importance. They frequently include safety features like guardrails and strong ladders that make it easy to access the upper bunks while preventing falls.
Bunk Bed with Trundle:
A bunk bed with trundle is a functional and adaptable option for people who want to make the most of their bedroom space. The trundle bed is usually on wheels, making it simple to move and store when not in use.
However, they provide a practical means of accommodating extra sleepers without adding to the amount of floor space needed. Additionally, this style of bunk bed is advantageous for siblings who may want their own beds but share a room. You can use the trundle as a guest bed for sleepovers or as a drawer for toys and other items.
There are options available to match any interior design, including sleek metal construction and sturdy wooden frames. Guardrails and safe ladders are two safety features that make sure these beds are appropriate for kids while giving parents peace of mind.
Complimentary Mattresses:
It is frequently provided with free mattresses, completing the set with a simple purchase. These mattresses are made with bunk bed dimensions in mind, providing the best comfort and support possible for a restful sleep.
Conclusion:
A wooden triple bunk bed set with matching mattresses provides a functional and fashionable answer for making the most of available space and accommodating multiple sleepers. These bed sets are a great option for families, shared living spaces, or anyone looking to maximize small spaces due to their space-saving design, robust construction, customizable options, and enhanced safety features. You can create a welcoming and practical sleeping arrangement that accommodates your household's needs while also adding an air of charm to your living space by making an investment in a high-quality product.