A sliding door wardrobe lessens the clutter in your room. But why invest in it? That is a good question. Unlike fitted wardrobes, sliding door wardrobes are compact in design and size. That is one of several reasons why having a sliding door wardrobe is important for your room. A sliding door wardrobe banks on visibility that a fitted wardrobe lacks. It offers more room to move and with the sliding doors, the access is far better. This is one of the key reasons why many customers prefer this wardrobe.
Why choose a Sliding Door Wardrobe?
Fitted wardrobes do add the allure of space. But it requires space for its doors to open and close. This is one of the key reasons why many customers pick the sliding door wardrobe. Tender Sleep offers a massive range of sliding door wardrobes. And the unique thing is that the sliding door comes with a full-length mirror. The addition of this feature is two-fold. One, it enhances the overall feel of the room and second, it is a great tool when you are getting ready.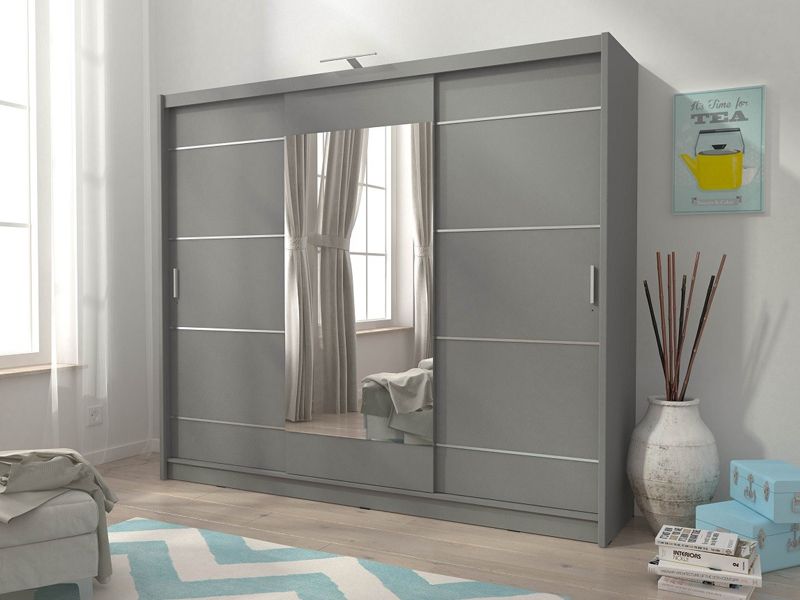 We rely on solid wood to bring this wardrobe to life. The 16 mm chipboard is for the base of the wardrobe. Our line of mirror sliding wardrobe includes the Berlin, Marsylia and Paris Lux varieties. All these ranges are unique due to their size and shape. The Paris Lux Wardrobe is the only one that comes in the 255 cm size. This is perfect for customers who are looking for a full-size wardrobe for their rooms. Customers who invest in wardrobes do get the opportunity to inspect the mirror when the wardrobe arrives at their home. This way you can check the quality of the mirror. This feat is exclusive for us and no other online retailer does this.
The main advantage of a sliding door wardrobe is?
There are many advantages of having a sliding door wardrobe in your bedroom. The most obvious one is that the space, as hinged doors, will take up more space. That is the sole reason why our range of sliding door wardrobes sells in droves. The space and the design of our wardrobe are off the scale. Moreover, the wardrobe in question is easy to assemble. Meaning that in no time you can assemble all the wardrobe. Or if you have a hard time doing that you can always opt-in for our fitting service. You can contact our customer support agent for details.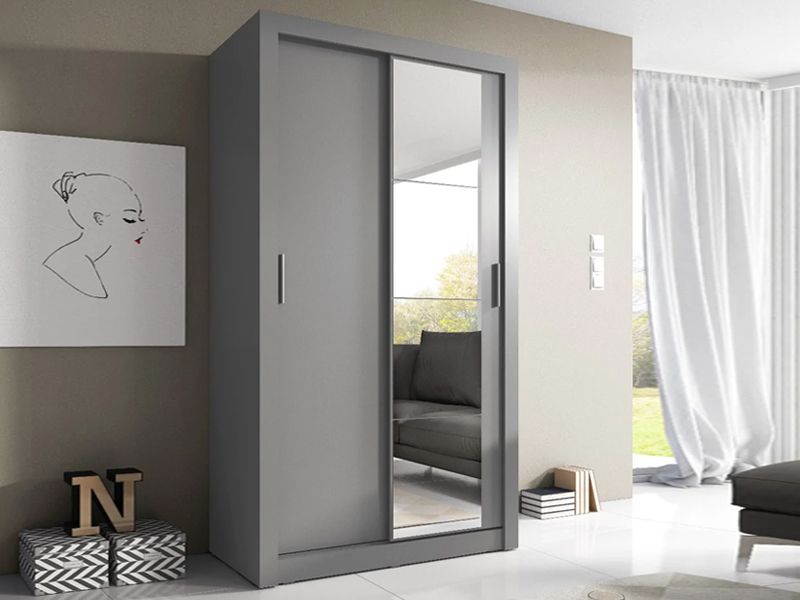 Our variety of colours allows you to style your bedroom. By far the grey iteration of our wardrobe is one of the most popular styles. This is all due to the part that we rely upon high gloss finish to make our wardrobe speak volumes of posh aesthetics. As you increase in size so do the shelves spaces increase.
What is so unique about a sliding door wardrobe?
The mirror is so unique to the sliding door wardrobe. To make sure our wardrobe stands out, we use a full-length mirror for the doors. The mirror adds a sense of style that many customers values. The full length of the door is clear type. We don't rely on any tints for our mirrors. We think crystal clear quality is what matters the most for our customers. The addition of the mirrors makes this a versatile affair.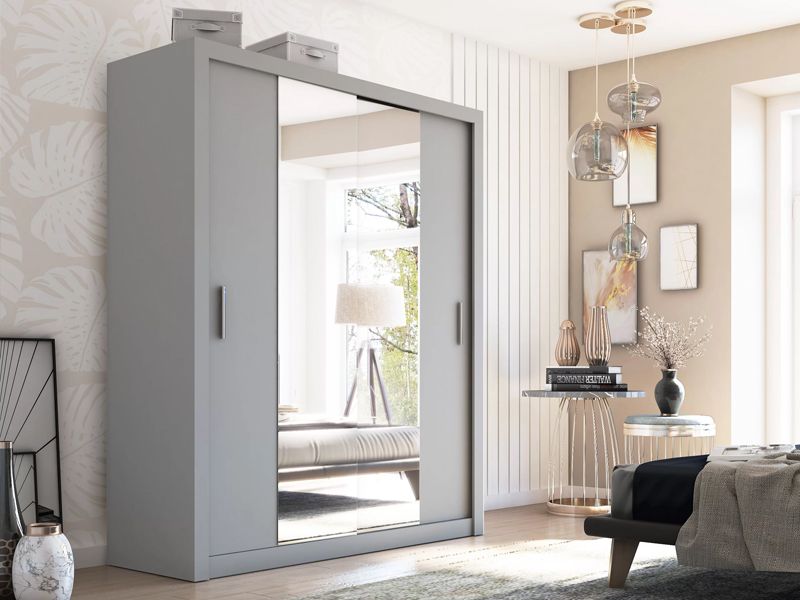 Moreover, each iteration of the wardrobe comes with various designs. You can view them here. As always when the wardrobe in question arrives at your location, Our dispatch team will gladly let you inspect the full-length mirror. If for some reason you feel that the wardrobe is not up to your standard, please do not assemble it.
Benefits of sliding door wardrobe
The best thing about sliding door wardrobes like Berlin Wardrobe and Marsylia Wardrobe is that they reflect the view of your bedroom. This way the bedroom looks more lavish. Whatever the time, the design never disappoints. You will be completely happy with the features and functions it offers. These wardrobes are a perfect value for money.
Here are several benefits of our sliding door wardrobe offers
Improved Organization
The sliding door wardrobe features a floor to ceiling height, providing extra storage space. You can simply utilize the extra storage space to keep everything in order. The wardrobe includes shelves, drawers, and hanging rails. You have the freedom to choose the way you want to store your things in your wardrobes.
From dull to elegance
Sliding wardrobes will help enhance your sense of style. You can pick the finish you desire. It will help you to change up the entire aesthetics of your room, allowing you to change your bedroom interior into elegance.
Adding value to your home
Sliding door wardrobes are available in a range of colours, designs, and styles. The wardrobe allows you to create an illusion of having a spacious bedroom. Sliding doors require less space compared to fitted wardrobes. So, if you want to utilize properly the available space in your bedroom, then opt for these stylish sliding door wardrobes. It will help you to add value to your home.
Don't limit yourself
A sleek sliding door wardrobe isn't meant to place in the bedroom only, infant you can also place it in your living room. These wardrobes are so stylish that they will look appealing wherever you place them. Moreover, the full-length mirrors allow you to get a full view before leaving the home. So don't limit yourself to old fashion hinged door wardrobes. Choose your unique style and colours that match your interior.
They're great space savers:
Without any type of hinged doors, sliding wardrobes permit you to utilize the available space more properly. These wardrobes have huge storage space, allowing you to stack up everything all in one place. It won't capture much of the floor space in your bedroom or living room, allowing you to have some spare walking space in your bedroom.
The beautiful exterior and classy doors of the wardrobe make it look more attractive. It is the perfect choice for a small bedroom.
Super Stylish:
There are so many styles available in the sliding door wardrobes, It's available in so many sizes, designs, finishes, or styles. These features make it suitable for different types of bedroom interiors. You can pick the design and finish you love, plus you can also adjust the storage space based on your needs. It suits all types of contemporary style bedrooms and interiors, making it look super stylish without spending too much money.
Easy To Clean and Assemble:
As we all know, there is a lot of hustle-bustle involved in installing the hinged doors of wardrobes. But on the other hand, installing a sliding door wardrobe is easy and requires a minimum amount of effort on your behalf. All you need to do is simply follow the instructions mentioned in the manual, and it will help you to easily install the brand-new wardrobe. Another thing that makes these wardrobes much easier to maintain is their simple design and huge storage space. That will make the cleaning of the wardrobe much easier. Simply take a cloth and a cleaning liquid, and you are all there to set up the shining wardrobe exterior.