A velvet sofa bed solves two functions for the price of one. It provides the necessary comfort that every person desires and at the same time, it transforms into a bed which you can use for guests. To experience a comfortable sleep, a bed is still the perfect companion. But when you have a family over and then the velvet sofa bed is the answer. But the question remains. Does the sofa bed offer better features than your normal sofa?
What is a Sofa Bed?
A sofa bed is furniture with a dual function. It can perform the job of a sofa and a bed respectively. It comes with countless accessories such as hardwood frames that provide support. The simple fabric helps envelop the whole sofa and later provides cushioning for the sofa bed as well. For some, these impactful home decor items have truly become trendy in every way possible. 
The necessity of having dual-purpose items in a modern home has become vital. This famously provides flexibility and versatility. Why invest in two pieces when you can buy the only one that comes with dual functionality? Keep in mind that these are not alternate for regular beds. They are a viable option if you don't have the money to afford a traditional bed. Concerning their value, these are the best sofa bed. As always, mattresses don't come once you purchase this furniture, you must purchase it separately.
Below are significant reasons to convince you that velvet sofa beds are the better option.
Comfortable Velvet Sofa Bed
Velvet Sofa beds are as comfortable as a sofa. Customers do have the option to choose three variants when it comes to sofa fillings. These include foam filling which provides firmer cushioning, fibre fillings for softer support and feather fillings for the soft cushioning. Before you purchase this majestic home decor item, a hardwood frame is a must.
Designs
A velvet sofa bed brings modern design functionality to a traditional design spectrum. Concerning scale, this is the perfect answer for customers searching for something aesthetically beautiful and charming for the living room. The addition of velvet fabric to the infinity sofa brings smoothness to the whole home décor item.
Sofa Bed Comes in all Shapes and Sizes
The velvet sofa bed comes in all shapes and sizes depending on the unit you are looking for. It comes in two-seater, three-seater, L-shaped and corner sofas. By function, the range is tremendous. Customers who invest in dual-function sofas will also get their hands on an instant small double bed. This is a perfect space-saving solution that can easily blend with any home décor it enters. Same as size, the colour options are immense as well.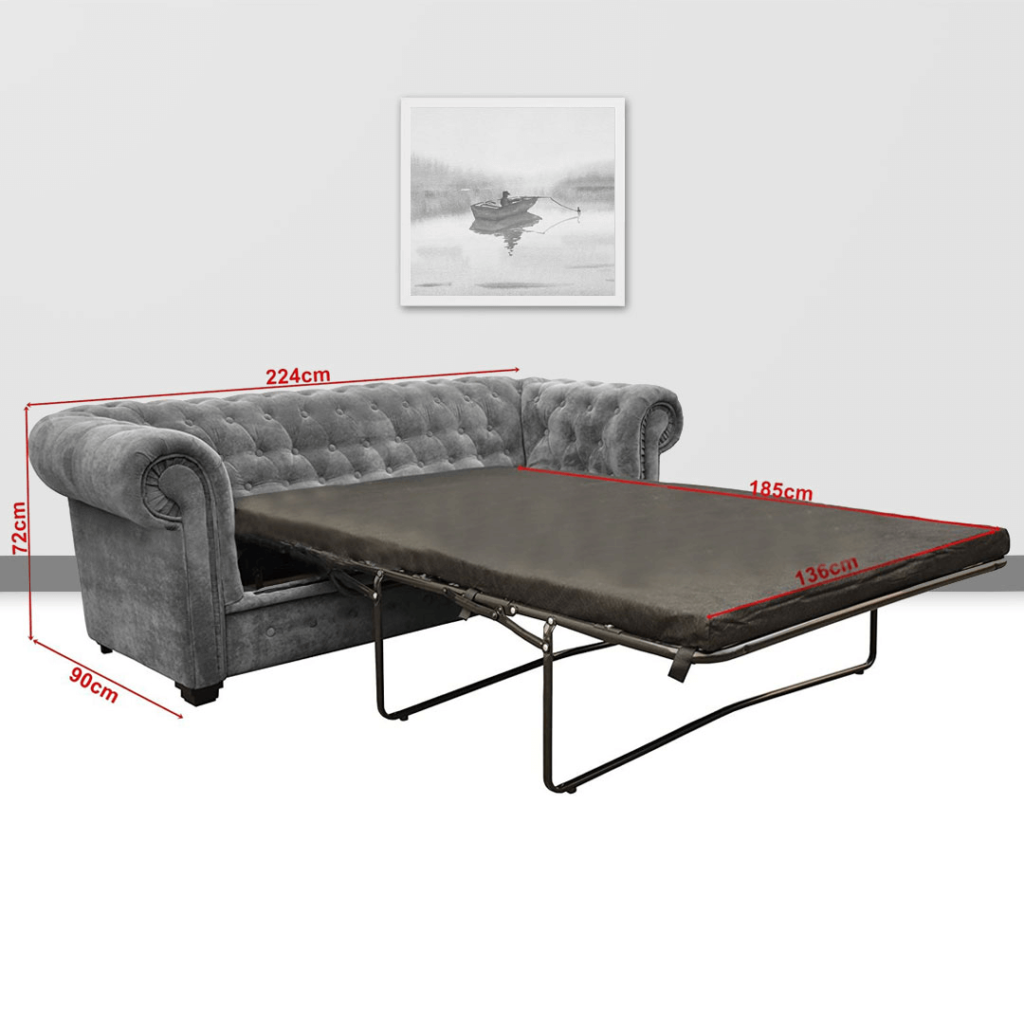 Features
All sofa beds come with clever features that help convince you that this is a viable option when you want two functions for the price of one. It is much cheaper than purchasing a bed for guests. The advancement of manufacturing and customer demands allows for a comfortable home décor item.
A well-off sofa bed consists of a hardwood frame. This home décor item also comes with the option to add a 2000 pocket sprung mattress that provides the necessary support for the overall bed. Keep in mind, the size is vital. That is why Tender Sleep's Velvet Sofa Bed is perfect for two sleepers.
Value for Money
Sofa beds tend to be expensive. This is because you get two functions for the price of one. However, if you go on purchases both separately, you will gladly go over budget fast. So, buying this will be more feasible, as it is much cheaper and gives you the benefit of utilizing both the sofa and the bed.
The table below clearly illustrates what kind of sofa bed is currently trending in the market. Tender Sleep Offers the modern sofa bed.
| | | | |
| --- | --- | --- | --- |
| Sofa Bed Style | Mattress Type Compatibility | Cushion Type | Fabric Material |
| Classic Sofa Bed | Orthopaedic Mattress | Foam Filled | Fabric |
| Modern Sofa Bed | Pocket Sprung Mattress – Orthopaedic Mattress | Foam Filled | Velvet Fabric |
All home decor that is sold in the UK affirms British Safety Standards for their durability, versatility, and components that are present inside them. Tender Sleep home decor items are safe and comfortable.
Maintenance
The maintenance for the velvet sofa bed is as simple as cleaning your car. All you need is a handy vacuum cleaner to clean inside the sofa. The 2000 pocket sprung mattress comes with hypoallergenic covers that prevent dust and dirt from accumulating. This helps keep dust mites and bed bugs at bay. The plush velvet fabric comes with the option to mitigate liquid spillage. But in the event that the spill has overwhelmed you, the use of vinegar infused sponge can get the job done without leaving any spots or stains. Healthy maintenance of the piece of furniture will make the home décor item come out as fresh. The velvet sofa bed comes partially assembled, meaning that only the legs need to be added.