To measure for your new comfy sofa, clear the space in your room where your new sofa or sofa bed will be present. Measure the maximum width and length of the space which will occupy the new comfy sofa. This will give you an idea of the size of the comfy sofa you can fit. To get a clear picture of how your new home décor items will react to other items in your design space, layout a card of your new sofa before buying it.
This activity is crucial as it will highlight any problems you might face. Keep in mind that most new comfy sofas come partially assembled. Thus, it would need clearing space to pass through your house. Keep all pathways clear, so you can take the sofa where you want to take it.
Preference is Key
You always ask what is the best comfy sofa for a small space. Let me inform you this is an open-ended answer. It depends on what you prefer, what is your price vantage is and lastly what kind of space you have available. For small spaces, there are a few ways you can use that help maximize your space. Instead of creating an illusion of space, you will be creating space.
A softback comfy sofa, especially a 2-seater, will be the most feasible option. You can always invest in a sofa bed as well. It is a multi-functional comfy sofa, and can easily house two guests at the same time. Using a sofa bed, you can kill two birds with one stone.
All retailers will be able to offer you options that will help enable you to choose a sofa from lists of different fabrics. Before you commit to buying a comfy sofa, you are left with the dilemma of which fabric should you invest in. This detailed information will give you a bird's-eye view of which fabric for which purpose can be used. Furthermore, our in-depth care suggestions will make you cautious about your investment.
Cotton Fabric Comfy Sofa
This is a natural fibre that makes the fabric sofa and breathable. Cotton is a common product which forms a price advantage and is expensive. In retrospect, a cotton upholstered sofa is comfier than you can imagine. By investing in removable cotton covers, you can safely keep the cotton fabric in tip-top shape. The fabric in question is famous for becoming wrinkled and requires regular maintenance to keep it fresh.
Linen Fabric Comfy Sofa
Linen is another natural fabric but in terms of cotton, it is more durable. This is perfect for smaller homes which house small children and pets. Sofas that come with linen fabrics have natural creases that will soften over time. These fabric sofas also have a neutral pH, which makes them hypoallergenic. Like cotton, linen is breathable. Almost all linen sofas come with the option to have removable cushion covers. This is mandatory for the maintenance portion of the linen sofa.
Wool Comfy Sofa
The wool comes from sheep. It is natural, but in almost some iterations synthetic materials are used. The wool comes in numerous colours so for any one person who might have an interior design chip on their shoulders they can have a whirl with it. And due to its overall strength, it comes with more cosiness.

Poly Comfy Sofa
Polyester is a synthetic fibre, so it is created to be super durable. The fabric in question is great for families and pets. Polyester is the perfect base for cushions, sofas that come with the fabric and are everlasting in every way possible.
Plush Velvet and Crushed Velvet Sofas
Velvet is the most desired fabric. It is not because of the smooth texture it brings, but how it is woven. Using either cotton or polyester, fabric specialists can bring luxury and warmth to your spaces for no extra cost. To make sure the fabric in question remains fresh, it requires maintenance as it is very fragile.
Faux Leather Sofas
Leather sofas are easy to look after, these are durable and long-lasting. Leather is a natural material that improves like wine. It gets better with age. And that is the same case for leather sofas. The sofa is perfect for customers with or without pets. Leather comes in four varieties.
Full Grain has a soft, natural feel and gives visible natural marks. It comes with an authentic look. These types of leathers are dyed but don't come with a top cover. Therefore, it makes them softer and fresher. Like normal leather, they will age over time and their final form will be less different you could have imagined.
Half-grain is the product of dyes and uses a thin finishing coat to offer increased protection by thus making it more durable. It is soft to touch and comes with visible marks that clearly show the texture of the fabric. Like always, all leather materials will age over time.
Corrected Leather is a natural leather but has no natural blemish in its texture. These are removed by buffing the fabric to give it a uniform texture. The result is a sleeker finish. These types of leather are far better than any other fabric, as they are durable and resistant to fading. This fading is caused when you place your home décor item in direct sunlight.
Bonded leather is the final type of leather, and it is man-made. It is a mixture of several leather fibres bonded together to create a uniform texture. The result is a material that imitates natural leather but is not. It is a budget-friendly option for you if you don't have the money to afford real leather home décor items.
But the real deal is your ability to choose which type of sofa will suit your living spaces. Tender Sleep offers all these home décor choices at affordable rates. But before you venture into buying these, it would be prudent to understand them as well.
Two-Seater or Three-Seater Sofas
A two-seater sofa is best for smaller spaces. They can easily accommodate families and couples. If you have the space, you can add another two-seater sofa. As per standard, it comes with two seats scatter cushions and two soft back cushions. A two-seater sofa is for those of you that are on the budget, whereas the three-seater infinity sofa is great for two people who want to spread out.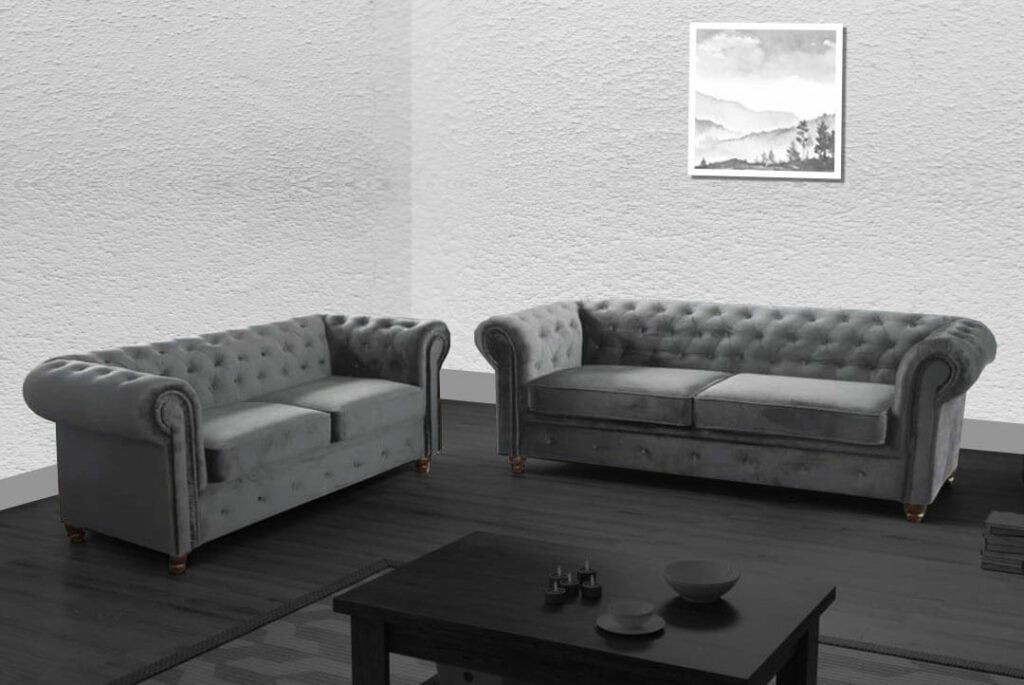 Modular Sofas
Modular sofas are all-purpose sofas that have the agility to suit your individual space. A modular sofa usually comes with three seats or more, depending on the selection you have made. It can easily accommodate large spaces and bigger families.
Comfy Corner Sofas
A corner sofa has two seating that is perpendicular to each other. They come in either an L-shape or asymmetrical formation. They are great for you if your living space has a corner. As the convert wasted space into something useful. Some Corner Sofas also come with the option of a universal corner that works with both sides of the coin. All corner sofas have the option to add a chaise sofa to their orders. It can be of any size. The clear sign is that one side of the sofa set is longer than the other. The chaise is great for you if you want to lounge and stretch your feet.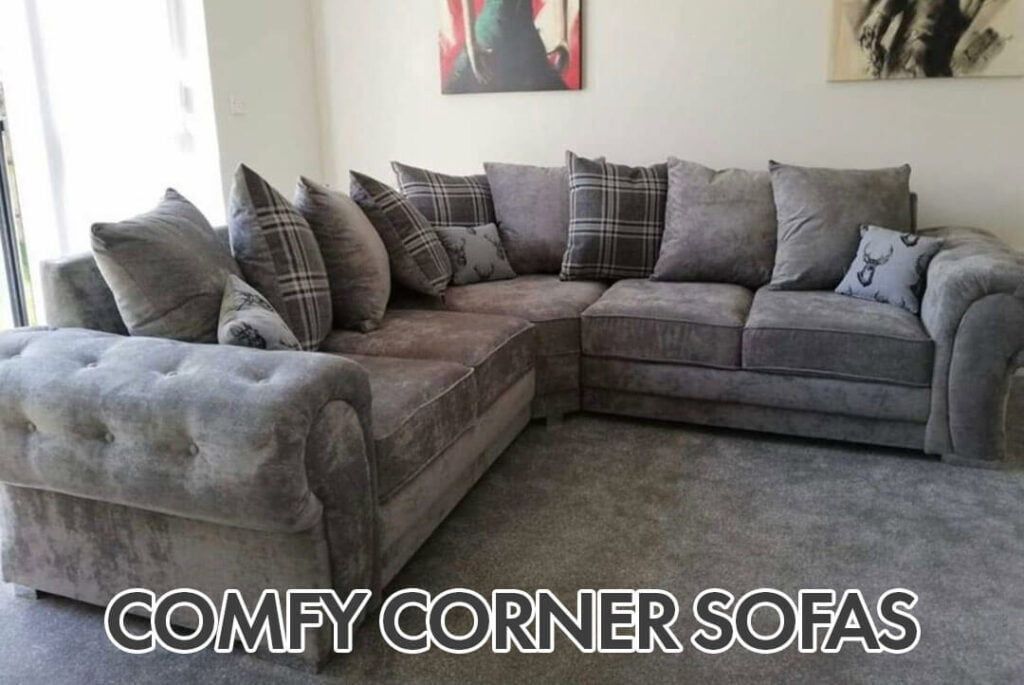 Comfy Sofa Bed
As the title suggests, a sofa bed is a sofa by day and a bed by night. Most sofa beds come with metal action or touch/release actions. The sofa bed comes in a variety of styles and compact versions. They can easily accommodate you in a way you can hardly guess. The sofa bed is functional in the sense that it kills two birds with one stone. Sofa beds are the best option if you have guests over every weekend.
The last thing that helps seal the deal of buying your valuable home décor for your living spaces. Different sofa fillings are in a variety of our sofas, but for us, we keep it the same. We want the level of maintenance to be far less than what most online retailers advise. When choosing a sofa, always remember how much you use it for, the sofa would be. And how much maintenance it will require.
Foam or Feather For a Comfy Sofa
Foam-filled sofas are firmer and well structured. In the first six-nine months they lose almost ten per cent of the firmness. Feather Filled sofas are also available. Keep in mind they are pricey as they come with feathers. This is on the considerable part that this is a natural thing and the cost of doing it extensively. The only sad thing about them is how high maintenance they are to remain fresh.
Caring For a Comfy Sofa
Proper sofa care and maintenance start with protecting your surroundings. Fabric is affected by direct sunlight and heat. We suggest keeping all your home decor items from direct sunlight and heat sources. All fabrics will fade gradually. It is a natural process and to lessen this the above suggestion holds. With time, scatter cushions will also lose their firmness. The best option to keep them comfy is to plump them once per week. The best alternative to keep your sofa cushion in good form would be to rotate and go flip them. Other than that, the only course is to invest in a new sofa set.
How to Deal With Liquids and a Comfy Sofa?
Accidents are bound to happen, but the real solution is to act on them rather than let them do the damage to your home décor item. To deal with liquids is to soak up them using a sponge and a microfiber cloth will help lessen the damage. For scars not coming on the sofa, a handy dryer can do the job without any issues. Only go to a professional when the usual way to remove the liquid has failed.
Vacuuming, A Comfy Sofa
Vacuuming your home décor items daily will help keep the dust away. If you observe that your sofa requires a deep clean, then the best course is to remove the fabric and use machine wash to clean the fabric. This will save you time and money, since calling a professional will only increase the cost.
How to Treat Velvet For a Comfy Sofa?
Velvet is a different breed of fabric and requires the utmost maintenance in every way possible. If cracks try to form on the fabric, the best course would be to brush towards the creases. Switching the cushions by flipping them is a healthy choice and a weekly vacuum cleaning is also the best suitable answer. For liquid spillage, the best option is to soak up the damaged portion using a sponge. This will prevent any marks from forming on the fabric.
As a precaution, do not rub or put pressure on that area where the liquid spillage is prominent. Using a dryer at a distance will dry it faster. Lastly, using a hairbrush will prevent the matting of the velvet fabric.