Furnishing a small bedroom is always a challenge for many homeowners. You need home décor items that are compact and to the point. You don't need to invest in items that are bulky and take all the space. What you require are items that offer dual functionality at the same time are affordable to have them. That's what you require. The first thing to view is if you need to furnish the walls or the floors. Our suggestion for the floor would be carpet flooring. This provides a suitable footing for your décor.
The next step is what to do with the wall. You have two options. You can use wallpaper. Wallpapers are a cheaper option. But if you are going to spend most of your time in this room. Then your best bet will be to invest in the paint for your walls. If possible, use synergy coating. Synergy coating is the process in which two colours are added to walls. This makes your room look modern. At the same time, your design style reaches for the stars. Now since that is out of the way immediately, we move to the room.
Small Bedroom Idea #1 :Bed Frames
The first thing that any room requires is a bed frame. You can always invest in the same bed frame that you slept in. But since change is good. You have the option to invest in something modern. You can easily get a modern bed frame for £219. The Lucy storage bed is the best candidate for this job. It is compact in every way possible. Moreover, it comes with plush velvet fabric. This kind of detail can only be present in over-the-top bed frames. However, it matters that what size is a small double bed for sleeping and resting.
If you want to bring style to your room. Then the best option will be the Chesterfield bed frame. The majestic sleeping bed base comes with tuft upholstery and chrome legs. To make this bed speak volumes, crushed velvet fabric comes into play. And just to make everything seem, vibrant Chesterfield designs are present in the headboard and the footboard. Traditionally, this bed frame is the best of both worlds.
Maybe styling isn't one of your forays, and you rather stick with being basic. Then the best option for you will be the double divan bed with drawers. For £229 you can get the double size with several attachments. These include four drawers for storage, a simple headboard, chrome legs and a choice of colour. The mattress is optional and is sold separately. These three-bed frame choices will look spectacular in your bedroom. You can always browse the variety here.
Small Bedroom Idea # 2: Wardrobes
For customers who suffer from clutter, your next option is to get a wardrobe. Wardrobes help in storing your formal and casual clothes with ease. The sliding-mirror door wardrobe will lessen the clutter in your room. It has dual functionality. This is why these types of wardrobes are a must-buy. The 203 Berlin Sliding Mirror Wardrobe is the go-to wardrobe. It will cost you £309. It comprises eight square shelves, two rectangular top shelves and 4 hanging rails. You have the option to lessen the hanging rails to two.
The Berlin wardrobe comes in three colours. This includes grey, white, and black. To improve wardrobe visibility, you can also add two LED lights. These can be bought separately. This will greatly impact your storage capabilities.
Normally, when you arrive in new homes, they have fitted cabinets. These are great if you don't have the money. But if you want to bring finesse and style to your room, then the mirror sliding wardrobe is the best choice to consider. They might seem a little pricey. But the benefits outweigh the costs that you pay for the item. Overall, the access to the wardrobe is way better than those old fitted wardrobes. When you have more than your budget and the space, the Marsylia Wardrobe is the best investment. It can't be recommended for a small room as the wardrobe is quite bulky.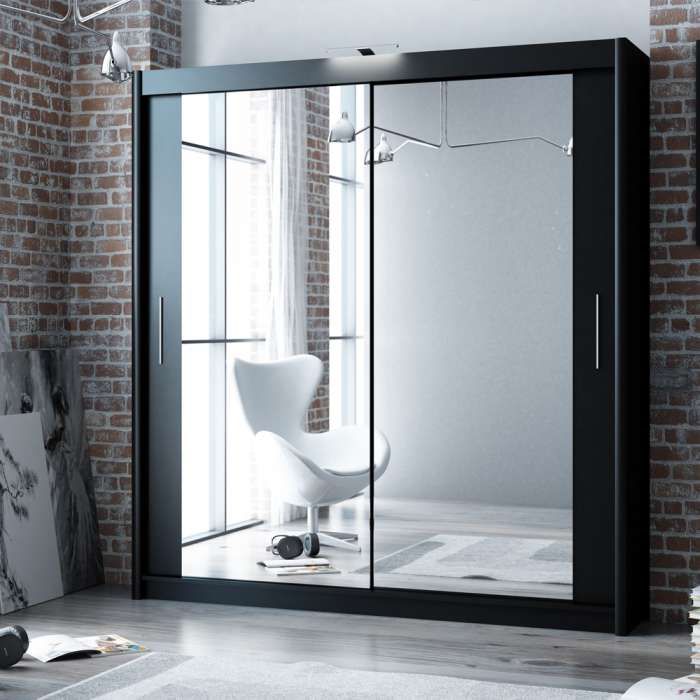 Small Bedroom Idea # 3: Chest of Drawers and Bedside Table
The next step in keeping the spirit of your room alive is to invest in a home décor that imbues tradition. Bringing a chest of drawers or bedside table is a viable option. It all depends on if you have the space to do so. The chest of drawers gives you the option for easier access. You can put items that you interact with daily. The placement of the chest matters. The bedside table comes in handy when you go to sleep. A lamp placed on top is a great option when you wake up at night. You want to avoid bumping into things when you are sleepwalking to the loo. The only drawback of adding a bedside table to your bed is that they take up more space. They are less compact. Bedside tables are great for medium to large rooms.
However, you can always circumvent their initial purpose by treating them as a table. Why spend money to get a full-size table when you use the bedside table as a better option? This might sound outrageous, but it is more feasible than you can imagine. Our Alina bedroom set is the best option as they come with a wardrobe, two bedside tables and chests of drawers. Customers who are interested in the chest of drawers can purchase them separately.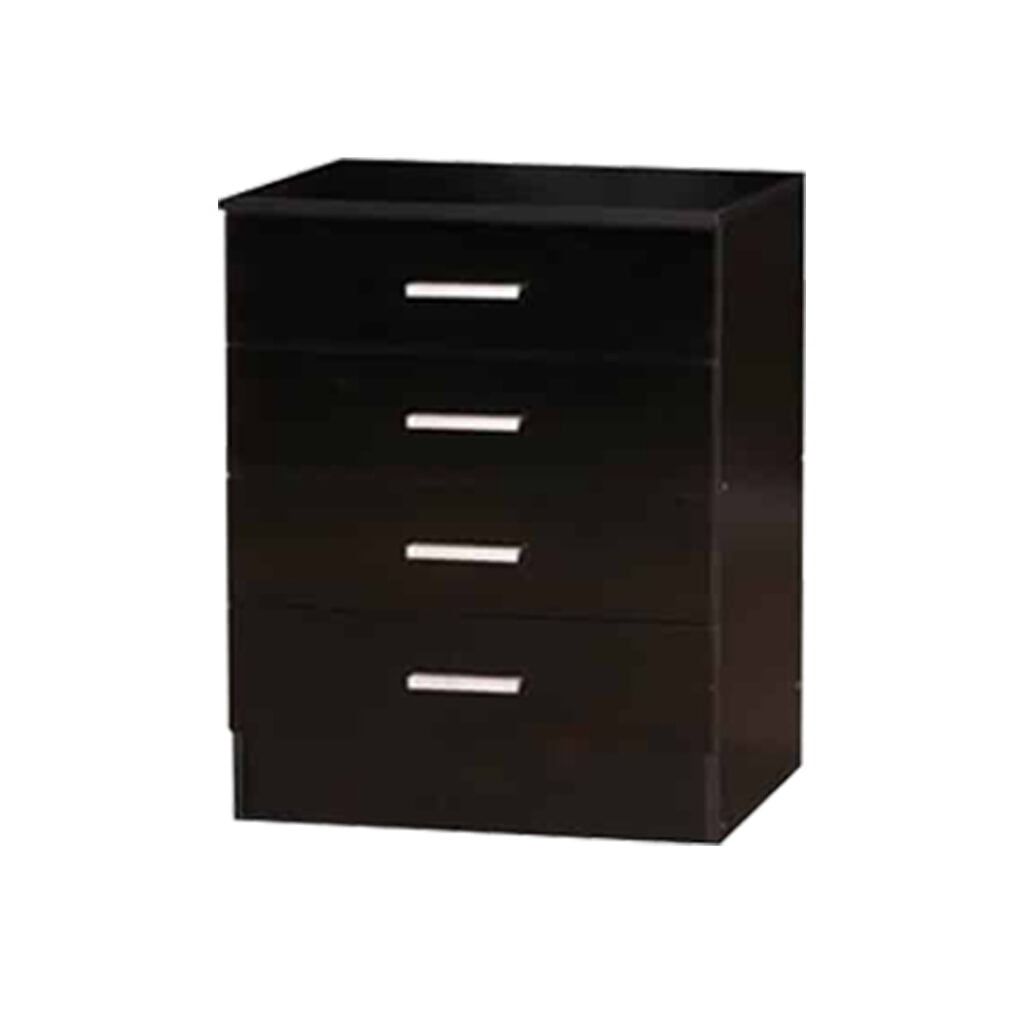 4: Curtains
The next step to furnish your small bedroom is to get curtains. Blinds may be the feasible choice, but blinds are expensive. Where curtain is a cheaper sort. The other thing that curtains are a better option is the action. For blinds, you need to twist and turn daily, whereas curtains have a simple swing motion to open them. As for privacy, blinds are a better choice as they protect their privacy ten-fold. This is not the case with curtains. The choice is yours. The only things that matter when choosing a curtain are its design and the colour. We recommend not going for bright colours. Attempt to match your bed frame with the curtain to create an accent effect in your room. The accent effect helps enhance the overall style of your room.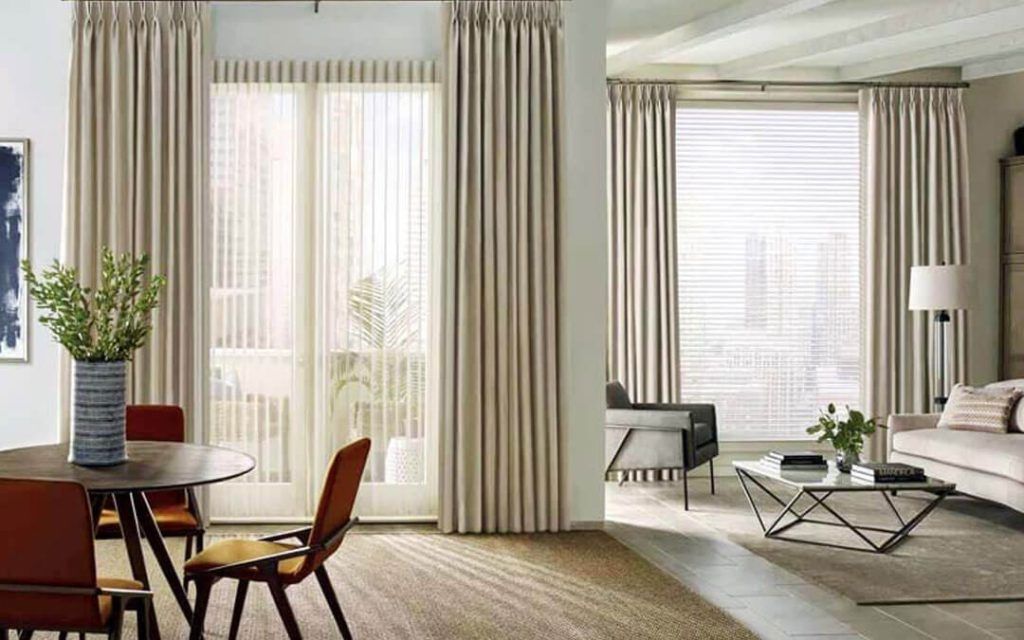 5: Art and paintings
The last step to fully furnish a small room is to add paintings to your room. Set out to add art from famous designers or pop culture art to enhance the overall sense of style of your room. The nostalgic element in your room helps you reminisce about a type of calmness. This will help you sleep comfortably at night. Knowing that helps shape your life is much closer than you think. Family portraits are a great incentive as well as they provide the warmth that you desire when you are alone. Remembrance is more calming than you can imagine. It keeps your perspective and narrative intact.