Most customers know that the firm mattress is always the best choice for treating chronic back pain and a bad back. With the advent of technology, many customers ponder on the dilemma of whether the firm mattress is supportive in lessening back pain or not? We take this opportunity to explain to you how to find the best mattress for a bad back. If you're suffering from a bad back, you know from your perspective how much of a pain it is to have a good night's sleep. Recent studies suggest up to 10 percent of people in the UK suffer from chronic back pain. 
Sleeping on the wrong type of mattress can worsen or cause more pain than you can imagine. A proper mattress that lacks the support needed to keep your spine aligned is the worst investment ever. With the proper support, your lumbar pain will start to strain your muscles and your sleep posture will start to break down. These all signs contribute to back pain.
Why is Sleeping Important?
Sleeping is critical for the human body, and so is comfort. That's why you invest in a mattress so that they provide you with the comfort you desire. It is a given that sleep will be done, but the comfort factor is essential as well, as it helps rejuvenate the whole body. A mattress that does both the job of providing the best sleep and comfort is a blessing in disguise. With a slew of mattresses in the market, choosing the best mattress can be challenging. Therefore, this guide is designed to help you decide the best mattress for your back pains.
Points to Ponder About
Before we begin, it is advisable to consider these pointers before adhering to our guide about the best mattress for back pain. Keep in mind that personal preference is key to determining which mattress is the best. Initial research shows that there is not a particular mattress type that works for all people who suffer from back pain. Any mattress that helps you sleep without stiffness in your body and pain is the best mattress for you. If you suffer from back pain, you should decide on the mattress that satisfies your standards and now comes with a million features. Support and comfort by the mattress are crucial as the only thing for you to do is sleep.
What is Inside the Mattress?
As we have identified that almost all mattresses do offer the same support, it is high time for you to also understand what the components of the mattress are capable of. The springs found inside the mattress provide the support you require, and the padding that is found around the springs does what they are told: support and comfort. The main reason why there are so many choices has to do with the construction of these mattress frames.
The key element to look for is the amount of spring count in the mattress you are selecting. Anything below 1500 is considered low, and anything above 2000 is the best mattress. A foam padding mattress with 2000 springs is the best available option for customers suffering from back pain. The best example would be the 2000 Pocket Sprung mattress by Tender Sleep Furniture.
Why Does Support Inside the Mattress Matter?
Finding a mattress with high back support should be your target. A high-quality mattress is known to be providing support for both the spine and lumbar of the human body. The correct amount of support will be welfare to you as it will provide the support in lessening the muscle soreness you will experience every time you enter the bed. Customers who bought this type of mattress have always found that choosing a mattress for its firmness and sleeping position are the key reasons to get back pain relief.
Support vs Comfort
Support and comfort are two separate things. Most mattresses offer comfort. This is due to the part of the materials and components that are inside the mattress. Whereas the support is about how great the components are inside the mattress. Customers are always curious if the components inside the mattress provide the necessary support to it or not. Mattresses that have better support simply suggest that the components inside the mattress such as the springs and the padding are of high quality.
Each mattress has its support and comfort spectrum. For example, sleeping on a soft mattress will do wonders for you if you suffer from muscle spasms. At the same time, if you suffer from chronic back pain, then the firm mattress will gladly do the job without any issues.
Do Mattresses Sag?
To make sure your mattress stands the test time, please check your mattress for the obvious signs which are responsible to show that your mattress might have run its course. If that is the case, then this would be the opportune time to dispose of your old matters and to invest in a mattress that does that job peacefully. Many people will recommend putting the plywood underneath the mattress, but in truth the fix is temporary and a waste of time. Getting a new mattress is still advisable.
Three Types of Mattress Firmness For Bad Back
In general, there are three types of mattress firmness
Soft mattresses often provide good comfort and pressure point relief but lack the necessary support, which can make your back pain much worse.
Medium mattresses tend to be firm enough to provide adequate support as well as being soft enough to be comfortable. They have the best of both worlds. This includes both types of mattresses, soft and firm.
Firm mattresses offer great spinal support but lack any softer cushioning. They might do wonders for you, but your partner might soon become uncomfortable. A firmer mattress is the affirmative choice when you suffer from back pain.
This is all on the part that a firm mattress can provide the lumbar support that the soft mattress lacks. It helps realign the spine, and you get to retain its original shape. It will take its time and toll on your body. Eventually, your back pain will be gone, and then you can shift back to a different mattress if you desire. However, this is not the case for customers who suffer from chronic back pains. For them, this is the new normal.
Caution
Keep in mind, if the mattress is too hard it can cause muscular pains in your body, so you have no stiffness. And if you are a side-sleeper, you might feel a lot uncomfortable.
How to Buy a Firm Mattress for a Bad Back?
When it comes to buying the appropriate mattress, there are no specific rules. Online retailers try to sell you products that may be beneficial to you, but it solely depends on your choice. It also depends on your budget and your way of sleeping. A great mattress will cost you between £89 to £270. This purely depends on the materials, the size, and the frame that the mattress comes with. The cheaper version will be far softer, but it will lack certain features that you may find in top-of-the-line mattresses in the former price range.
Is the Orthopaedic Mattress Best for a Bad Back?
An orthopaedic mattress has a medium-firm feel, its goal is to tackle your cervical and lumbar support that is near your spine. It comes with a mountains-like cover that helps your body that is aching for recovery. But once the job completes, you should invest in something with a medium feel. The orthopaedic mattress goal is to target you if you either have recurring back pains. Customers who don't have these pains will start to develop other pains like muscle soreness and cramps. A study has shown that orthopaedic mattresses help alleviate pressure from the lumbar support and can relegate towards your feet.
Why is Visiting the GP Important for a Bad Back?
After visiting your local GP, if the prognosis of your body is that you have chronic neck pains, then the next step is to change your bedding. You need to invest in a comfortable mattress that helps elevate your overall health, and at the same time buy a bed frame that helps you keep energetic. Mattresses are mediums that help resolve the issue, but the real key is the size of bed frames.
Bed frame height helps you out of the bed in an energetic form. The other key factor is your overall body mass. If you are more than 16 stone, you will feel more pain in your upper shoulder region as it takes a toll to manage body mass. Moreover, the local GP can identify that the back pain you are suffering is muscular or related to your joints.
Is a Firm Mattress Great for Side-Sleepers?
If you are a side-sleeper, then the best option is to invest in a mattress that has cushioning on the sides. This way, whenever you twist and turn your side portion, getting the needed support it sure desired. Contouring your body is the key element a mattress must do. It gives you the relaxation that you require the most. The human body repairs itself at night more than in the morning, and having perfect cushioning does that job at a faster rate.
Furthermore, an overly firm mattress will result in pressure points on the shoulder and hips, causing pain or numbness. Side sleepers typically require a mattress with softer cushioning, as previously described. Back sleepers require a firmer approach when it comes to mattress cushioning. If you tend to sleep on your front, then you put your body at risk as the strain will be on the neck muscles. For customers suffering from this dilemma, a firmer mattress is the best bet.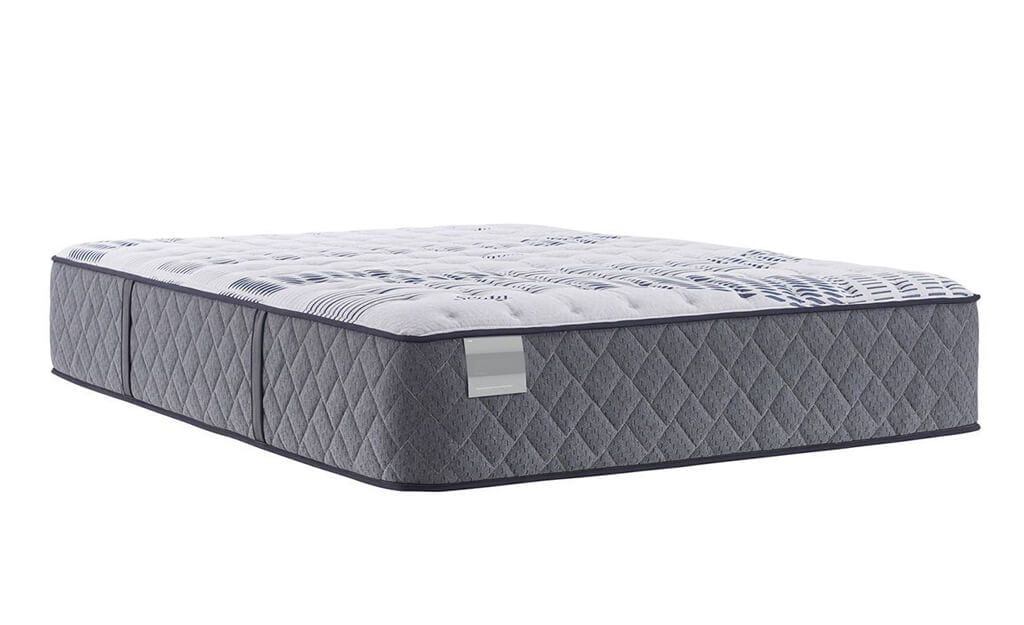 Are Pocket-Sprung Firm Best Mattresses for a Bad Back?
To summarize, pocket sprung mattresses are springs that are sewn into fabric pockets that work independently. They offer no transfer of motion. This kind of mattress is the front-runner of providing ample comfort and support. Unless you suffer from bad back or chronic pains. If budget is not the option, then latex mattresses and memory foam are the better options. Keep in mind, these kinds of mattresses are pricey and offer fewer features as they get pricier.
How do you define Comfort for a Firm Mattress?
Defining comfort is way harder than expected, as comfort varies. Something that you may prefer comfortable, but your partner might not be comfortable with. For someone who does the heavy lifting, a firmer mattress will be great. Whereas a person who does cleaning jobs will find the mattress not so comfortable. Your profession details the purpose of which mattress is suitable, and for that reason, why your choice matters.
Final Verdict
The main purpose of the guide is to give you a perspective that there are many ways to lessen the back pain you are suffering. After receiving your diagnosis from your GP, you can use medicines to lessen the pain, change your home décor or change your sleeping position. Changing your sleeping position is beneficial in this way that it starts to put stress on your back. Pillows help provide firmer support to your neck if you change from sleeping on the back to side sleeping.