The plush velvet Heaven bed has a truly divine design element. It's a visual representation of luxury, comfort, class, and style. This particular bed comes with both a tall headboard and footboard included. The plush velvet bed is the centerpiece of the room. Its solid wooden frame increases the durability of the product. High-quality premium material makes this piece remarkable, which enhances the charm of the room. Everyone can easily afford it because it is accessible within a reasonable range. We offer it as a non-storage option. The design of this bed is incredibly amazing and a real show-stopper.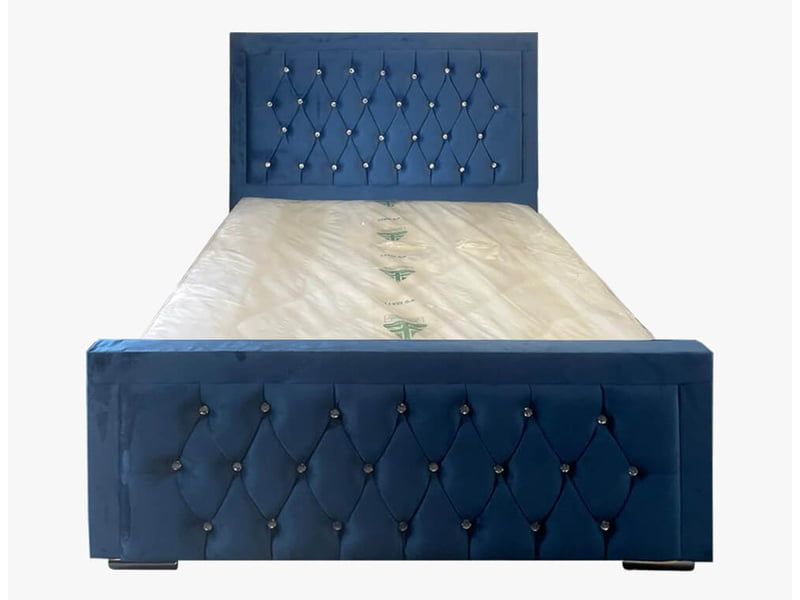 Make it Your Personal Heaven
So make the bedroom your personal heaven with our plush velvet Heaven bed. It is the perfect addition to your bedroom, where you can relax and sleep. Your sleep meets serenity thanks to this product. We never compromise on product quality. We always provide you with high-quality products at an affordable rate. It is offered at a discounted rate by Tender Sleep. The frame is made of solid wood for extra durability. It has sufficient potential for strength and durability.
Plush Velvet Heaven Bed has three standout qualities.
Soft and comfortable: Plush velvet is a soft, velvety fabric that can provide a comfortable sleeping surface.
Warmth: Because velvet is a thicker fabric than many others, it can provide some insulation and help keep you warm in colder temperatures.
Luxurious look and feel: Velvet has a rich, luxurious look and feel that can add a sense of elegance and opulence to a bedroom.
High Quality Wooden Frame
The wooden frame is crucial in laying the groundwork for the bed frame. Tender Sleep does too much to make this a masterpiece in place of using fabric studs. The chrome legs add the final flourish to further amaze the product. A metallic frame might give it a more aesthetically pleasing feel, but the perfection of this product's wooden crafting speaks volumes. A chesterfield is added to further enhance the luxury of this bed frame.
Luxury Chesterfield Design of Plush Velvet Heaven Bed
This bed is attractive primarily because of how the chesterfield design was implemented. It doesn't just enhance your visual sense to have this bed. It also offers the required level of comfort. Its high-quality chesterfield headboard supports your back, letting you sit up to read, watch TV, or simply have a conversation. It is something extraordinary—what we call a worry-free bed. It is exceptional and appealing due to its clean, simplistic design. You might be surprised to learn that a headboard allows for temperature control. It helps prevent the pillows from toppling.
Multiple Advantages
A high footboard that matches similarly is designed to offer the user several advantages. It's a bed without storage, designed with both comfort and utility in mind. The product is very easy to assemble in a couple of minutes. We include the instruction booklet in the box for the customer's convenience, so they can manually assemble their product. This bed offers a variety of advantages thanks to its distinctive design and high-quality finishing. Designers have crafted this plush velvet ottoman bed to wow with its exceptional durability, reliability, and affordability.
Transform Your Room
This product is synonymous with luxury. Order this bed to transform your bedroom into a heaven at a much more affordable price. Our goal is to provide you with the best shopping experience possible, complete with timely deliveries of top-notch products. The appeal of this bed is that it provides a luxurious lifestyle at a reasonable cost. Enhancing the interior design of a room is something that everyone can easily afford. Its high-end style fits in with any bedroom's contemporary theme. Its tufted details make this bed exceptional.
Easy Assembly Procedure
The bed comes in flatpack packaging in three to four boxes, depending on the size you select for your luxury bedroom. The assembling procedure is literally easy, and one can easily assemble this piece within a couple of minutes. We include an instruction booklet in the box for the convenience of our devoted customers. This magnificent piece truly offers a divine design element and is full of comfort and luxury. The plush velvet upholstery further adds decency to the piece.
Tender Sleep offers this exceptional piece at an affordable price. We deliver this bed across the UK. We provide free delivery on the ground floor, and you have to pay if anyone needs their delivery upstairs. The delivery charges would depend on the product you choose. Our high-quality products are long-lasting and affordable.