The demand for single wooden bunk beds keeps on increasing day by day. Wooden bunk beds are best for kids and adults. These are suitable for small bedrooms and guest rooms. At Tender Sleep, these products are available at affordable prices. A single bunk bed is the best gift that you can give to your kids. There are plenty of benefits to having a wooden bunk bed in your room, such as the fact that it puts a smile on the kid's face and provides them with enough space for fun. It's a very feasible product that we offer at Tender Sleep. It is our best-selling product across the UK.
Upgrade Your Lifestyle with Single Wooden Bunk Bed
This bed allows you to experience the benefits of a compact lifestyle. It also enhances the grace of the room. It can save your space in the room. Once you have this bed, your kids' space issues can be resolved. It allows kids to sleep with comfort and ease. It also provides a reading environment in the room. Likewise, kids have more space in the room for fun and activities. For the pursuit of your kids' happiness, order our triple wooden bunk bed and give it to them. These beds are made-up of the best-quality wooden material, which ensures the sustainability of the product and makes it more long-lasting. Due to its durability factor, our customers love to buy this product from us. They trust us so much that they keep returning to us with more orders. This is just because we have maintained the quality of our products.
Ideal Product For Your Kids
We do not compromise on the quality of the products and always provide the best-quality material to our valuable customers. The hardwood material makes it long-lasting and durable. You can save time, money, and space by having this product in your house. Its enduring frame and attractive design offer plenty of features that pay off once you have this remarkable piece in your room. By having a wooden bunk bed ladder, you can give your kids' the comfort they deserve. This piece can provide an environment where your kids' can read and play. It is much affordable, much reliable and a productive piece. It is an ideal solution for small rooms and perfect for kids and adults alike. Its attractive design imbues a luxury lifestyle.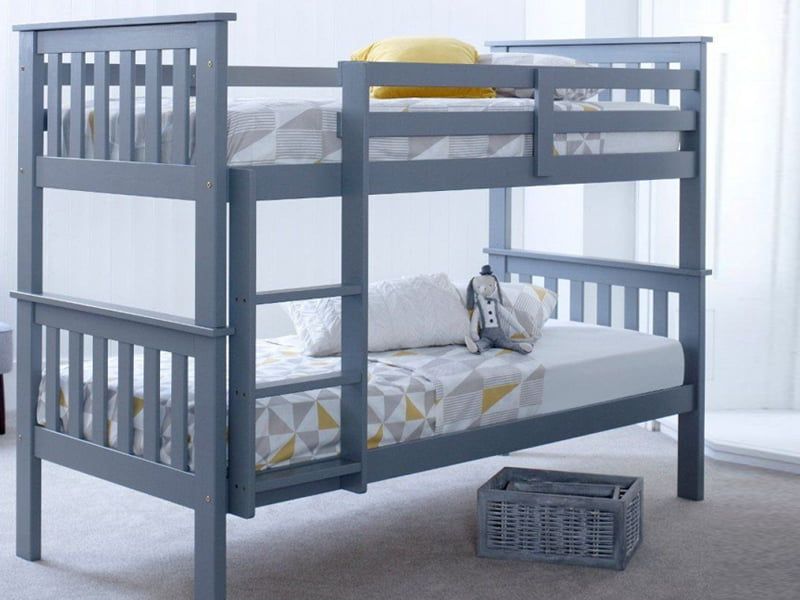 Multiple Colour Options
Tender Sleep offers this bed in a variety of colours, including White, Oak, and Grey. These colours play an important role to maximize the overall grace. So, enhance the beauty of your room with our products that we offer at Tender Sleep at a low cost. It arrives in flat-pack packaging and has an incredibly easy assembly procedure. All the necessary information that is required for the assembly procedure of a cheap wooden bunk bed is provided in the instruction booklet. By following the instruction manual, one can easily assemble this bed in just a couple of minutes. Its solid wooden frame makes it an everlasting item. Its stainless-steel components keep the bed frame intact. It can change the overall look of your room with a touch of luxury and comfort. The beauty of these beds is that they can easily move to the best possible location wherever you want.
Some Impressive Features of Single Wooden Bunk Bed
Space-saving design: A bunk bed is an efficient way to maximize space in a room, as it allows for two beds to be stacked on top of each other.
Durability: Wooden bunk beds are often made of sturdy materials such as wood or metal and can last for many years with proper care.
Versatility: Bunk beds can be disassembled and reassembled as separate twin beds if needed, which can be convenient if the beds are needed in different rooms or if the children using the beds grow older.
Safety features: Many bunk beds come with safety features such as guardrails to prevent children from rolling out of bed, as well as sturdy ladders for easy access to the top bunk.
Customizable: Wooden bunk beds can be painted or stained to match the decor of the room, or can be decorated with bunk bed accessories such as curtains or bedding.
At Tender Sleep, we ensure that our design and high-quality material provide lasting durability and unmatched value for money. We always rely on high-quality products because customer satisfaction is our top priority. It offers a luxurious and sensational look, increasing the style and comfort of the room. The attractive look of this piece enhances the charm of the room.
These kinds of attractive bunk beds are highly demanded across the UK. With the additional features, a single wooden bunk bed saves space and adds more elegance and aesthetic appeal to the room.
Affordable & Stylish Piece
This product is cost-effective, and everyone can easily afford it. The longevity of this product makes it more precious. The glamorous look of this product can elevate your room's decor. It is the ideal product to add more glam to your room's interior. It is specially designed in a way that two siblings can easily sleep in comfort and peace. A stylish bed is an ever-lasting addition that your kids are sure to love.
Conclusion
At Tender Sleep, we offer multiple types of budget-friendly wooden bunk beds. However, at the moment, we offer you our versatile product that kids love the most. So, get this perfect piece to add extra value to the theme of your room. At Tender Sleep, we offer top quality bunk beds at affordable prices. It enhances the grace of the room with its stylish features. The beauty of this bed is that it fits in the minimum space. It is the perfect piece for a contemporary style living room. This masterpiece is offered at a discounted rate at Tender Sleep.