The Grey Rose Chesterfield Bed Frame is a sign of opulence and serenity. At Tender Sleep, we offer this exceptional piece to our devoted customers at a fair price. It brings aesthetics and elegance to the interior. Its luxurious chesterfield design is the true reflection of class and style. However, there are plenty of hidden features that make this bed frame unique. The chesterfield sleigh bed is the epitome of luxury. Its vibrant design defines its class and decency. This outstanding piece is simple and suitable for contemporary-style bedrooms. In essence, the bed frame maintains an uncomplicated aesthetic. We offer chesterfield bed frames in different varieties, like king-size chesterfield bed frames and chesterfield crushed velvet beds, with exceptional features at an affordable price.
Chesterfield Detailing
It is a unique piece with some undiscovered features that add decor to the space. The chesterfield style and deep buttoned-tufted accents add to the elegance. Altogether, the bed frame's simplicity is astounding. This item offers affordability, durability, and utility. The solid slats are a viable option in the Chesterfield bed frame. Therefore, the bed has a regal appearance thanks to the high footboard and headboard. Its Chesterfield design brings traditional volume back into the equation. A timeless design is necessary for an outstanding work of art. The components of the bed frame remain intact.
High Quality Sturdy Frame
These frames have a sturdy base that adds to their durability. The creation of these beds involves the use of fabric of the highest calibre. Make some styles of Chesterfield bed frames stand the test of time by using the most coveted material: plush velvet. This wonderful item offers features that make it dust- and mite-resistant. This remarkable piece is available in grey, which represents neutrality and balance.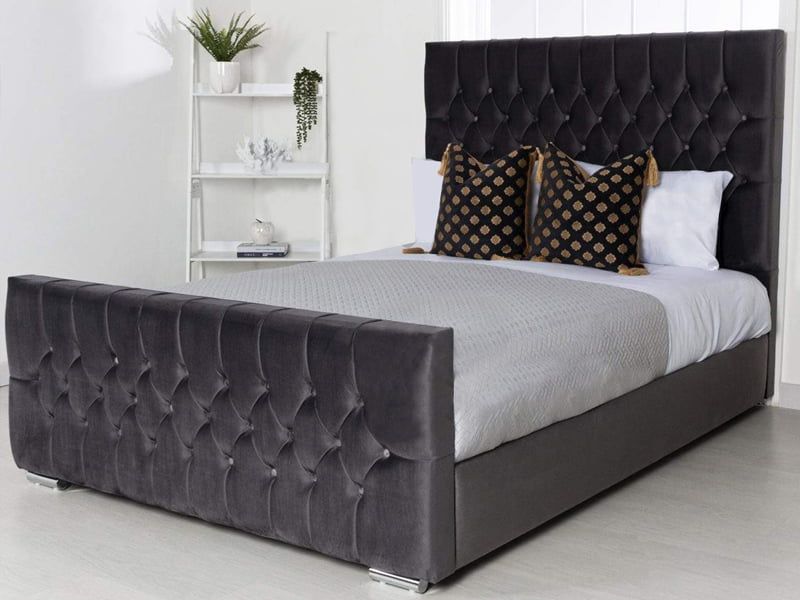 One Can Easily Assemble
However, a sensational feeling permeates the bedroom thanks to the aesthetic vibes. Deliver the bed frame in 4 to 5 boxes, depending on the size you select, in flat packaging. Flood the market with buyers looking for these stylish beds. It is the modern answer to extra luxury. Thus, it elevates your bedroom's elegance and aesthetic appeal.
Notable Features of Grey Rose Chesterfield Bed Frame
Moreover, this product has a notable feature that would make your bedroom look better and be more attractive. A sturdy and dependable wooden frame adds to the product's dependability. We provide customization options to our customers in this package, allowing everyone to alter this wonderful product to meet their needs. Overall, this gorgeous item is a perfect fusion of traditional and modern design, and its plush velvet upholstery looks elegant in contemporary spaces.
Discounted Price Range
Therefore, it is one of the brightest pieces Tender Sleep has to offer at a reasonable cost. This magnificent piece of artwork would be excellent for enhancing the elegance of the bedroom. Hence, the arrival of new products has extraordinary graceful buttoned-tufted detailing for elegance, class, and style. It adds a sense of formality and ambiance to the bedroom. With diamond tufting, the large square headboard on our Chesterfield-style bed is striking. Therefore, personalize this expertly crafted, stunning grey tufted bed frame with an optional mattress for extra comfort and relaxation. Give the interior of the room a fascinating appearance with this gorgeous piece. For their loyal customers, Tender Sleep offers Chesterfield bed frames at a much lower price.