Optimising the storage space in our wardrobes has become more crucial as our lives become busier and faster-paced. A tidy closet not only saves time but also aids in better fashion decisions and fosters a clutter-free and calm home environment. 
Benefits of Sliding Wardrobe
When comparing sliding wardrobes to traditional wardrobes, there are several advantages. First off, they save space because they don't need extra room to open and close, which is especially useful in small spaces. Saving space on the floor for other furniture or storage is possible with a sliding wardrobe. Second, sliding wardrobes have a beautiful appearance and can give any space a touch of class.
You can select the one that best suits your preferences and harmonizes with the décor of your room because they come in a variety of styles and finishes. Thirdly, sliding wardrobes make it easier to access your clothes because you can do so even in confined spaces by simply sliding the doors. Furthermore, compared to traditional wardrobes, sliding wardrobes require less cleaning and maintenance, making them easier to maintain.
Berlin Mirror Sliding Wardrobe:
The Berlin Mirror Sliding Wardrobe is a well-liked selection for people seeking a chic, useful, and compact storage solution. The front of the wardrobe has a mirror, which not only improves its aesthetic appeal but also serves a practical purpose. You can check your appearance before leaving the house thanks to the mirrored front, which also gives the impression that your room is bigger and brighter.
Due to its availability in various sizes, the Berlin Mirror Sliding Wardrobe can accommodate a range of room sizes and storage requirements. Because it is made of high-quality materials, its longevity and durability are guaranteed. It also has a strong sliding mechanism that slides open and shut quietly, making it simple to access your clothes and other items.
Wardrobes:
In every bedroom, a wardrobe is a necessary piece of furniture. They provide space for storing clothing, shoes, and other items, assisting in keeping your room tidy and clutter-free. You can choose a wardrobe that matches your personal preferences and the aesthetic of your room because they come in a variety of styles, sizes, and finishes.
Traditional, modern, and minimalist designs are a few popular ones. The materials that can be used to construct wardrobes include wood, metal, and plastic, each of which has advantages and disadvantages. For instance, metal wardrobes are strong and simple to maintain, whereas wooden wardrobes are long-lasting and aesthetically pleasing.
Wardrobes can be used as a decorative element in your room in addition to serving as storage space. You can pick a wardrobe that blends in with the overall design, style, and colour scheme of your room. Mirrored wardrobe doors can increase the size and brightness of a room, and wardrobes with elaborate designs can add a touch of class. With the right wardrobe, you can improve the look of your room while keeping it organized and clutter-free.
Here are some tips and tricks for smart storage in your wardrobe.
Declutter regularly
Decluttering is the first step to maximizing wardrobe storage. Regularly go through your wardrobe and accessories and throw out anything you haven't worn in a while or doesn't fit you anymore. You can either sell these things online or donate them to a good cause. This will not only free up space in your wardrobe but also assist you in assembling a wardrobe that is more organized and cohesive.
Divide your wardrobe into zones
Based on categories like tops, pants, dresses, and accessories, divide your wardrobe into zones. You can find what you're looking for more quickly and easily by doing this with your wardrobe. You can use shelves, drawers, or hanging organizers to create these zones.
Making use of the vertical space available is one of the best ways to maximize wardrobe storage. Use double hanging rods or pull-out racks to hang clothing on various levels. Shoes, purses, and accessories can all be organized with hanging hooks. In addition to saving space, doing this also makes it simpler to see what you have.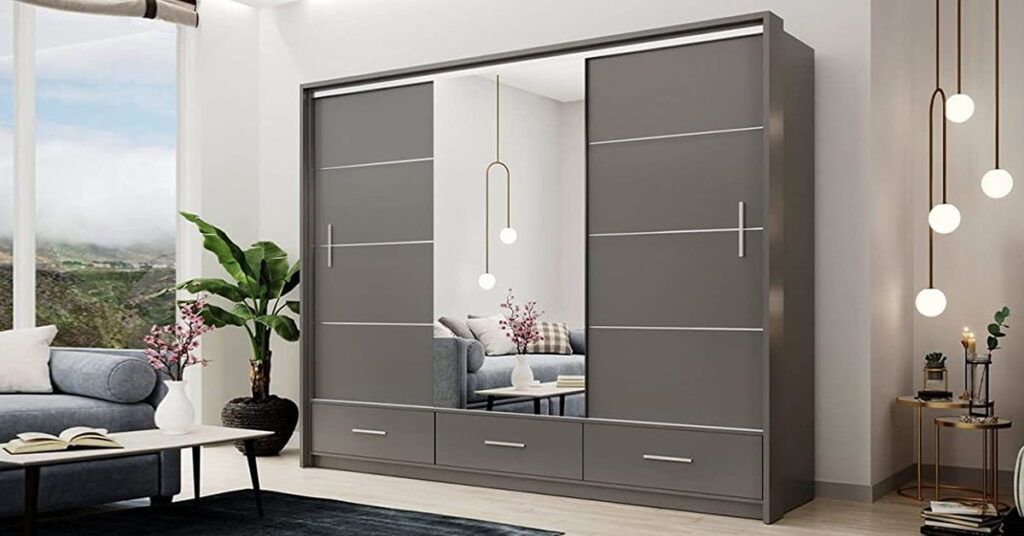 To keep your wardrobe neat and organized, use storage bins and baskets. Use them to store things you don't use frequently, like sentimental items, attire for special occasions, or the changing of the seasons. Put the boxes on shelves or under the bed, label them, and keep them there.
Invest in Quality Hangers
Your wardrobe will look and feel much better if you invest in high-quality hangers. In contrast to velvet hangers, which keep clothes from slipping off, wooden hangers are strong and long-lasting. Slimline hangers can also save space and create a more streamlined look.
Similar to how they are crucial for keeping small items like jewelry, underwear, and socks organized, drawer organizers are also important. Creating compartments for bulkier items like sweaters or t-shirts is another use for drawer dividers.
Furthermore, it's crucial to store shoes properly because they can take up a lot of room in a wardrobe. To keep shoes off the ground and guard against them being damaged or crushed, use hanging organizers or shoe racks. Additionally, you can stack shoes on shelves in their original boxes for storage.