To function effectively throughout the day in today's busy and hectic lifestyle, it's important to get a good night's sleep. A plush divan bed can really make a difference in this situation. It's understandable why divan beds have long been regarded as luxurious and comfortable.
We make our beds with the highest-quality materials and expert craftsmanship to provide a sleeping experience befitting a king or queen. We design them with comfort and style in mind. So, we carefully think out every element of our divan beds, from the hand-tufted mattresses to the upholstered bases, to provide you with the best possible sleeping experience.
Divan Beds
A base and a mattress make up the common type of bed known as a divan. Typically, people place the mattress on top of a base made of a sturdy wooden frame and covered in fabric. You can find divan beds in a variety of designs, from simple and modern to more elaborate ones. They are a fantastic choice for people who want a cosy bed that takes up little room.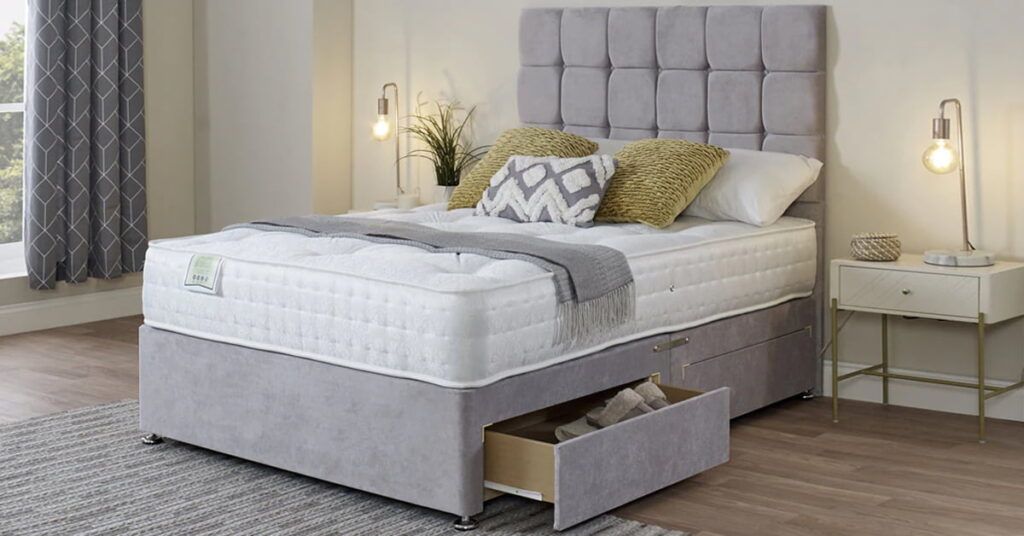 The sprung base of our divan beds, which offers a supportive yet cosy base for the mattress, is one of their key design elements. This means that since the bed will adapt to the shape of your body and give you the support you require, you won't wake up with aches and pains.
The adaptability of our divan beds is another advantage. Our customization options allow you to match the base with any room's décor. You can upholster our divan beds in a variety of materials, hues, and patterns to suit your preference, whether you prefer a modern or traditional style.
King Size Divan Beds
King Size Divan Beds are an expanded version of the typical divan bed that is made to fit a king-size mattress. They are ideal for people who prefer more space to spread out and wiggle their toes while they sleep. These beds are available in many different designs, from traditional to contemporary, and provide a ton of storage options to help you keep your bedroom organized.
Divan Beds with Mattress Storage
Divan beds with mattress storage are an efficient and practical choice for people who require additional room to store their bedding and other items. Lifting up the mattress provides access to built-in storage areas at the base of these beds. A hydraulic lift system makes it simple to access the storage space in some Divan beds with mattress storage, while drawers or shelves are present in others. This style of bed is perfect for people who want to keep their bedrooms clutter-free or for smaller bedrooms where space is at a premium.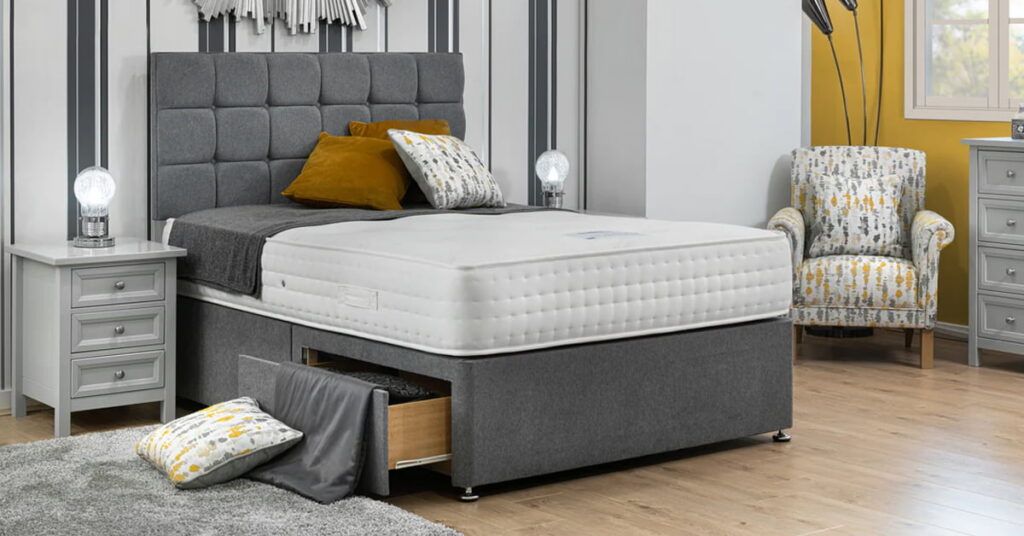 However, more than just the base is responsible for the luxurious appearance of our divan beds. Our mattresses are also produced to the highest standards, with features like hand-tufting, natural fillings, and individual pocket springs. Thanks to these details, which provide the ideal level of comfort and support, you will have the best possible sleep.
In order to meet your needs, we also provide a variety of divan bed sizes. Regardless of whether you need a single, double, king, or super king size bed, we have the ideal choice for you. Additionally, you can maximize the space in your room while still luxuriating in the comfort of our divan beds thanks to a variety of storage options, such as drawers and ottomans.