An essential piece of furniture for any home is a single bed with mattress and optional storage. Whether you live in a large house, a small apartment, or a college dorm, having a comfortable and functional bed is essential for restful sleep and overall well being. Here, we'll discuss the benefits of single beds with optional storage and mattresses, as well as their various types, and offer some suggestions on how to choose the best one for your needs.
Luxury Single Bed with Mattress:
If you live alone or have a small room, a single bed with mattress is the best option. Given that it is only slightly larger than 3 feet by 6 feet 3 inches (approx. ),it can easily fit into any bedroom. For kid's rooms or visitor rooms, a single bed is a fantastic option. It offers sufficient room for one person to sleep comfortably and leaves room for additional furniture, like a nightstand or dresser. To accommodate different tastes and budgets, single beds come in a range of designs, materials, and prices.
However, it is crucial to take the mattress' quality into account when selecting this mattress. You will have a restful sleep and awaken feeling refreshed if you have a high-quality mattress. In order to avoid pain and discomfort, it's crucial to pick a mattress that supports your body and relieves pressure points. Additionally, a single bed with a soft, supportive mattress is an investment in your health and happiness that will help you get the rest you require to perform at your peak.
Benefits of a Single Bed with Mattress and Optional Storage:
1. Efficient: Single beds are space-efficient and ideal for compact rooms, including kid's rooms, guest rooms, or studio apartments. They take up less floor space, leaving more room for other essential furniture and activities.
2. Affordability: Single beds are typically more affordable than larger beds, making them a great option for people on a tight budget.
3. Comfort: A comfortable mattress is necessary for a peaceful sleep, and a single bed with a mattress guarantees that you can take pleasure in a restful and revitalising sleep every night.
4. Convenience: Single beds with optional storage give you extra room to store your possessions, such as blankets, pillows, and bedclothes, without taking up additional space in your room.
Sturdy Single Divan Bed:
A base and a mattress make up a single divan bed, a style of bed. Typically, the base is cloth-covered and made of metal or wood. It gives the mattress a strong and stable foundation. The mattress is placed on top of the base, and the two together form a cosy sleeping surface. Therefore, people who want a straightforward, useful bed that takes up less space frequently opt for this bed. Since it is portable, any room can accommodate it.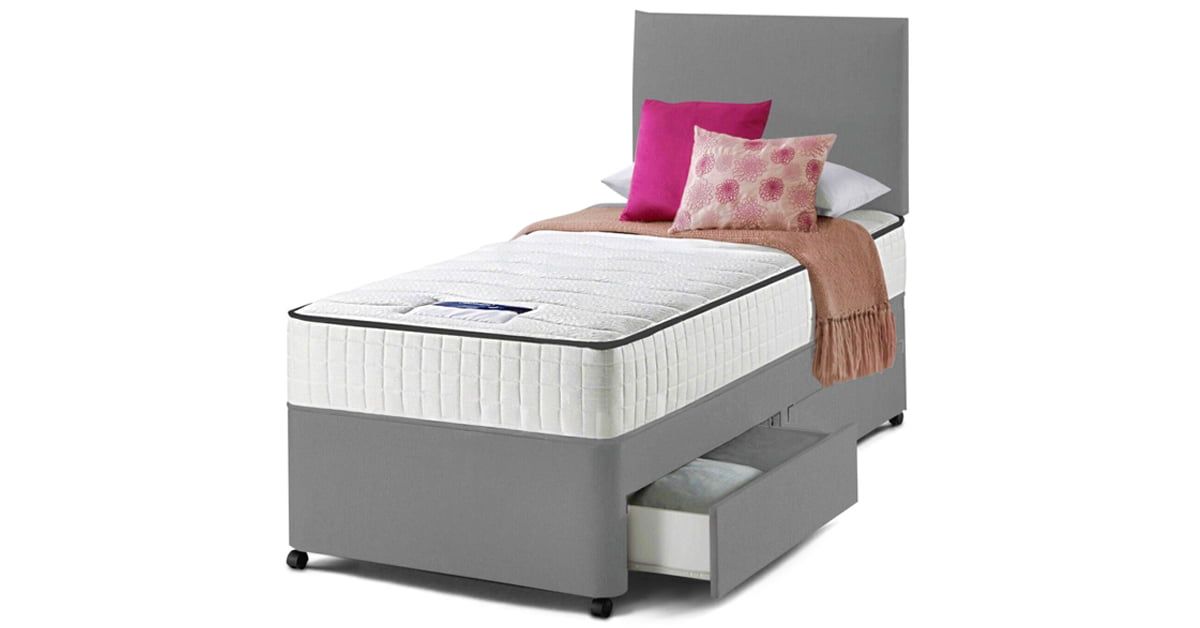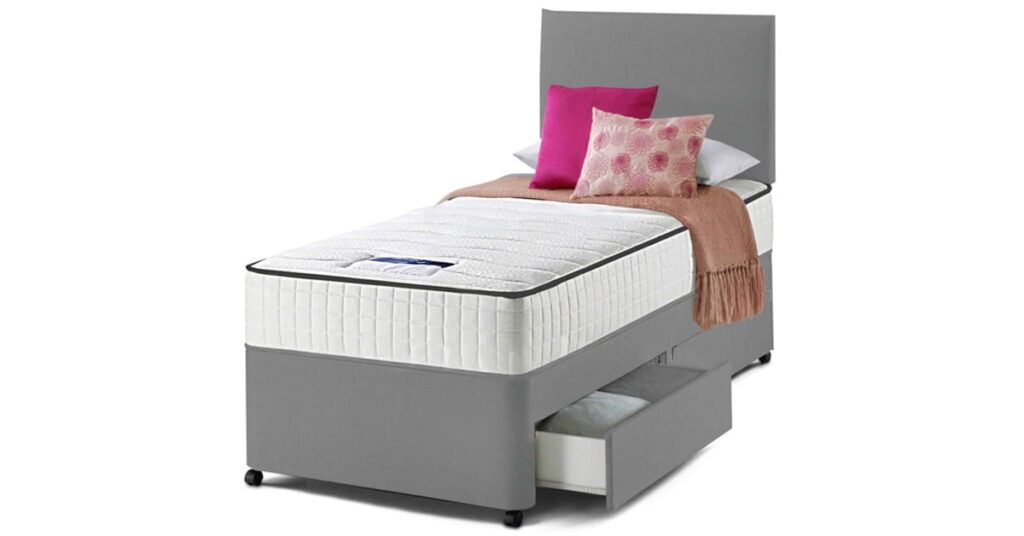 Similarly, you can select the one that best suits your needs from a variety of designs and sizes. For additional space to store clothes, linens, or other items, some models have storage drawers built into the base. This feature is especially useful for people who have limited closet or storage space.
Types of Single Beds with Mattress and Optional Storage:
1. Standard Single Bed: The most typical single bed, measuring approximately 3 feet by 6 feet (approx.). So, it is appropriate for kids, teenagers, or single adults who require an uncomplicated, comfortable bed that is also affordable.
2. Divan Single Bed: Divan single beds are made up of a base, a mattress, and, if desired, storage drawers or cubbies. They are ideal for people who require additional storage without compromising comfort.
3. Cabin Single Bed: These beds are elevated off the ground and have a lot of storage space underneath. They combine functionality and fun, making them perfect for small spaces or kids' bedrooms.
4. Hydraulic Mechanism: An ottoman single bed has a hydraulic system that enables you to lift the mattress and access the storage area below. They are ideal for people who require quick and simple access to their possessions.
King-Size Divan Bed:
The single divan bed has a larger counterpart known as a king-size divan bed. It is the largest standard bed size that is currently available, measuring roughly 6 feet by 6 feet 6 inches (approx.). For couples who want plenty of space to sleep comfortably, it is a great option. Additionally, there is space for kids or animals to join them. However, it is available in different styles and materials, including leather, fabric, and wood.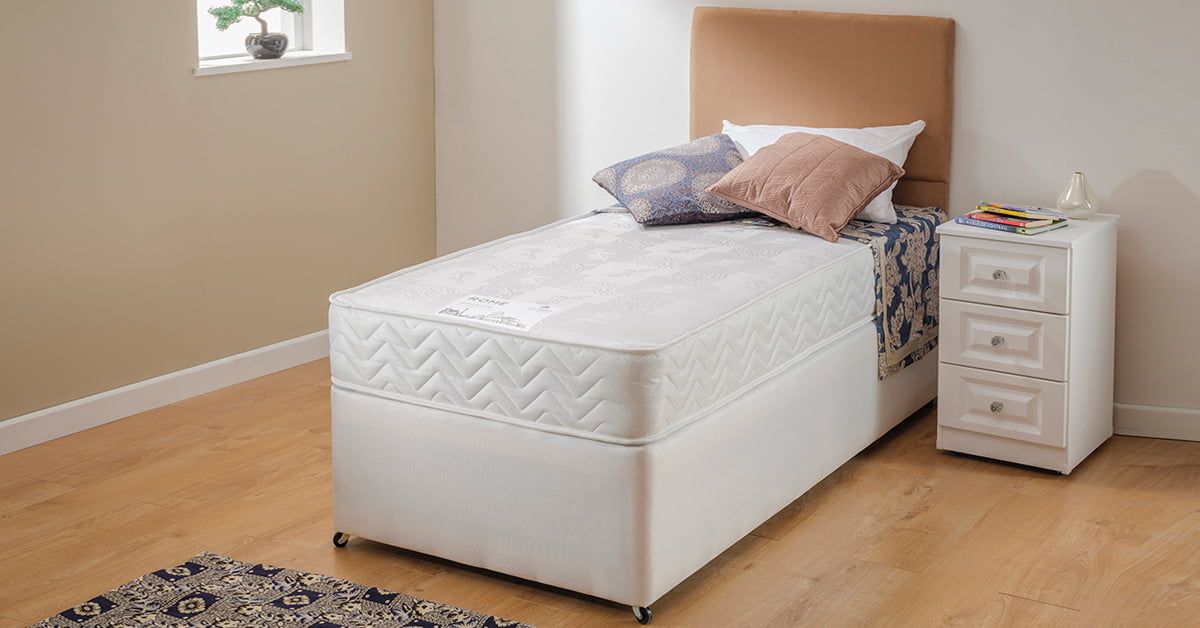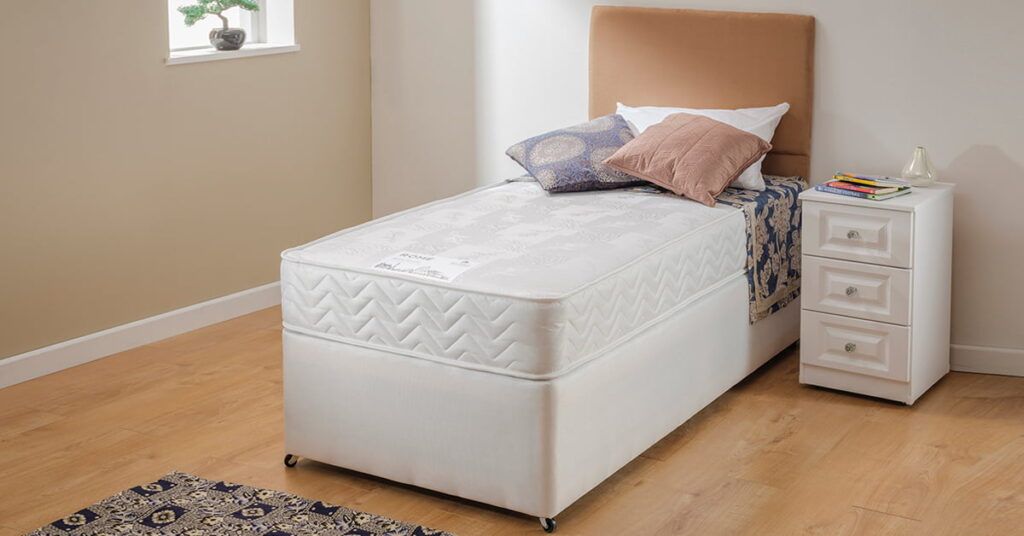 Tips on Choosing the Perfect Single Bed with Mattress and Optional Storage:
1. Dimensions: Take your room's dimensions into account before buying a single bed to make sure it will fit comfortably. So, to make the most of your small space, think about a divan or cabin bed with storage.
2. Pick a comfortable mattress: A comfortable mattress is necessary for sound sleep. Select a mattress that accommodates your sleeping preferences and offers your body the support it needs.
3. Consider storage: If you require additional storage space, choose a bed with shelves, drawers, or an ottoman storage system. Thus, consider the amount of storage you need and choose accordingly.
4. Consider durability: Buying a single bed with a mattress and optional storage is an investment; therefore, you should look for a bed that is sturdy and long-lasting.