Many homeowners dream of designing a fashionable and useful bedroom. A sliding mirror wardrobe is one of the essential components that can turn your room into an opulent paradise. These sleek, adaptable wardrobes have gained popularity in contemporary interior design because they successfully combine style and utility.
Sliding Wardrobe with Mirror
A flexible and contemporary storage option for bedrooms is a sliding wardrobe with a mirror. In contrast to conventional wardrobes with hinged doors, this style has sliding doors that move easily along a track. A mirror on one or more of the wardrobe doors would be practical and convenient. It offers a practical location for getting ready, enabling you to check your appearance and attire without the need for a separate mirror in the space.
These are offered in a variety of shapes, arrangements, and coatings to accommodate various room dimensions and interior design preferences. With options for shelves, drawers, and hanging rails, they provide plenty of storage space to keep clothing, shoes, and accessories organised and convenient to find.
Maximising Space
Smaller bedrooms may find it difficult to use traditional hinged wardrobes because the doors need additional space to swing open. Instead of requiring additional clearance, sliding mirror wardrobes move smoothly along tracks. Making the most of your available space is made possible by this space-saving feature, which does not sacrifice storage capacity or aesthetic appeal.
Natural Light and Illusion of Space
There are mirrors in its interior design for a very long time to increase the appearance of space and enhance natural light.  The level of sophistication in this wardrobe is astounding. These wardrobes reflect light and give the impression that the space is larger and brighter by including large reflective surfaces. Due to the immediate addition of a sense of openness and airiness, this effect can be especially helpful in smaller rooms with less natural light.
Mirror Sliding Wardrobe
Every bedroom would benefit from having a mirror sliding wardrobe. A dual-purpose solution for storage and dressing, it has sliding doors with built-in mirrors. These wardrobes are more space-efficient because the doors slide along a track instead of opening outward like conventional hinged doors.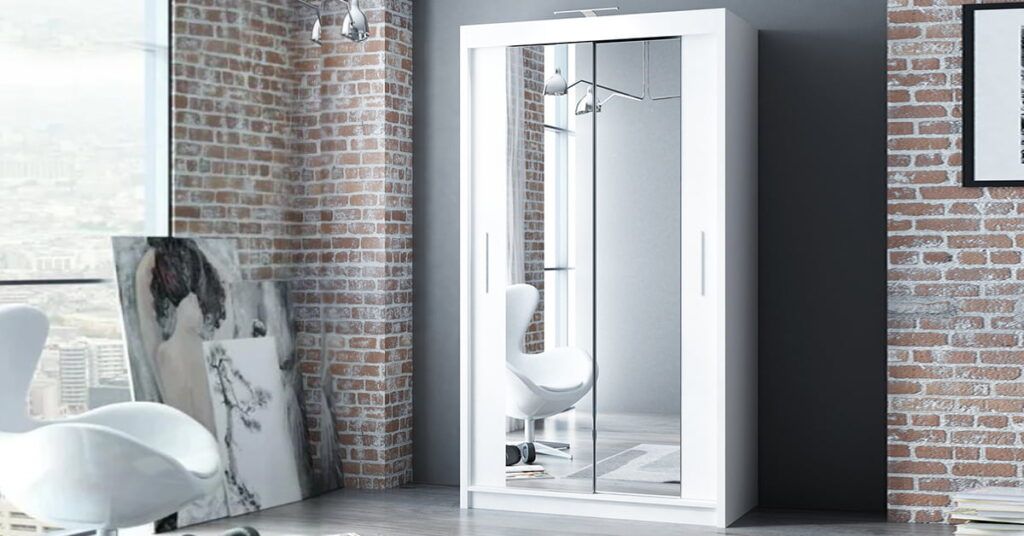 The mirrored doors, however, do more than just serve a functional purpose; they also give the room a sense of depth and openness. They reflect light, enlarging and brightening the room.  Furthermore, a mirror in the closet eliminates the need for a separate vanity or wall mirror, freeing up even more space. To accommodate various bedroom styles and preferences, they are available in a range of designs, sizes, and finishes.  You have the option to customise it with different storage options, including shelves, drawers, and hanging rails, to hold clothing, accessories, and other personal items.
Stylish and Versatile Designs
They come in a wide array of designs, finishes, and configurations, allowing you to find the perfect fit for your bedroom's style and layout. So, you can choose from various frame finishes, such as sleek aluminium, wood, or even frameless designs, further enhancing the customization possibilities.
Streamlined Organisation
With their spacious interiors and cleverly designed storage solutions, these wardrobes provide ample room for all your clothing, accessories, and personal belongings. Many models feature adjustable shelving, hanging rails, and built-in drawers, allowing you to customise the interior organisation to suit your specific needs. Say goodbye to clutter and hello to a well-organized, visually appealing bedroom.
2 Door Wardrobe Bedroom Set
A 2 door wardrobe bedroom set is a coordinated collection of furniture which provides storage and style for your bedroom. It typically includes a 2 door wardrobe, along with other matching pieces such as a bed, bedside tables, and a chest of drawers. This is the central component of the set and offers storage space for clothing, accessories, and personal belongings. It usually features a combination of hanging rails, shelves, and drawers, providing versatile storage options to suit individual needs.
The bedroom set creates a cohesive and harmonious look in the room. The materials, finishes, and design elements of all the pieces are carefully selected to complement each other. It results in a unified aesthetic. This ensures that the furniture pieces blend seamlessly together, creating a visually appealing and functional bedroom space. This bedroom set is available in various styles and sizes to suit different room layouts and personal preferences. It offers a convenient and comprehensive solution for furnishing your bedroom. Also, it provides both storage and a coordinated design that ties the room together.
Easy Maintenance and Cleaning
Keeping your bedroom furniture clean and well-maintained is essential for its longevity. These wardrobes are relatively easy to maintain. You can quickly wipe down the smooth glass surfaces with a glass cleaner and a soft cloth. Unlike traditional wardrobes with intricate designs or textured surfaces, they offer a hassle-free cleaning experience. It ensures that they remain sparkling and elegant for years to come.
Conclusion
This piece is a true embodiment of elegance and functionality in bedroom design. From its space-saving capabilities to the enhancement of natural light and the illusion of spaciousness. This wardrobe style has become a favourite among homeowners seeking a touch of luxury. Upgrade your bedroom with the reflections of elegance provided and transform your space into a heaven of style and charisma.