Leather couches are renowned for their opulent appearance and longevity. With the right maintenance and care, they can last for many years. In order to keep your leather sofa set looking brand new for many years, we'll go over some care instructions in this blog post.
Leather Sofa Set
Usually used for seating in a living room or family room, a leather sofa set is a collection of leather furniture pieces. These sets, which frequently include a sofa, loveseat, and chair, can be found in a variety of hues and designs to go with the room's design. For those looking for furniture that is strong, long-lasting, fashionable, and comfortable, these sets are a popular option.
Keep it clean: It's imperative to maintain the appearance of your leather sofa. Dusting and vacuuming on a regular basis can help get rid of any loose dirt and debris that may gather on the surface. To clean up spills or stains from the sofa's surface, you can also use a damp cloth.
Avoid direct sunlight: Sunlight can dry out and fade your leather furniture. Your sofa should be kept away from windows and any other direct sunlight sources. Consider using blinds or curtains to block out the sun's rays if it isn't possible to do otherwise.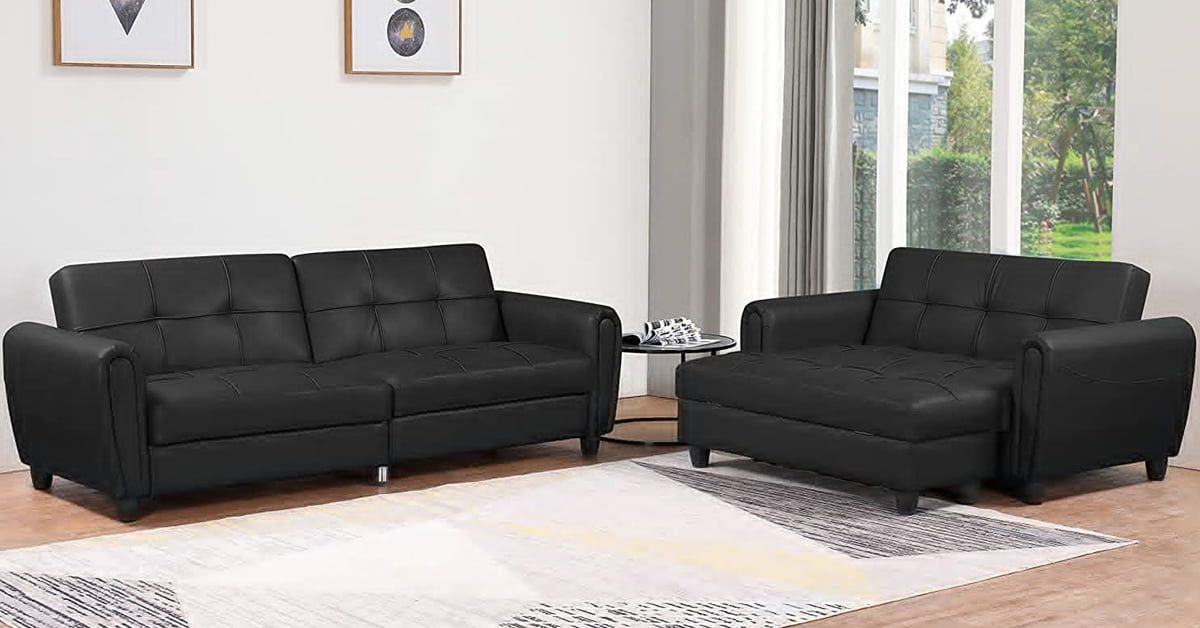 3 Seater Chloe Leather Sofa Bed
A versatile piece of furniture with multiple uses is the 3 Seater Chloe Leather Sofa Bed. It's perfect for small to medium-sized living rooms because it can comfortably seat three people as a sofa. It does, nonetheless, also function as a bed, giving guests a peaceful place to sleep. The leather used to make the sofa bed is a tough, cleanable material that can withstand regular use. It also has a sleek, contemporary design with understated, elegant styling.
Use a conditioner: Over time, leather can dry out and crack while also losing its lustre. Use a leather conditioner on your sofa in order to avoid this. Use a soft cloth to apply the conditioner, then give the leather time to absorb it. This will maintain the leather's suppleness and softness.
Keep it away from heat sources: Your leather sofa may crack and dry out if it is near radiators or a fireplace. You should keep your sofa away from these heat sources. If you are unable to move your sofa, think about using a heat shield to protect it.
Leather Sofa Bed
If you want a sofa and a bed in one piece of furniture, a leather sofa bed is a fantastic investment. High-quality leather, which is strong and simple to clean, is typically used to make these sofa beds. It is simple to find one that suits your needs and the aesthetic of your room because they are available in a variety of styles and sizes. It can be quickly and easily transformed from a sofa to a bed, making it ideal for small apartments or guest rooms with limited space. It's a great choice for anyone who frequently hosts overnight guests and needs to offer a welcoming sleeping area.
Remove stains immediately: Leather is susceptible to stains, so it's imperative to get rid of them right away. Blotting the stain with a clean cloth is preferable to rubbing. If the stain is difficult to remove, you can use a leather cleaner made especially for your sofa.
Avoid using harsh chemicals: Your sofa's leather can become damaged by harsh chemicals. Avoid using any cleaning supplies that contain ammonia, bleach, or other harsh chemicals. Instead, clean your sofa with a mixture of water and mild soap.
Get professional cleaning: It might be time to have your leather sofa professionally cleaned if it's starting to look drab and worn out. Your sofa will look brand new with the help of a professional cleaner who can help restore its colour and texture.
To keep it looking great for many years, it is an investment that needs care and upkeep. You can maintain your leather sofa set in excellent condition by using the advice in this blog post, ensuring that it continues to be a stunning and cosy addition to your home for years to come.