Our king size divan bed is unparalleled in terms of opulent comfort and luxurious sleep. This magnificent piece of furniture combines design, comfort, and relaxation, making it the ideal option for anyone looking for a regal sleeping experience.
King Size Divan Bed: Luxurious & Spacious Option
If you want the most comfort and space possible while you sleep, a king size divan bed is a luxurious option. There is plenty of room for individuals or couples to stretch out and unwind on this type of bed. The size of king size bed measures 150 cm in width and 200 cm in length (approximately).
Moreover, a solid base and a comfortable mattress make up a divan bed, both of which are intended to provide the best support and encourage sound sleep. Its spacious dimensions make it ideal for people who value a sense of grandeur and enjoy having the freedom to move around while they sleep. In larger rooms where a statement piece is desired, such as master bedrooms, it is a great option. It gives out enough space for storage which implies how wide is a king size bed.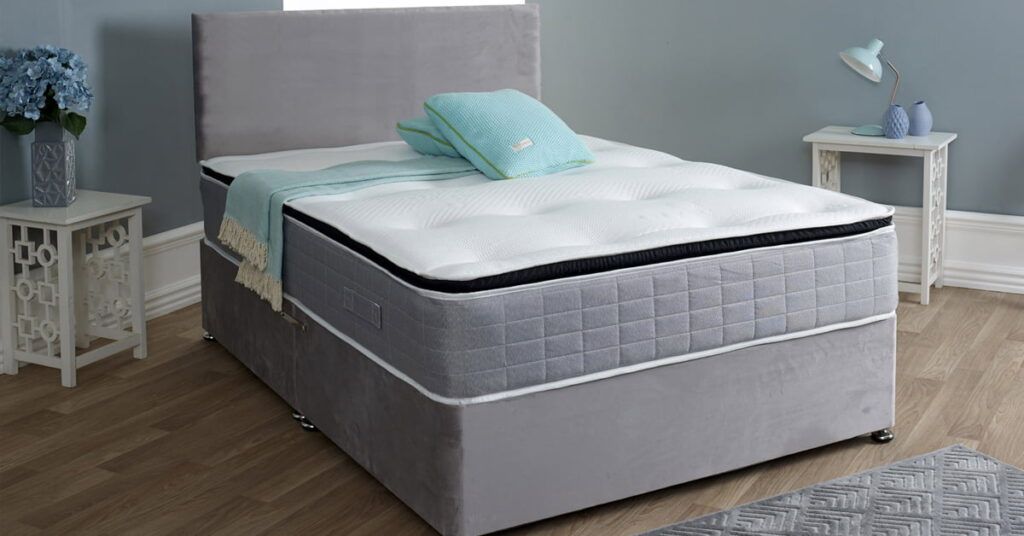 Unmatched Elegance and Style
This bed is a magnificent focal point that oozes class and refinement. Its exquisite attention to detail and aesthetically pleasing design go well with any bedroom's decor. The luxurious upholstery, tufted headboard, and elegant finishes of this bed turn your bedroom into a regal retreat.
Supreme Comfort and Support
The right support is essential for a peaceful night's sleep, and this bed provides it. Its king-size dimensions give you plenty of room to spread out and find the ideal sleeping position. It provides the best support possible, so you can wake up feeling rejuvenated and refreshed. This piece comes with a top-notch pocket-sprung mattress and a divan base of the highest calibre.
King Size Divan Bed with Storage: Built-in Option
A king size divan bed with storage is the perfect option for those who want both comfort and usefulness. This style of bed combines the comfort of built-in storage with the roominess of a king size bed. The base of the divan bed has drawers or other storage areas that you can use to neatly and covertly store extra blankets, pillows, or other items.
Similarly, this clever storage solution minimises clutter while maximising the amount of space in your bedroom, creating a tidy and organised atmosphere. It offers the ideal fusion of style and functionality, whether you have limited storage options or simply want to keep your bedroom tidy.
Clever Storage Solutions
Every bedroom needs effective storage, and this piece recognises the need perfectly. This bed's hidden storage compartments in the divan base give you plenty of room to store extra blankets, pillows, and other necessities, keeping your bedroom neat and organised.
Customisable Options
It offers a variety of customizable options to meet your unique preferences and needs. To suit your personal taste and bedroom decor, you can pick from a wide selection of opulent fabrics, colours, and finishes. With this much personalization, your bed will truly reflect your distinctive taste.
King Size Divan Bed with Mattress: Exceptional Support, Comfort, and Durability
If you want the best of both worlds—a comfortable bed base and a top-notch mattress—a king size divan bed with mattress is the ideal option. Due to its exceptional support, comfort, and durability, this opulent combination offers the ideal sleeping experience. The divan bed base provides the mattress with a solid foundation. It ensures maximum stability and preventing sagging or uneven wear over time.
However, you can tailor your sleeping experience to your preferences thanks to the variety of mattresses available, including hybrid, memory foam, and pocket sprung mattresses. It enables you to enjoy a customised level of comfort for a restful and reviving sleep. Whether you prefer a firm, medium, or plush feel.
Durability and Longevity
It is a wise investment to buy a high-quality bed, and this bed is made to last. It ensures longevity and keeps its exquisite appearance for years to come. Because it was made with strong materials and skilled craftsmanship. This bed will continue to offer you lifetime support and unmatched comfort if you take good care of it.
Conclusion
Enjoy the height of luxury in our King Size Divan Bed. This bed offers a sleeping experience befitting a king, from its striking design and exceptional comfort to its clever storage options and customisable features. Transform your bedroom into a haven of regal comfort as you encounter the ideal fusion of style, utility, and relaxation.