The Florence bed frame adds beauty to the interior of the bedroom. You will experience the comfort you have always wanted thanks to its stunning design. This wonderful addition to your room will allow you to experience the best in comfort and luxury. To raise the elegance of your room, you can order this priceless item. It is the pinnacle of relaxation. It's a good idea to have this piece in your room if you value style. The interior of the room is made more glitzy and appealing by Florence's new level of chic and retro appeal. The elegant interior of the room is complemented by its striking design.
Make it a Focal Point of Your Room
You can be confident that when you purchase from Tender Sleep, you are getting the highest-quality, cosiest products. Any room would greatly benefit from this addition. Its premium-quality frame is brilliantly manufactured with hardwood for extra sturdiness. With its distinctive style, the item exudes great prestige while being extremely comfortable. The tranquility behind the bed frame is commensurate.
Our top priority has always been and will continue to be serving our esteemed customers. This thoughtfully designed piece provides comfort, and its tufted design gives it the elegance you seek. Just as importantly, it makes a striking focal point for your bedroom as well as increasing the luxury of the room. It is impossible to imagine a product with as many appealing features as this one. This focal point in your room is something you would adore.
Colour Options
The Florence bed is currently offered in black, grey, and blue colours that enhance the interior design of the room. However, it is offered in a variety of sizes, such as single, double, small double, king, and super-king. It is the ideal addition to your space, allowing you to experience the highest level of comfort. This priceless item is available for purchase if you want to make your room look more elegant. It provides the highest level of relaxation and a true depiction of class and style. Starting with a tall headboard and descending to a lavishly high footboard, this product is charming throughout.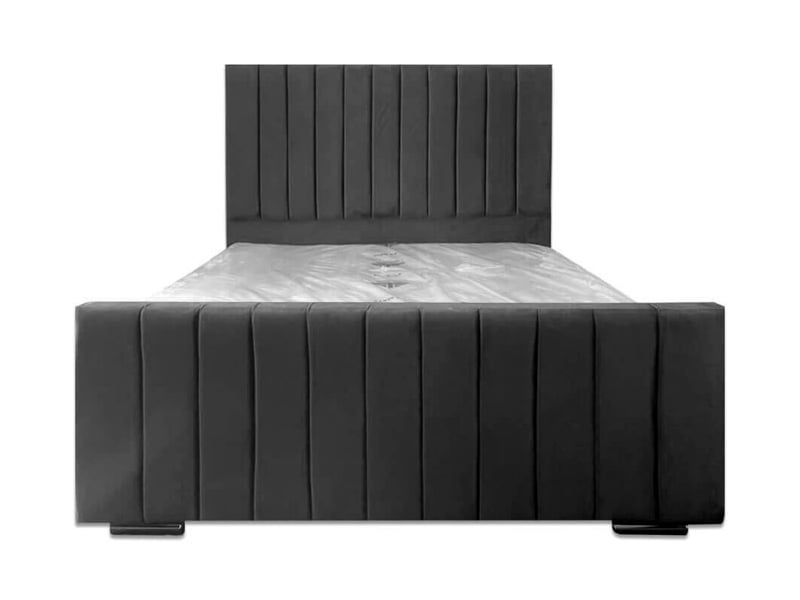 So, the tall headboard and footboard add height to the bed while adding a distinctive style and modern appeal. The luxurious plush velvet upholstery on the headboard and footboard, which are tall and elegantly decorated, reflects the class and opulence.
Plush Velvet Upholstery
Similarly, the plush velvet upholstery on the headboard and footboard adds to the luxurious appearance. We provide customization options to our customers in this piece, allowing everyone to alter this wonderful product to meet their needs. We offer simple assembly instructions and a guidebook to make the process simple. However, a Florence bed is simple to assemble and takes only a few minutes by following the manual booklet. All modern room interiors can use it as a complement. It helps you save money and time, which are both extremely valuable. For the floor of your room, our Florence is the top contender.
Conclusion
Tender Sleep provides this exceptional item at an affordable price to satisfy the high demand of their devoted customers. However, it is a masterpiece because of its carefully planned structure. This product fits in with all styles of contemporary bedrooms thanks to its stunning design. All of these exceptional design features of this amazing bed actively support giving you the best sleeping experience in total comfort. It has incredibly divine design features and is able to steal the show. It is the best option for complete relaxation and luxury in your bedroom.
Therefore, the Florence bed frame is outstanding, strong, and long-lasting, and it supports you while you rest. It instantly brightens any bedroom and lends the interior a regal touch. Tender Sleep offers this stunning piece at an affordable price for their devoted customers. So, while you sit up in bed, read your favourite book or magazine, or binge-watch your favourite show, take pleasure in the utmost comfort. It is more magical than anyone could have imagined. Such a phenomenal piece it is.