The Emma Ambassador Bed is one of our signature products that brings a sense of elegance to room decor with its decent design. It enhances the style of your room and introduces plenty of luxury features with its perfect detailing and plush velvet upholstery. It gives the interior a feeling of luxury. This expertly crafted product boasts beautiful plush velvet upholstery. Tufted detailing is also provided, which introduces excellence and perfection. At Tender Sleep, we offer this stylish product at an affordable price. The manufacturer does not compromise on product quality, using only top-notch materials in its manufacture. The comfort offered by this product brings serenity to your life.
Chesterfield Style Bed
Our Ambassador bed with storage offers a charming and refreshing feel. Its chesterfield style reflects its brilliance due to its luxurious and stylish features. This bed is the best product to enjoy a great sleeping experience with affordability. The solid wood frame is provided to increase the durability of the product. The best-quality hardwood constitutes the ambassador bed frame. It comes with supportive slats, which add strength and durability to the bed's structure. This valuable product is worth investing in because of its excellent design and sustainable hardwood frame. Beautiful fine fabric covers the sides of the frame in an upholstery finish. The chrome legs are provided with the bed for additional stability and support.
Attractive Colour of Emma Ambassador Bed
We offer the Emma Ambassador Bed specifically in grey, but our valuable customers can choose the color of their choice as an added benefit. The variety in colour options of this centerpiece is also provided on the demand of our customers. Hence, the Ambassador bed in king size is compatible with modern bedrooms, combining the traditional comfort of the bed with contemporary design needs. It is the best option for those who want to add glamour and luxury to their room. This piece is available at Tender Sleep in an economical range.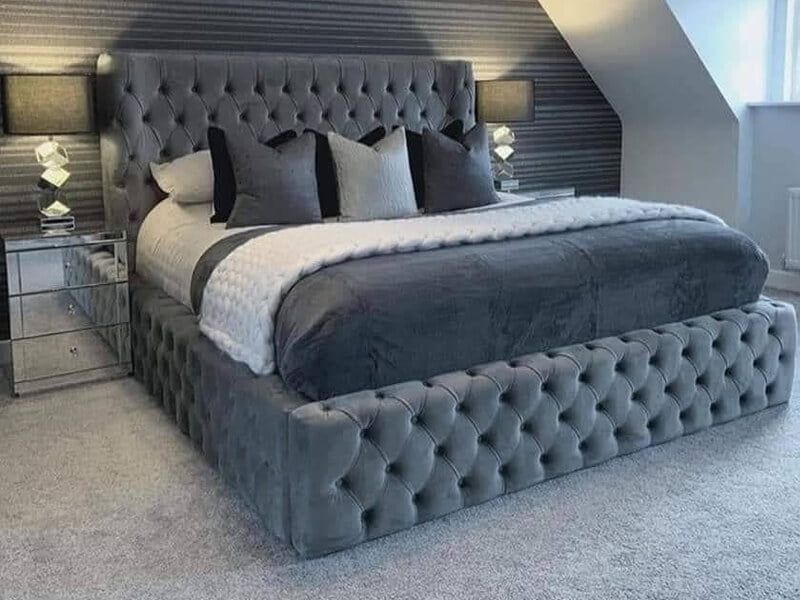 Everyone can easily afford and enjoy the luxury offered by the Emma Ambassador Bed. You would love to know about this exceptional piece's stunning design features.
Five Interesting Features of Emma Ambassador Bed
This bed is the real show-stopper, and it is our signature product. The luxurious design, stunning style, and real class of Ambassador Bed are the perfect addition to your room.
With this product, you can easily elevate the elegance of a room. The bed attracts customers with its extraordinary style and comfortable design.
Plenty of useful features are added to this product for the ease of our customers.
The best feature of the Ambassador Bed is its dust-resistant fabric with advanced softness, which is suitable for all types of customers. Thus, the plush velvet upholstery and chesterfield headboard add a luxurious touch to the overall look of this piece.
It is upholstered with deep buttons all around, which beautifies the quality of this piece. That is why, it consists of a chesterfield style followed by a low foot finish, thus making this bed look more elegant and stylish.
Fast and Free Express Delivery
No other product can beat the class of Emma Bed. The bed complies with all safety regulations, including UK fire safety compliance. It is easy to assemble. It comes in flat packaging—four or five boxes, depending on your chosen size. You can simply assemble this piece within a couple of minutes. The assembly procedure is easy. However, for the ease of our customers, a step-by-step instruction booklet is also included in the package.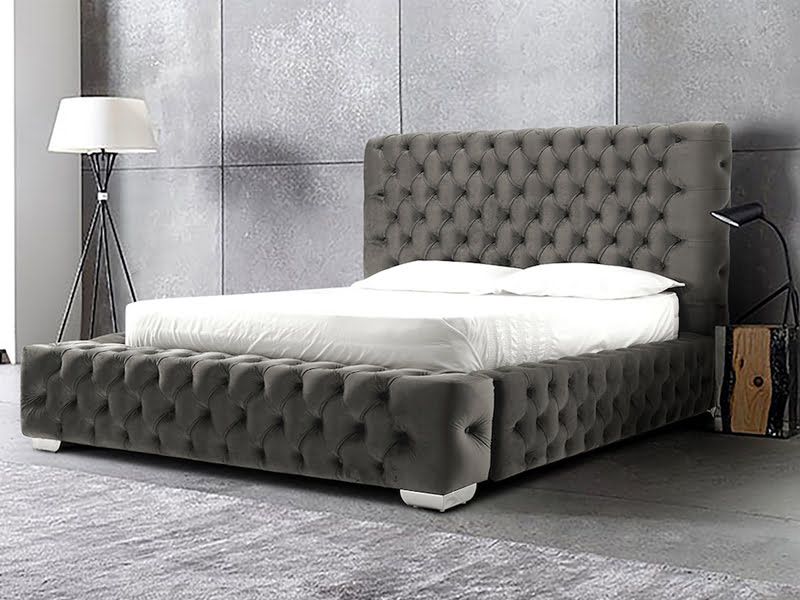 So, you can easily assemble it by following the steps mentioned in the instruction booklet.
Strict Quality Assurance
Order this piece with just a few clicks and glamourize your bedroom with this beautifully designed, comfortable, and affordable masterpiece. Therefore, Tender Sleep offers this remarkable product while keeping your budget in mind. The product is manufactured with high-quality materials. Strict quality assurance is followed to maintain the level of quality. We ensure lasting quality with the best features to prove that our products are the best.