Finding a perfect sofa for your living room is a hectic task. The amount of choice that is available to you is too many to name. It becomes a quest for you to find something that brings the comfort factor and is affordable. The dilemma doesn't stop there. You must decide the fabric but the style as well. Are you looking for a traditional sofa or a modern style? Is it high back or low back? The questions keep piling up, and you are left more curious than before.
Before we venture into our topic at hand, we need to look at some of the general considerations that you need to go over. Keep in mind that there is no proper answer to what is a perfect sofa. Due to several designs and styles, a perfect sofa doesn't exist. You can get close to perfection, but never be perfect. Both the fabric and leather sofas come with their advantages as well as disadvantages. The real deal-breaker is what kind of material they employ. Investing in an elegant sofa requires you to consider the durability of the frame, your requirements, how to care for the fabric, the look of the sofa, the comfort factor and of course the cost of the sofa.
You need a sofa for everyday use. Before taking the plunge, you need to evaluate your needs. Consequently, you will applaud yourself once you reach that junction.
Fabric sofas
This is to remind you that the term fabric is a broader term. Meaning that any material that is upholstered onto the sofa frame is termed fabric. Customer feedback has shown that fabric sofas are more comfortable than leather sofas for a variety of reasons. The support system of the sofa that includes the cushion and the frame happens to be more responsive. Moreover, fabric sofas are softer and warmer. Concerning leather sofas, they are more responsive. 
The reason fabric sofas are viable has to do with the fact that the fabric sofas are already soft. They are responsive by default. But keep in mind that you want a fabric that brings a balance between soft and firm. You don't want a fabric that causes you to sink inside the sofa. You want materials that can retain their shape smoothly with every seating.
Style, Care and Cost of Fabric Sofas
The quality of the fabric determines the overall value of the care. The wear and tear of fabric is a common factor that depreciates with use. High-quality fabric or high-quality materials are not prone to these kinds of issues. But keep in mind that investing in high-quality fabrics will be costlier. Almost all fabric sofas are stain-resistant. Common household items come in hand while maintaining the fabric sofa. High-quality fabric resists almost all hazards that you can recall.
The variation of fabric sofas is limitless. The materials are endless in design, texture, and colour. This resolves your query if you are looking for a specific décor that matches your style. Opportunity comes knocking at your door is the phrase that comes to your mind. Fabric sofas can be your choice if they meet your requirements and are more than meets the eye. Experts believe that you should always purchase a sofa that comes in neutral. This way, you don't need to worry about your sofa blending with your décor.
The last element that many of you look for in a quality fabric sofa is the cost. You can easily get affordable sofas from online retailer such as Tender Sleep Furniture. They have a considerable collection of sofa items that are not only affordable but value for money. Investing in higher quality fabric and materials can become a little expensive for your taste. It all depends on your requirements and your budget.
Leather Sofas
Leather sofas are not only a better outcome than fabric sofas, but they are the pricey ones. Regarding materials, leather sofas are highly resistant to almost all hazards. At the same time, they provide the support that many other sofa frames lack. Their comfort level is nominal. To make them worthwhile, they must be broken-in. Market wise, faux leather sofa is a popular trend.
Leather sofas are best for customers who have zero budget constraints and want to bring elegance to their living rooms. Faux leather sofas are durable and prevent the natural ageing of the fabric. Almost all faux leather sofas are best for customers who suffer from allergies. This is because the material in question is resistant to allergies.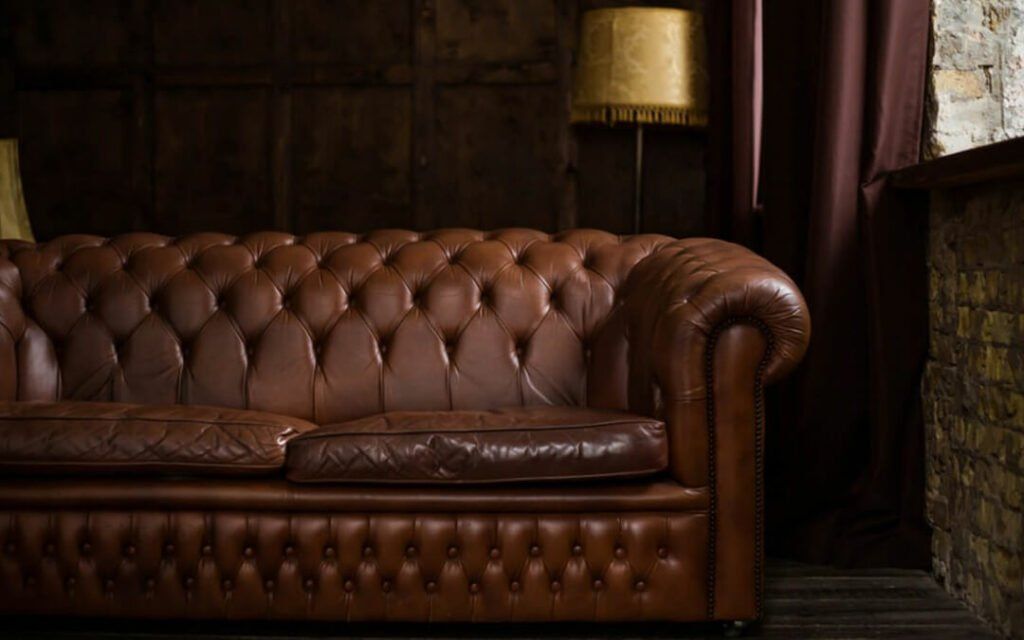 Style and Care of Leather Sofas
The style of leather sofa is not only majestic but at the same time imbues a posh lifestyle. Leather sofas with Chesterfield designs are traditional at best. Leather style is by far popular. This is because of the variety of designs. If you are into a modern look and feel, then faux leather sofas are your go-to product. This is all because these kinds of sofas appear sleeker and are of higher quality in comparison to fabric sofas.
The caring of faux leather sofas is far simpler than fabric sofas. Faux leather is easy to maintain. Leather sofas only need a simple wipe down to clean, whereas fabric sofas tend to be cleaned manually. Fabric sofas require a vacuum cleaner by default for maintenance. Faux leather sofas are more durable and can last for ages. The usual maintenance helps the leather sofas to reach the necessary threshold. However, faux leather will start to develop cracks if not properly cared for.
The cost of faux leather sofas is far more affordable than authentic leather. Faux leather sofas are great for colder climates, as they offer warmth when you require it the most.