The divan bed appears as a versatile and beautiful option for contemporary living spaces in the dynamic world of interior design, where aesthetics and practicality dance in a delicate balance. The divan bed has cemented its status as a centrepiece that flawlessly combines aesthetic and utility as current design trends continue to change. This blog explores the fascinating world of divan beds and its use in contemporary interiors, providing information on how these beds may improve the appeal and usefulness of your living area. We set out on a tour through the design details that make divan beds an indispensable tool in the toolbox of the modern decorator, from their elegant forms to creative storage options. Join us as we explore the divan bed landscape in discovering the beautiful union of comfort and design innovation that characterises this classic yet utterly contemporary furniture item in a modern setting.
Single Divan Bed
Finding the ideal balance between aesthetics, utility, and comfort is the key to successful modern interior design. Single Divan beds have grown in favour in modern living spaces due to their beautiful appeal and usefulness. This blog investigates the stylish and effective integration of divan beds into contemporary environments. Single Divan beds stand out as a crescendo of comfort and elegance in the symphony of modern home design, where you can combine beauty and practicality. While its storage choices and customisation possibilities meet the needs of practical living, their clean lines and minimalist appeal naturally connect with the concept of modern aesthetics. Divan beds gently adapt, enriching the visual story of many home designs, from Scandinavian-inspired sanctuaries to urban industrial retreats.
Smooth Minimalism
Modern design is known for its emphasis on simplicity and clean lines. A Divan bed has a modern, streamlined appearance that blends well into different styles. To achieve a minimalist look, use divan beds with low-profile headboards and neutral fabric. The attention is kept on the bed's shape and function due to the lack of intricate embellishments and unnecessary frills.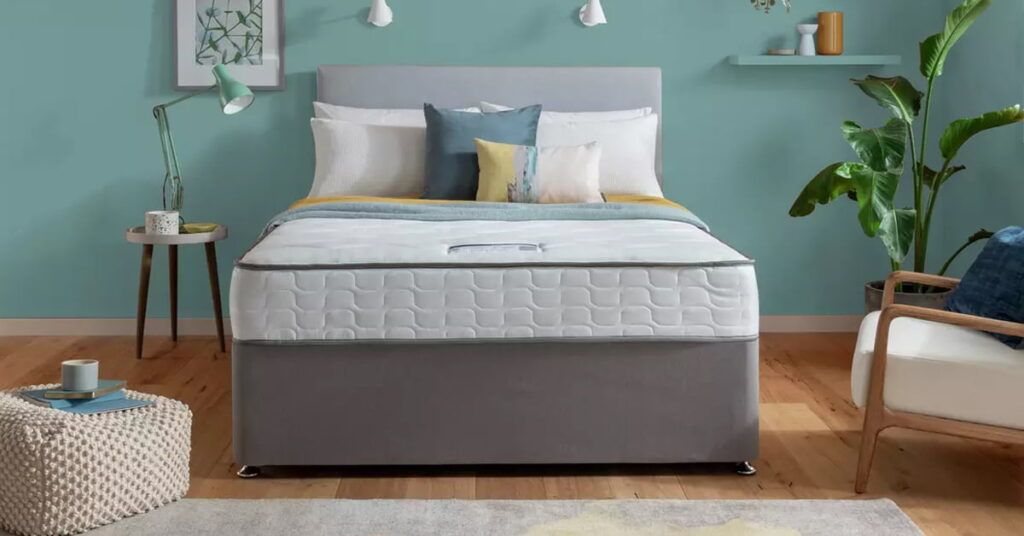 Storage Alternatives
Divan beds successfully meet the requirement for creative storage solutions that come with modern life. Under the mattress, several divan beds include built-in storage drawers or spaces. In addition to saving space, this function aids in maintaining a clean, organised atmosphere. If you want to keep your bedroom appearing effortlessly neat, think about a single bed with mattress having concealed storage.
Customisation Options
Divan beds provide a wide range of customisation choices, which encourage contemporary home design. You can customise Divan beds to meet your desired aesthetic by picking the headboard style, upholstery material, and colour. The bed will be well integrated into your overall home design plan with this level of personalisation.
Design Flexibility
Divan beds are available in a variety of designs, making them adaptable options for many styles of modern homes. There is a divan bed design to fit your choices, whether your aesthetic is Scandinavian, industrial, mid-century, or even transitional. You may create a coherent design in your bedroom by choosing the appropriate fabric, pattern, and details.
Support & Comfort
When buying a bed, comfort and support are still more crucial than appearances. A King SIze divan bed is renowned for its strong foundations, which offer top-notch support for various types of mattresses. To guarantee a peaceful night's sleep, pair your divan bed with a high-quality mattress that meets your sleeping habits.
Layering Textures
Layering textures is a good way to give a modern bedroom warmth and visual intrigue. A tufted or upholstered divan bed, throw cushions, and soft, velvety bedding may provide a warm, inviting ambiance. To get the ideal harmony of comfort and design, experiment with a variety of fabrics including cotton, velvet, and linen.
Headlines with Statements
In a room, modern design frequently draws attention to a single statement object. The headboard may be the focal point of a divan bed. Whether it's a headboard with a striking geometric pattern or a tufted, plush headboard that oozes luxury, pick a headboard style that blends well with the overall decor of your room.
Conclusion
In contemporary settings, divan beds seamlessly combine functionality and aesthetic. They are a great alternative for people looking to construct a modern and cosy bedroom because of its sleek design, storage possibilities, customisation options, and adaptability. To create a bedroom that expresses your unique style and provides the most comfort, carefully choose the perfect divan bed to go with your interior design goals. Therefore, think of the divan bed as your blank canvas if you're looking for a space-saving option in a cosy urban flat or an extravagant centrepiece for your modern refuge.