There are many reasons why the Dino Jumbo Cord Fabric Sofa is a great choice for anyone looking for comfortable yet stylish home decor. It has a low price, strength, good looks, and comfort. The cushions on the sofa are soft, and the sofa is the ideal size for relaxing. The sofa is perfect for entertaining guests because it has enough room to seat multiple people. The elegant, adaptable piece from Tender Sleeps is perfect for any room in your home and is offered in a range of hues and patterns.
Multiple Colour Options in Dino Jumbo Cord Fabric Sofa
The Dino Jumbo Cord Fabric Sofa has a sophisticated appearance and gives your room a further touch of beauty. It has a very lovely appearance and works well with any room's decor. You can choose a colour that goes well with the furnishings in your room because there are so many different hues to choose from. If you want a sofa that will command attention, pick a graceful colour like black, grey, or brown and beige.
If you want something a little more understated, think about a neutral shade like black or grey. The deep seat of the sofa also invites you to relax. The cushions are filled with high-density foam that conforms to your body and provides support and comfort. The cushions can be easily cleaned because they are removable. Our customers are ecstatic about how comfortable it is. This is the best option for anyone looking for cosy, stylish, and durable furniture.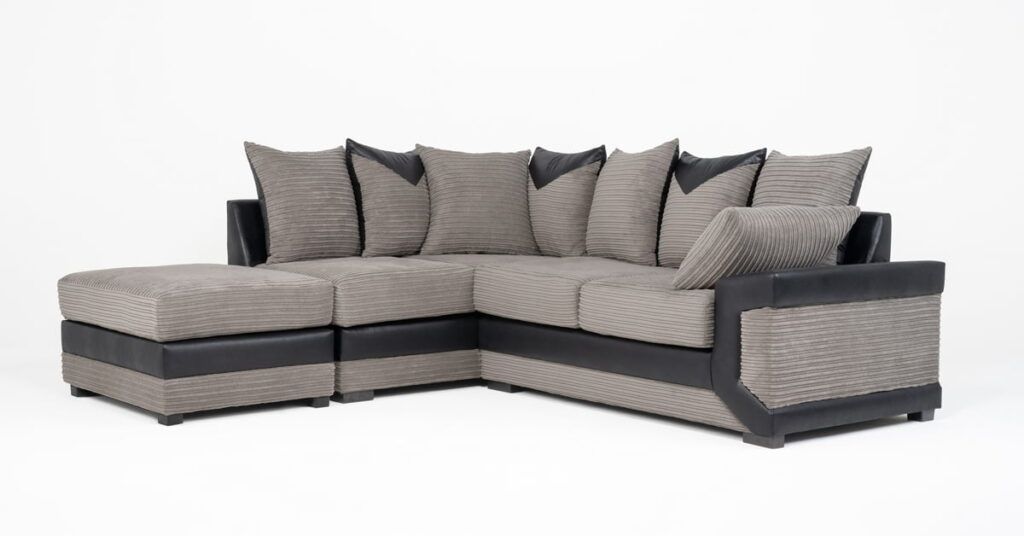 Incredible Features of Jumbo Cord Sofa
Material: Sofas can be made from a wide variety of materials, such as leather, velvet, microfiber, and linen.
Style: Jumbo Cord Sofa can come in many different styles, such as traditional, modern, contemporary, and sectional.
Size: Sofas can vary in size, from smaller loveseats to larger sectionals that can seat multiple people.
Reclining or Non-Reclining: Some sofas have reclining mechanisms that allow you to adjust the backrest and footrest for added comfort.
Armrests: Sofas can have different types of armrests, such as pillow-top, rolled or track arms.
You will find the ideal sofa for your needs if you keep in mind the style, colour, size, comfort, durability, and price when searching for one. The left corner sofa, right corner sofa, and 3+2 sizes of this fabric sofa are all available at Tender Sleep at an affordable price range.
Strong Chrome Legs
The sturdy chrome legs of this product give the overall structure more support and toughness. It offers the overall design the stability and toughness that it needs. This piece has been expertly upholstered in high-end fabric to give the living room's decor a classic, opulent feel.
Pure Aesthetic Design of Dino Fabric Corner Sofa
Adding more grace to your space through modern design gives it a distinctive appearance. A Dino fabric corner sofa is made of top-notch components and is long-lasting. This item's fabric is water-resistant, which improves its stability and lengthens its lifespan. The item is more stable thanks to this fabric, which also increases its durability. It combines cutting-edge design with the most effective manufacturing processes. It comes with distinguishable features and is perfect for your room. This product will be appropriate for all customers due to its resistance to dust and stains.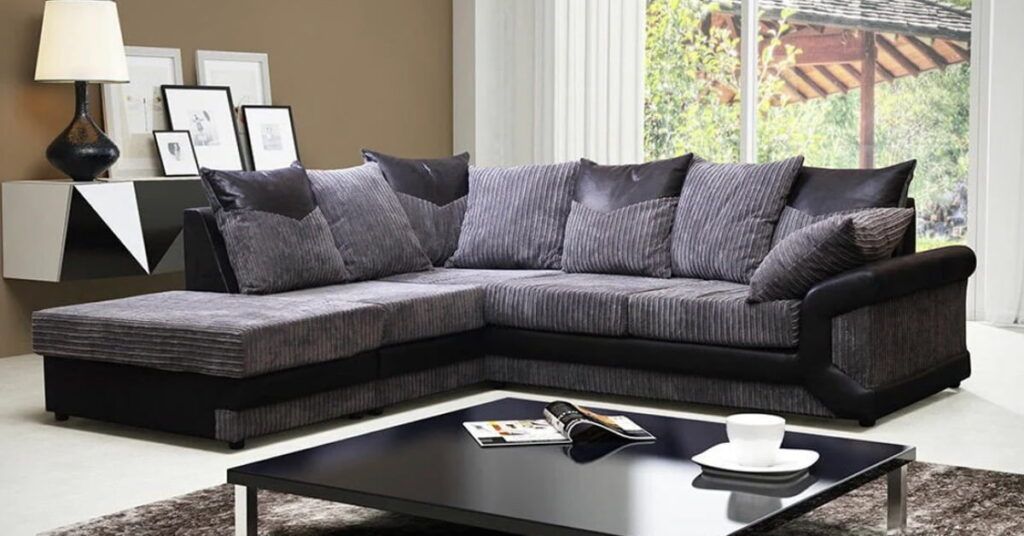 Create a Sense of Luxe
For successful conversation sessions in a relaxed setting, it offers exquisitely balanced comfort, style, and luxury. There is no cause for concern regarding the assembly. It comes with a really straightforward assembly procedure. The stylish chrome legs on the solid wooden frame combine contemporary style and comfort. Your room now appears to be more lavish overall. The fact that you can easily move this product to the ideal location whenever you want is its best feature. It has a sturdy wooden frame for added sturdiness.
Tender Sleep provides a range of seating options for this piece. It provides 2-seaters, 3-seaters, left and right corner chairs, 3-seaters, and 2-seaters for a very low price. This item's premium fabric resists dust and mites. It is the best piece for you on an affordable budget.