Colour is an important aspect of decorating your home, and using grey furniture is crucial. It plays the key role of bringing your choices and aesthetic desires to life. But the problem that has always been for many is the choice of colour to rely upon. Bright colours are great, but eventually, they are harsh for the eyes. Complementary colours have the habit of adding some flair to the living spaces but lack the fidelity of it. The question becomes which colour to rely on to bring flexibility to your home. Only two colours come into mind which are responsible for bringing a sense of understanding into your home. These include the colours white and grey.
Why not white?
White is a common colour that is mostly found in almost all the UK. All the walls of UK households are white. This is because white can easily mix with any colour of the spectrum. However, white has an awful habit of getting dirty. This means that it is great for walls, but not so great for home décor items. Of course, you can use cleaning products to wipe the dirt away, but achieving this takes time and money. So, the colour white is a no-go for home décor items.
Why Grey?
This is the point where the colour grey makes itself known. Grey is famous for bringing a sophisticated look to your home décor items. It gives you a refined feel. This is always great news when you find something that can easily blend with your other colour choices. The colour grey does that and without any issues. Grey is a mix of both the colours black and white.
Colour Tones
It brings a classical look to itself. Its undying ability to blend helps you realize your design for bedroom decoration. To make sure, that grey can blend in every style. Texture helps pivot this choice in the right direction. Many top interior decorators choose the colour grey for its versatility and sophistication. It adds more depth than white. Using the colour grey gives you the options that you won't get with other colours. Grey is a two-tone colour, meaning that it comes in a warm-tone and cooler tone. The warm tone of grey is much cosier for colours yellow and red, Whereas the cooler toner helps create great designs with blue, green, or even purple.
Three points to always remember about Grey
Always keep in mind that the colour grey is neutral. This means that hybrid colours can benefit your design, but it would be better to stay with the original colour. Natural light can do wonders, but using the wrong colour can do you more harm than good.

Furthermore, if you already have grey in your room, use it instead of trying to replace it. By working around the colour, you can create a style that is beneficial to you and your family. So instead of adding another grey, try to select something that blends the colours instead of alienating them.

And lastly, don't forget how textures play an important role. By taking a chance on textures, you can create a neutral hub. The addition of a wooden bed frame or a fabric infinity sofa are some textures that work flawlessly with the colour grey. Don't for a second think the grey is a boring colour, instead, it can add inspiration to your future designs.
Why is Grey furniture a better alternative?
Grey is the most suitable colour to create layers of itself. This helps you by developing a colour scale that helps to be cohesive instead of being bland. The darkest or the deepest shade of the colour grey helps create interesting developments in your room. From the floor to the walls, the colour grey can maximize the overall aesthetic effect of what you desire.
Grey plush Velvet Lucy Ottoman Bed
The best example is, choosing a Grey plush Velvet Lucy Ottoman bed from Tender Sleep Furniture for your room is the best choice you can make. The grey colour around the bed brings neutrality to the whole room. But that's not all it does. The bed itself is spectacular, with lush designs and a smooth feel. But the main takeaway is the dual function it brings. A hidden storage unit helps make the use of wasted space into something spectacular. All your clutter just vanishes in mere minutes.
Is Grey Furniture Good for Smaller Rooms?
For a smaller room, it does the job more elegantly than you can imagine. Better than the colour white, the charming grey can enhance your smaller room into something splendid. The meaning behind the colour is also inspiring. It brings a peaceful and relaxing style to every room it touches. Grey has the natural habit of lessening tension and stress.
Is Grey Furniture Great for Living Rooms?
For living rooms, the colour grey brings a minimalistic style. Grey helps a single piece of furniture blend better than any other colour in the market. The grey Florence Sofa by Tender Sleep Furniture's does that and more. It comes with a wooden frame and velvet upholstery. The sofa set comes with a two-seater and a three-seater variant. It can help you accommodate up to six people without any issues. The smooth fabric with the vibrant colour choice makes this the best solution for living rooms. You can have friends over for parties and drinks, and the only things they will discuss is your style choices.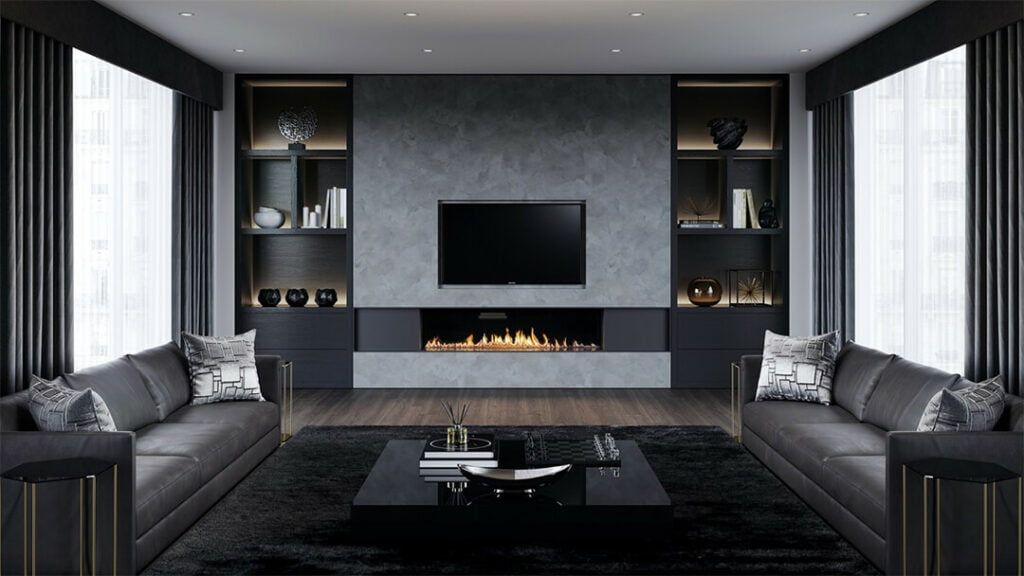 Grey is better than White
Lastly, the colour grey has become an interesting choice for customers as it helps highlight surfaces. White has been doing that for some time, but it is high time that you wanted something that is not everywhere. Grey can transform the whole room and convert it into a neutral setting. A white wardrobe with white walls will be a horrendous ordeal. But a grey wardrobe such as this one will do wonders for your room. As the picture below suggests, the grey Marsylia wardrobe is more beautiful with the white walls than the white wardrobe.