Words fail me in my attempt to describe the beauty that crushed velvet beds possess. All thanks to Tender Sleeps for making their valuable customers able to experience this sheer beauty. It is not just a product but also an experience. The majesty of these plush beds made of crushed velvet defines their distinct, opulent modern design. They offer every comfort necessary for restful sleep thanks to their magnificent design. Having this remarkable piece in your bedroom for comfortable sleep has a wide range of advantages.
These products are being heavily invested in by consumers who merely want tranquility and a calm setting. For the convenience of their customers, Tender Sleep affordably offers this incredible piece. The phrase "crushed velvet" always conjures up images of opulently soft fabric. The unique kind of weave that is used to make crushed velvet fabric is what gives it its distinctive softness.
These wonderful crushed velvet beds have excellent space-saving qualities and add style to any bedroom. The interior of the room is made more elegant by its opulent design, which redefines class. The product is provided with top-notch components at a reasonable price, keeping in mind the customers' budgets. Offering premium goods at competitive prices is a priority for Tender Sleep.
Investing in a Luxury Crushed Velvet Bed
This is the item, in our opinion, that you should buy. Crushed velvet beds are a good option if your bedroom is on the small side, but you still need something unique to make it look elegant. Your time and space may be saved by this product. Your bedroom is the ideal location to unwind after a long day. The gracefulness of the room and the level of mental comfort are enhanced by Tender Sleeps' elegant design with a hint of luxury. Excellent manufacturing practices combines to produce the product, which complies with all the UK safety regulations.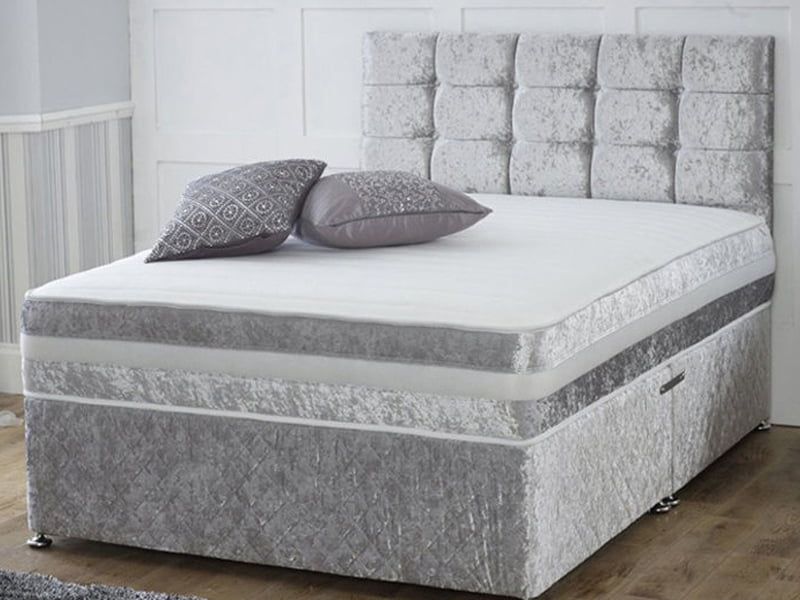 It is available at Tender Sleep for a fair price. The real draw for our customers is the elegant design of the crushed velvet beds. Your room will feel more luxurious thanks to its striking design. It blends well with a modern-style bedroom that has a top-notch mattress for increased softness and comfort during the night. As soon as you receive this product, your room will instantly become brighter.
Why Crushed Velvet is Best-Selling?
Here are Five Reason
Soft and plush texture: Crushed velvet has a unique texture that is soft to the touch and plush to the eye.
Durable and easy to maintain: Synthetic fibers such as polyester make crushed velvet durable and easy to maintain.
Variety of colours: Crushed velvet is available in a wide range of colours, from neutral shades to bold hues.
Elegant and sophisticated look: The soft texture and rich colours of crushed velvet give it an elegant and sophisticated look that can add a touch of luxury to any bedroom.
Versatile: You can use crushed velvet for various types of furniture, including beds, sofas, and chairs. And it is great for adding a touch of texture to any room.
Magical Appearance
With this amazing piece in your room, the bed takes on a magical appearance. It is the perfect item to use for room decoration. The advantages that this product offers are numerous. The fact that these beds give the room a lot of space is one of their many advantages. In order for it to complement the decor of the room, pick this one. This item is a fantastic way to conserve space in the room.
Comfortability
With increased comfort, increased utility, and many other benefits, it provides enormous value. It can raise the room's standard of style and elegance. The bed creates a cosy atmosphere in the room. It is an alluring product and ideal for a modern-style room because of its contemporary appearance.
In the UK, it is the product with the highest sales. We always do our best to ensure that the packages arrive by the specified time. Tender Sleep currently provides such an intriguing product at such a discounted price that it both satisfies consumer needs and improves the aesthetics of the bedroom.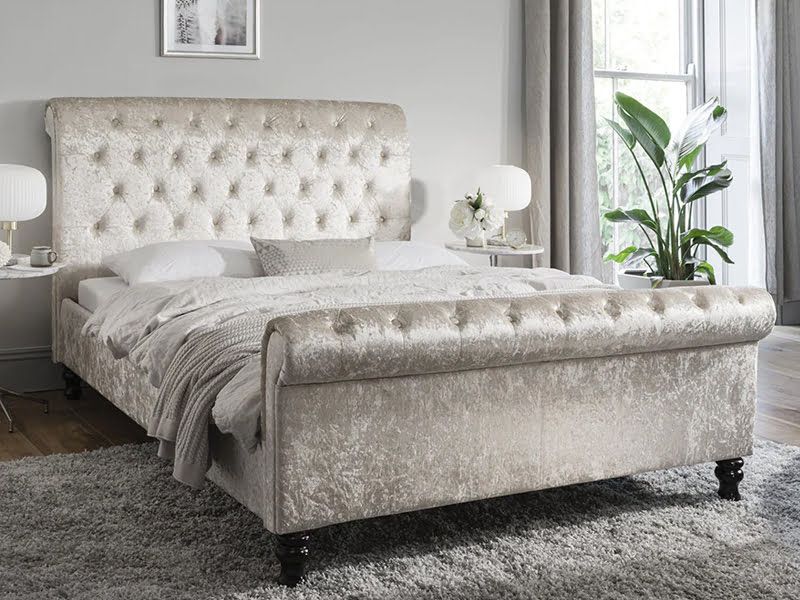 Stunning Style
The stunning frame, excellent materials, and neutral colours perfectly capture the bed's design. Everyone wants to infuse their bedroom with simplicity, finesse, and excellence. Contemporary design combines with the most well-liked fabric on the market in the crushed velvet bed frame. We honorably introduce a style icon to transform your bedroom with its beautifully smooth fabric combined with a sturdy frame.
Safety Regulations
All of our products pass the most recent regulation-based tests and meet UK fire safety standards. These beds are available in a variety of options, including premium-quality crushed velvet fabric, to meet the demands of our loyal customers. The crushed pattern on the velvet of our upholstered velvet beds allows for a contemporary and fashionable look.