An increasing need for space-saving solutions in contemporary homes is reflected in the expanding popularity of triple timber sleeper bunk beds. These triple beds have grown more well-liked as families grow and apartments get smaller due to their usefulness and adaptability. There are some major causes for their upward trend.
Triple bunk beds effectively utilise vertical space, making them perfect for bedrooms with limited floor space. They make it comfortable for three kids to share a room without compromising space for play or school. Kids and teenagers love these beds for sleepovers. They make entertaining friends and cousins easier by giving them a fun and cosy sleeping arrangement. To accommodate varying preferences and room layouts, manufacturers provide a variety of setups and styles. Some designs enhance practicality by adding extra elements like storage drawers or built-in desks. Triple beds made of wood are noted for their durability and timeless aesthetic appeal. They are a wise long-term investment because they can survive the test of time and changing fashion trends.
For families with many kids, these bunk beds give siblings a place to hang out and make enduring memories. The intimate proximity promotes unity and a sense of kinship.
Wooden furniture fits the trend of environmentally conscious and sustainable living. Many parents value the usage of organic materials in their children's furniture, such as wood. A triple timber sleeper bunk bed is a great option for making the most of your available space. Choosing the best one, though, might be difficult due to the abundance of possibilities. In this thorough guide by Tender Sleep, you will go over the essential criteria to look at when selecting a triple timber sleeper bed so you can make an educated choice that meets your family's needs and tastes.
Safety
Particularly with regard to bunk beds, safety should always come first. A bunk cosy bed should include a secure ladder or stairway for access, guardrails on the top bunk, and a solid construction. Make sure everything meets with safety requirements to reduce the possibility of accidents.
Size and Location
To find out how much room there is for the bunk beds, measure your room. Because triple bunk beds can be bigger than standard bunk beds, be sure your room has enough space for them without feeling crowded.
Durability and Material
Due to their strength and timeless appeal, bunk wooden beds are a popular choice. Think about the wood's polish and species. Hardwoods, such as oak or maple, are typically more durable and long-lasting. A well constructed hardwood bunk bed can withstand your kids' growing years.
Configuration
Triple wooden bunk beds are available in a variety of arrangements. The most typical is a twin-over-twin-over-twin arrangement, but you may also find loft-style or L-shaped arrangements with extras like storage or study desks. Pick a setup that best fits your requirements and available space.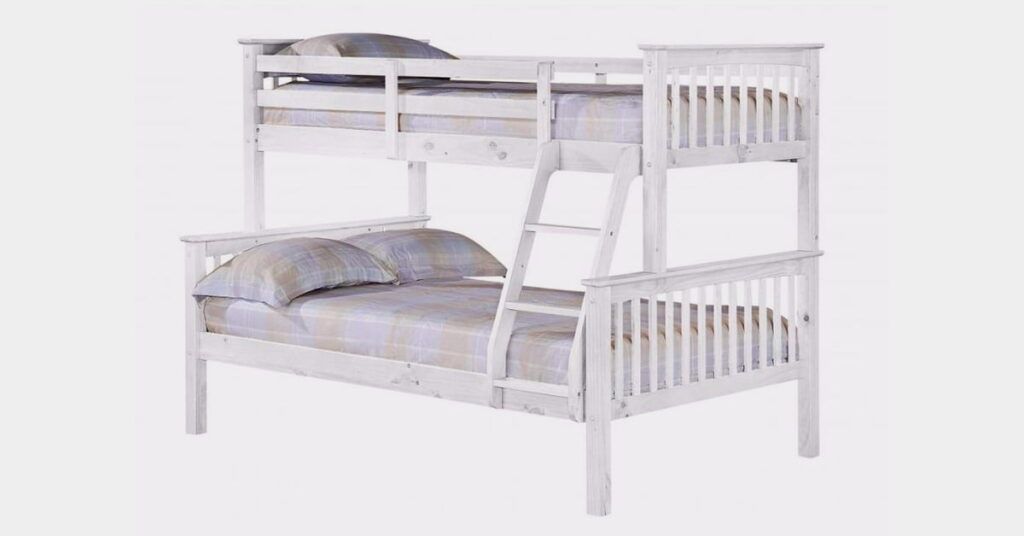 Storage Alternatives
Storage is necessary to keep the space organised. For additional storage or sleeping space, some triple bunk beds feature built-in drawers, shelves, or trundle beds. Choose a Triple wooden bunk bed that meets your storage requirements after assessing your needs.
Beauty Appeal
Your bunk modern bed should match the style of your space. Wooden bunk beds provide a traditional and adaptable aesthetic that complements a variety of home design motifs. Take into account the design features and finish that complement the style of your area.
Furniture and Bedding
Verify that the bed's measurements correspond to common mattress sizes. Particularly for the top bunk, think about the mattresses' comfort and support. The thickness of the mattress should be considered while designing safety rails.
Maintenance and Assembly
Verify that these bunks come with all the required hardware, clear assembly instructions, and parts. Take into account the upkeep needs, such as how simple it is to clean and maintain the wood's finish.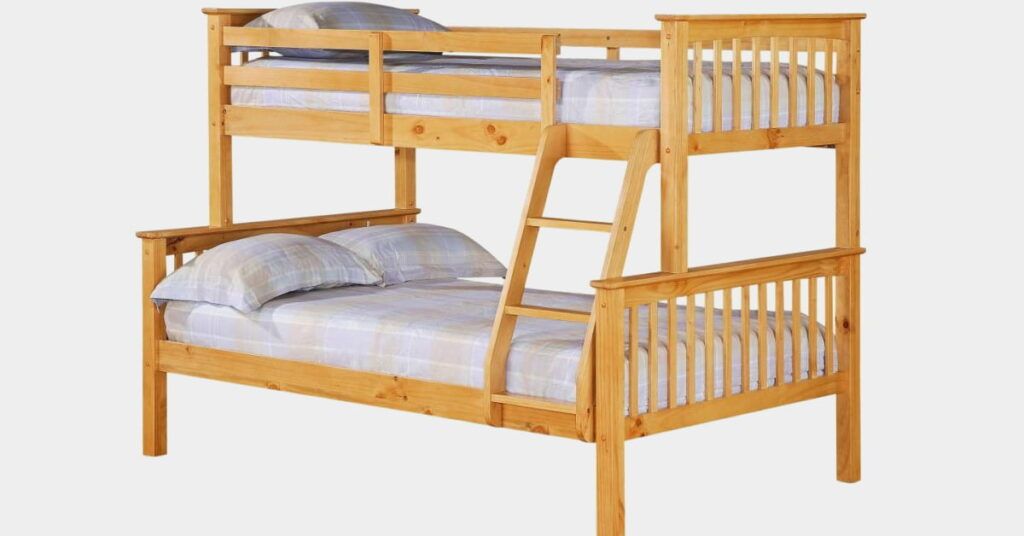 Budgetary Factors
Prices for bunk beds can vary widely depending on the brand, material, and amenities. Prioritise choices that provide the best value for your money by setting a budget.
Conclusion
In conclusion, the popularity of triple hardwood sleeper bunk beds is growing, which is a testament to their effectiveness in saving space, usefulness, and adaptability to the changing needs of contemporary families. These beds will probably continue to be in demand for years to come as more people look for ways to make the most of their living spaces.
Your home can benefit greatly from a triple sleeper bunk bed, that folds out a solution for minimising space without sacrificing comfort or aesthetics. You may make an informed choice that meets the demands of your family by carefully considering safety, size, material, configuration, storage, aesthetics, mattresses, assembly, and money. Your children may sleep, play, and grow in a functional and welcoming environment if you choose the ideal triple bed.