The right mattress and bed must be chosen in order to have a perfect and comfortable sleep. Comfort and support are imperative considerations for those looking for a single bed. To help you make an informed choice that meets your specific needs, we'll go over the important factors to take into account when selecting a single bed with mattress in this extensive guide. So let's explore single beds and learn how to get the best support and comfort possible.
Single Bed with Mattress: A Comfortable Sleeping Arrangement
People who need a comfortable sleeping arrangement but have a small amount of space often opt for a single bed with a mattress. Typically, it consists of a frame made to fit a mattress that is single-sized, offering enough support and comfort for one person to sleep on it. A snug fit and comfortable sleep is guaranteed because the mattress is specially made to fit the bed frame's dimensions. These are frequently found in juvenile rooms or guest rooms, providing welcoming and private sleeping space for one person. For them, Tender Sleep is providing a complete line of luxurious products of the highest calibre at a discounted price.
Determine Your Sleep Preferences:
Consider your preferred sleeping positions before starting your search for the ideal single bed. Which type of mattress do you prefer—softer or firmer? Do you have any particular health issues or back problems? You can choose a bed that provides the right amount of comfort and support by being aware of your preferences and needs.
Consider Mattress Types:
A. Mattress with Steel Coils: The most traditional kind of mattress is one with steel coils for support. They are a popular option for many people because they frequently offer a good balance between comfort and support.
B. Memory Foam Mattress: Mattresses made of memory foam adapt to the shape of your body and offer excellent pressure relief and support. They are perfect for people looking for individualised comfort and minimal motion transfer.
C. Latex Mattress: By providing elasticity and support that are derived from nature, latex mattresses help to maintain proper spinal alignment. They're also renowned for being resilient and hypoallergenic.
D. Hybrid Mattress: These mattresses combine the advantages of foam and innerspring mattresses. For improved comfort and support, they typically have a pocketed coil system with a layer of memory foam or latex.
Single Divan Bed: A Versatile and Practical Option
A single divan bed is a versatile and practical option for those looking for a portable and practical sleeping solution. Usually, it consists of a divan base and a single mattress that were created to fit together perfectly. The divan base is a sturdy and upholstered platform that provides both support and storage options. It frequently has built-in drawers or other storage areas that enable users to maximise space usage by storing additional bedding, pillows, or other items. It is a great option for people who want more organisational options or who have smaller bedrooms because it provides a comfortable sleeping surface along with additional storage options.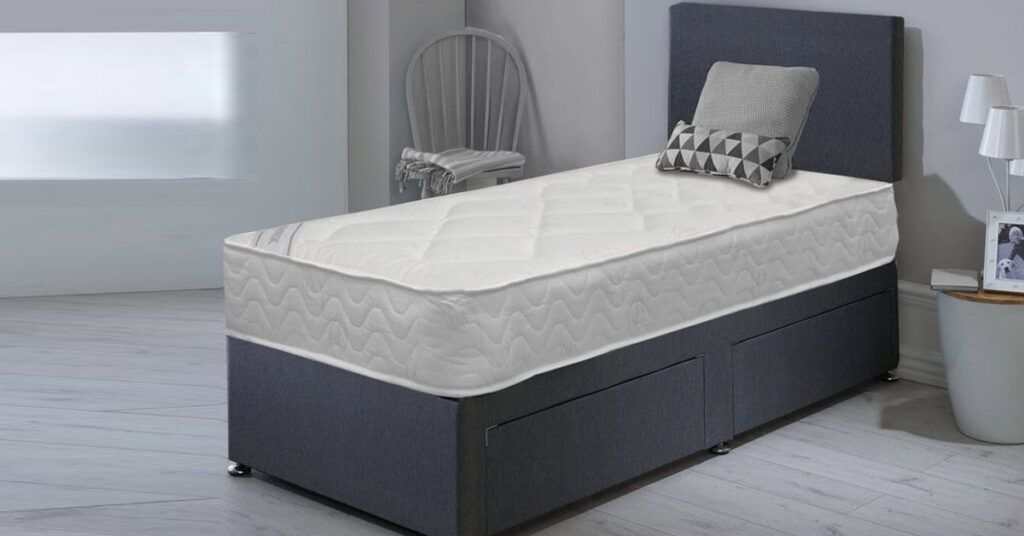 Determine the Appropriate Firmness Level:
Your personal preference and any existing medical conditions will determine the firmness level you select. Soft to the extra firm is the range of firmness. In order to relieve pressure on their shoulders and hips, side sleepers typically benefit from a softer mattress, whereas back and stomach sleepers frequently prefer a firmer mattress for proper spinal alignment.
In light of Body Weight
The right level of support is heavily influenced by your body weight. A firmer mattress may be necessary for heavier people to prevent excessive sinkage, whereas lighter people might find a softer mattress more comfortable.
King-Size Divan Bed: Combining Comfort, Support, and Style
A king-size divan bed is an opulent and ample sleeping option made for couples or single people who prefer a lot of space to spread out and unwind while they sleep. It combines comfort, support, and style and typically consists of a divan base and a king-size mattress. The divan base gives the mattress a sturdy foundation while also providing extra storage options, like drawers or ottoman-style compartments. It provides spacious room for two sleepers, ensuring that each has enough space to sleep peacefully without disturbing their partner. These beds are frequently selected for master bedrooms or other larger rooms where both comfort and aesthetics are important factors.
Analysis of Motion Transfer:
You should think about mattresses with good motion isolation if you share your bed with a partner or a pet. When it comes to reducing motion transfer, memory foam and latex mattresses excel, making sure that any movement on one side of the bed does not wake up the person on the other side.
Check the Bed:
When buying a single bed, whenever possible, test it out along with the mattress. Examine comfort and support by lying down in a variety of positions for a few minutes in each one. This step is essential because it enables you to personally experience how the bed feels and determine whether it lives up to your expectations.
Conclusion:
An individual's search for the ideal single bed and mattress involves giving comfort and support careful thought. You can make an educated choice by considering your body weight, your sleeping preferences, the various mattress types, and the firmness levels. To ensure a satisfying and comfortable sleep, always test the bed before buying and check the warranty and return policies. You can wake up rested and prepared to face the day with the right single bed.