The Carol Faux Leather Sofa has the charm to amplify the grace of your room. The adorable look of this product can make everyone fall in love with it. This piece is all about quality, utility, and comfort. It is made of high-quality materials. The premium-quality faux leather upholstery is used in this piece to make it more comfortable and classy. It allows everyone to feel the luxury in their living room. It allows a healthy conversation to start. The beauty of this piece is its look, which leaves a long-lasting impression on the minds of guests. This will be the most comfortable piece for you to enjoy.
Comfortable & Affordable
Upgrade your room with this modern-style sofa. The luxurious product adds an extra perk for enhanced comfortability. Amazingly, it is a premium piece that is available at a reasonable price whose classic design with faux leather boosts the elegance of the room to another level. The durability of this product is remarkable, which is why customers love to buy it. It brings an aesthetic look to your room. Nothing defines class, softness, and comfort like this product. It is the symbol of luxury, peace, and complete comfort. It highlights the room's interior and enhances the comfort of the theme.
Long-lasting Solid Wooden Frame of Carol Faux Leather Sofa
This product adds an exclusive glamour to your room. It can easily pass the test of time due to the solid wooden frame that increases the stability of the product. It comes in faux leather upholstery that combines the innovative design with the finest manufacture. The dust and stain-resistant properties make this product ideal for all types of customers. It offers perfectly balanced comfort, style, and luxury for effective communication sessions in a comfortable environment. It has an altogether different vibe with its luxurious faux leather upholstery. This multipurpose sofa, which has a pleasant, modern, and retro appeal, is an ideal piece for relaxation. It is kept warm in the winter and cool in the summer thanks to this amazing product.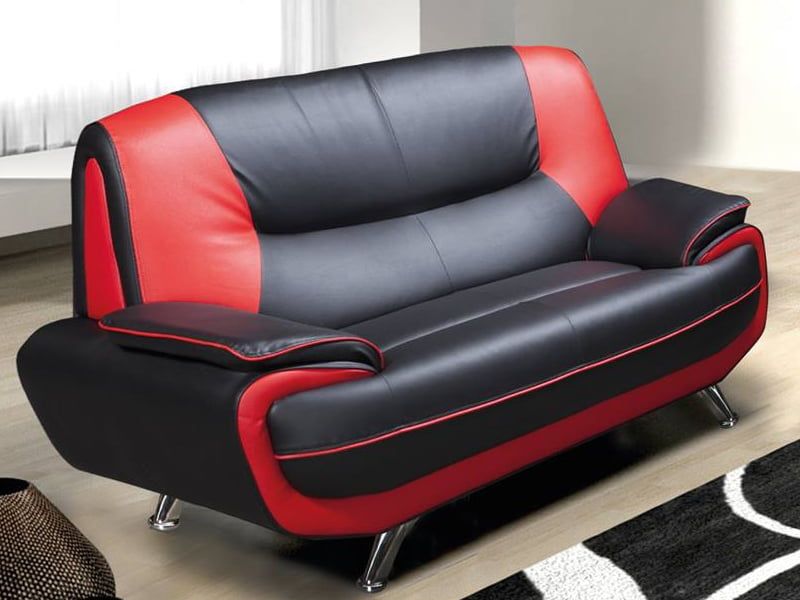 Premium-Quality Faux Leather Upholstery
This 3+2-seater sofa is perfect for cuddling up in comfort with the entire family, or you can spread out and enjoy it by yourself. It is a centerpiece and is easy to match with contemporary room interiors. For people who live in small homes, this sofa makes it possible for you to have the comfortable living room you deserve. This outstanding product has premium-quality leather sofa for exceptional comfort. Tender Sleep offers this remarkable piece at a low cost for the convenience of their loyal customers. Sitting on this sofa will relieve all your stress and make you feel relaxed.
Solid Chrome Legs
The sofa is raised off the ground by its sturdy chrome legs. Additionally, they provide extrra support and durability to the overall structure of this product. This piece is beautifully upholstered with faux leather to add a classic, luxurious touch to the interior of your living room. It makes you comfortable and more relaxed. Enhance the utility of the theme of your room by adding this product. This product is available in a variety of colours, and it comes at an affordable price.
Durable Piece of Furniture
This product adds to the value of your room. The product is durable and made up of high-quality materials. It is available in 3+2-seating options. It offers prominent features and is perfect for your room. Its solid wooden frame increases the durability of this product. Moreover, its overall sturdy structure boosts the product's stability and allows it to stand the test of time with ease. The best manufacturing techniques and cutting-edge design make the faux leather sofa set's upholstery even more comfortable.
Dust and Stain Resistance Properties
In conclusion, all customers will find this product suitable because of its dust- and stain-resistance qualities. It provides beautifully balanced comfort, style, and luxury for productive conversation sessions in a relaxed setting. The assembly of the faux leather sofa bed is fairly simple. The instruction booklet includes in the box for easy assembly. By simply following the guidance manual, one can easily assemble this piece within a couple of minutes. Thus, Tender Sleep is offering this remarkable piece at a lower rate so that everyone can easily afford it and enjoy the luxury and comfort offered in the piece.