Bunk Beds are the only feasible option for parents if they are on a tight budget. These inexpensive beds provide the comfort you require and are compact. The dimension mentioned in the bunk bed listing is approximate. As always Tender Sleep suggest being on the safe side. Always measure the space where you want the bunk beds. We offer bunk beds in two varieties. The metal bunk bed and the wooden bunk bed. The choice is yours. They can be part of any room you desire. You must have the space to do so.
Sizes of Bunk Beds
Bunk beds come in many sizes and shapes. Tender Sleep offers them in Single and Triple sizes.
The Single Bunk bed
The single bunk bed consists of a sleek design. It features one bunk bed over top of another. It's a perfect option for small-to-medium bedrooms or for people facing space constraints. We offer them in a variety of styles. In the market, they come with extra features like having a built-in desk, under-bed storage or a trundle bed. These also come with accessories that will cost you an arm and a leg. Our bunk beds have the unique ability to be formed into standalone beds. Gives you dual functionality when you require it the most. The single size can easily without a hitch accommodate up to two occupants. Children and Adults alike.
Loft Beds
Loft Beds is basically a typical bunk bed available without a bottom bunk. Some loft beds also feature caster beds that consist of a simple and plain rollout bed attached under the top bunk. The super amazing loft beds are available in a range of combinations. Basically, it's an upper bunk with accessories in the bottom bunk. Sadly, Tender sleep doesn't sell this type of bed due to It's less function and challenging assembly.
The Triple bunk bed
A triple bunk bed is another wonderful size. It allows triple sleeping space present for kids or adults. The triple bunk bed comes with a double bunk at the bottom and a single bunk at the top. To access the top bunk occupants can easily rely on the built-in ladder. This is commonly referred to as the futon bed. It is in a compact size. Tender Sleep does sell this type of bunk bed. Customers get to choose whether they want wooden or metallic construction. It's an ideal choice for people who want to decorate a multi-purpose room by adding extra sleeping space and storage space in a small bedroom.
Types of Bunk beds
1. Bunk bed with storage:
A kid's classic design is available in the market. This comes with storage features. This bed design is to lessen storage problems. It has to pull out drawers present underneath the bed and on the staircase. The two single beds with lots of amazing hidden storage compartments will help you to improve your bedroom interiors. These kinds of bunk beds are bulky and hard to maintain. The assembly time is also harsh. That are several reasons Why Tender Sleep doesn't house one of these bunk beds. Furthermore, they are expensive. The image below can give you an idea of why investing in this is a bad idea. Only do it if you have the money and the space.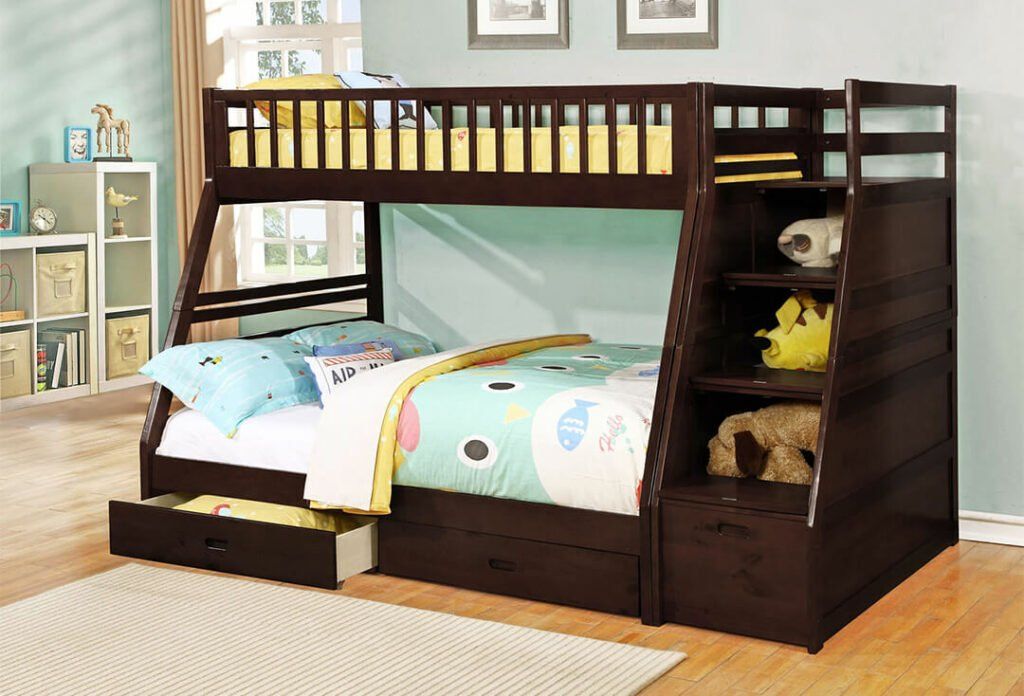 2. Bunk bed with desk:
The Loft storage bed is a creative bed. It delivers beauty, style, and storage. It's a perfect addition in your kid's room. This helps you to utilize the available space in the best possible way. The loft storage bed provides ample storage options. It comes with counter space, desk, stairway chests and shelves. It is a complete solution for you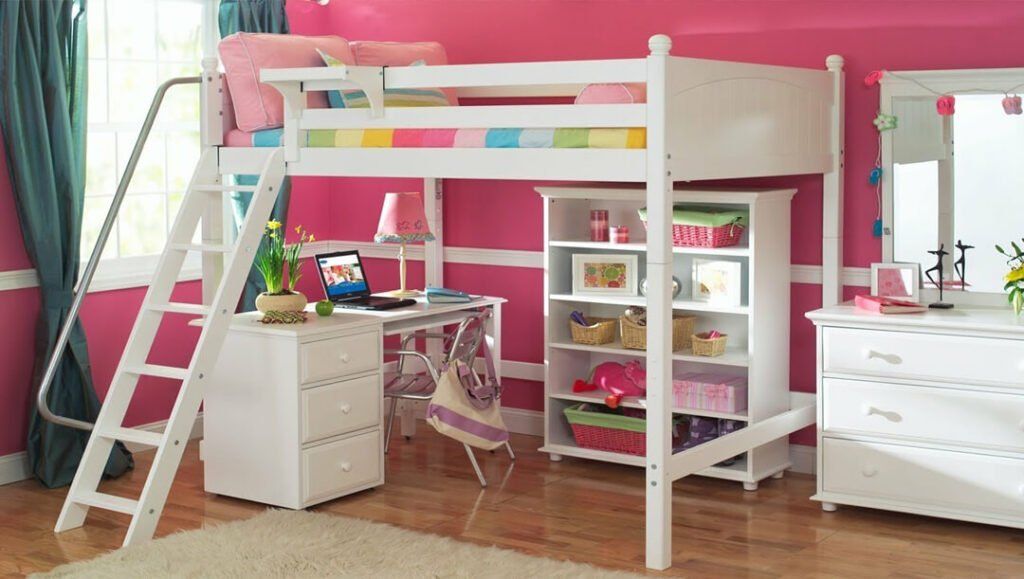 3. Bunk beds with slides
Another wonderful option that you can avail yourself of for your kid's bedroom is the bunk bed with a slide. These are less common in the UK market. Moreover, the slide is a hazard for the bottom bunk occupant. He's going to the loo will always result in him banging the slide. From a safety perspective, this is one thing you will never put in a room. If you want to go to the slide, then go to the park. These kinds of beds can only function in fiction as in reality they are a hazard.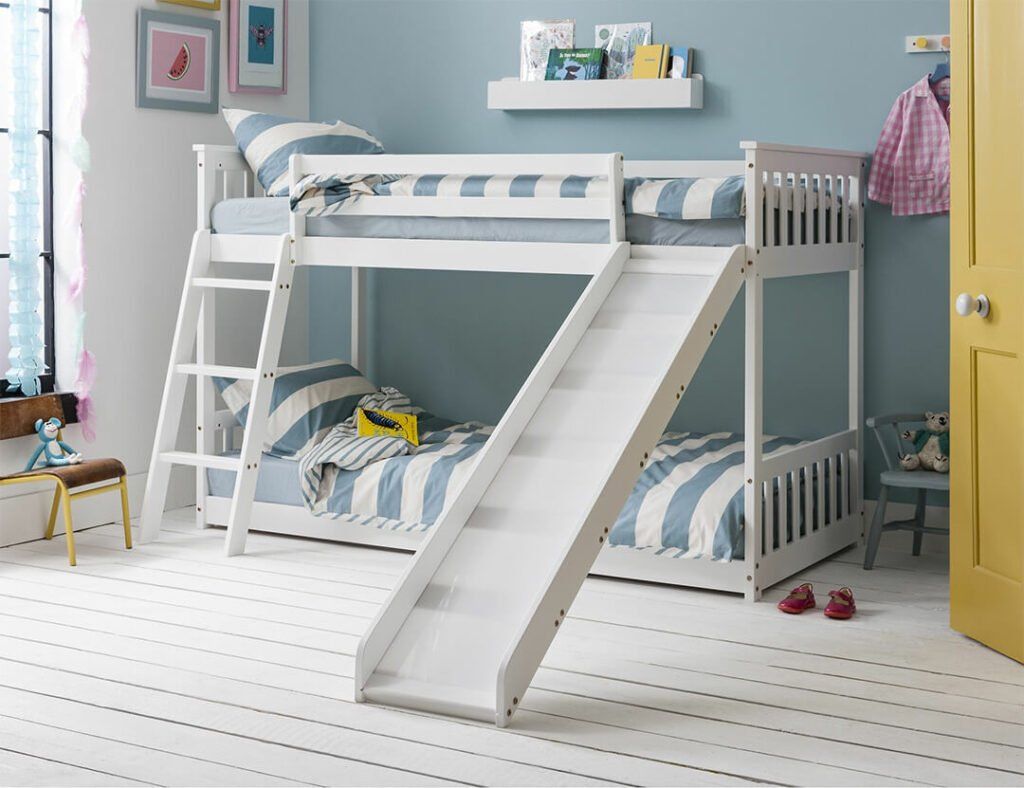 Bunk Beds: Stairs vs. Ladders
While buying the bunk beds, you have the option to choose the bed with stairs or a ladder. Almost all of our bunk beds are available with built-in ladders to ensure safety for kids. Built-in ladder bunk beds are much safer in comparison to stairway chests that will fill the gap between steps for easy navigation along with the storage space for extra clothing. So, if you are buying a bunk bed for a kid's bedroom, then always prefer stairs to ladders. Here are some things you should consider while buying the ladder;
Construction Material
All bunk beds constructions revolve around wood or metal. So, before choosing the bunk bed, you have to decide about the suitable material according to your needs. Wooden bunk beds use wood. Sustainable materials also come into play. Other than that, some manufacturers use oak, pine, maple, or cherry to make the bunk bed frame. This enhances its strength, durability, and density. The metal bunk beds use various metals to craft its frame. As compared to wooden bunk beds, Metal bunk beds are more popular because they are inexpensive and easier to maintain.
Bunk Bed Mattresses:
The semi-orthopaedic mattress is perfect for bunk beds. Tender Sleep offers them a discount if bought with the bunk bed. The triple bunk bed will have a double and single semi-orthopaedic mattress. Whereas the single bunk bed will come with two single mattresses.
Guardrails:
Guardrails of the bunk bed also play a critical role in the safety and security of the occupants. Here are some tips:
Make sure you opt for the bunk bed that has complete guardrail protection. This prevents occupants from falling out of the bed. Tender Sleep offer bunk beds with this feature as a standard.
The guardrails must be at least five inches above the mattress. The chance of the occupant will rise if you invest in a high mattress.
It's significant to have at least 3.5 inches of space between the bunk bed and guardrails Which will help you to fix the mattress perfectly within the frame.
The spaces present between the guardrails of the bunk bed, govern its safety. A good construction amount to safety stands. The measurement of the ceiling will help you save time and give you a perspective of how much space is left between the top bunk and the roof. Make sure the top bunk has enough clearing or else the occupant will need to wear a crash helmet.