When it comes to a serene sleep, a bed frame or a box spring beds are necessary to achieve this. If for any reason you feel discomfort whilst sleeping. Your best answer will be to invest in a new bed base or frame. Bed bases are cheaper, whereas bed-frames are affordable. Both of these can enhance your bed's comfort level. Buying a combo is less expensive than buying both items separately.
Tender Sleep Furniture offers a considerable range of platform bed collections. The key indicator to define a platform bed is that it has space underneath it. This will give you access for you to place your slippers and other small stuff.
This information will help you distinguish between the various bed types in the market today.
Platform Beds
A platform bed is a special kind of bed base. The frame comes in either slats or solid surfaces depending on the design. Platform beds are usually low profile and their access is fairly easy. Unlike any other bed base, a platform bed can house your mattress without any issues. Keep in mind that the mattress you are using should be of the same size as the bed.
Endurance
The best way to measure the overall support of a platform bed can be seen in its construction. Solid surfaces are prone to providing firmer support to you and your mattress. If you like sleeping on a hard mattress, then this is the best candidate for the job. Almost all platform beds that Tender Sleep Furniture offers come with wooden slats. Choosing a pocket sprung mattress for this bed type will make the transition much better.
Stability
Durability wise, platform beds tend to last for decades. The real reason why your platform bed is durable depends on what kind of material it comes with. The Tender Sleep Furniture frame is made of solid hardwood. The material in question is of high regard. A hybrid of wood and metal is also a good choice for a comfortable bed. It would be wise to avoid a platform bed with flimsy wooden material. This can lead to injury or a weaker bed frame.
Sympathetic
Platform beds sold by us are compatible with all mattresses that we offer for our customers. The best candidate for the platform bed is our 2000 pocket sprung mattress. It comes with a variety of layer sofa foam that is beneficial to your body. It can provide a serene sleep.
Style
If you are near seeking something modern and stylish, then the platform bed is the answer. These kinds of beds do not require any additional bed bases as divan bed do. The access level of these beds is that anyone is capable of getting out of the bed without any issues. The only downside for platform beds is the size scale.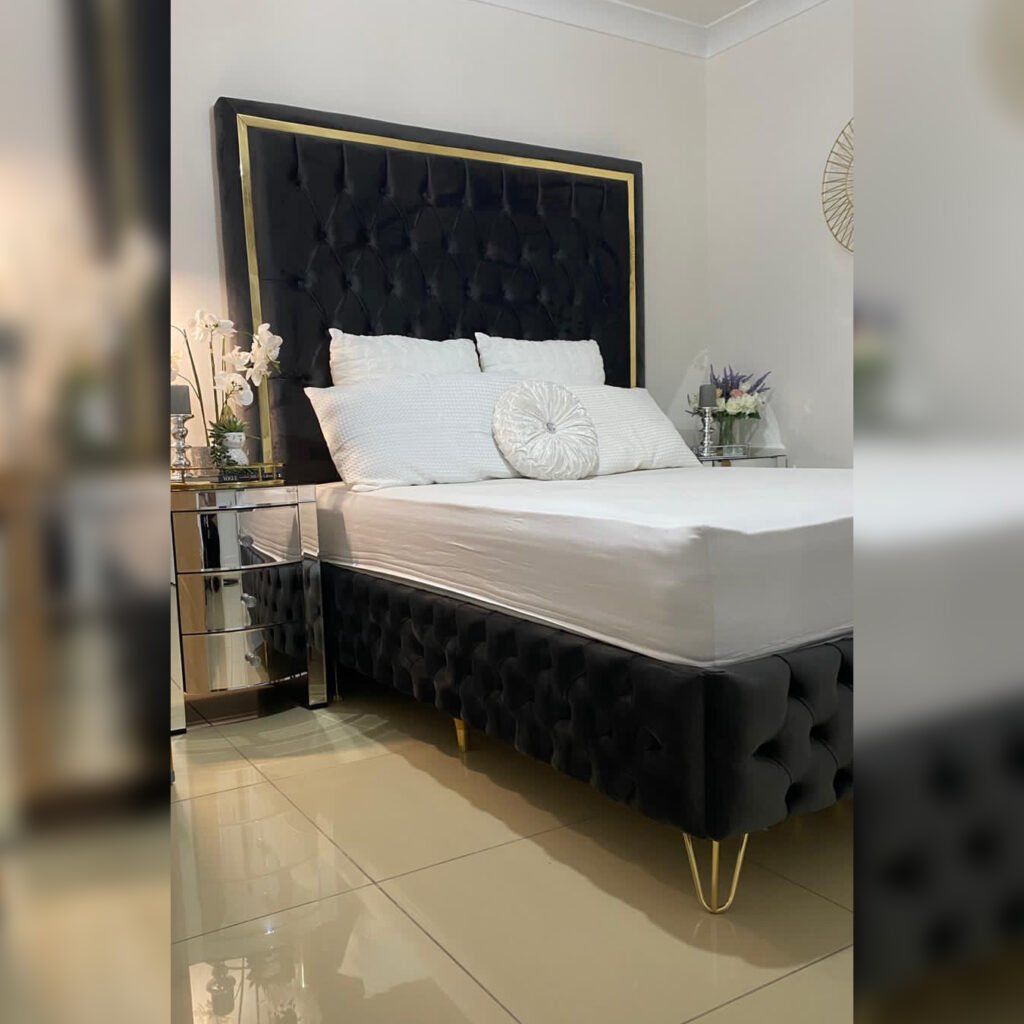 Box Spring Bases
A box spring base is two bases that combine to form a single base. The most common example of this kind is the divan beds. The sole reason this is done is for mobility, as two bases are easy to carry and bring to your location. Moreover, these bases also have the option to add drawers at the behest of the customer's desire. Other than that, the bases are interlocked using q-clips. Q clips are a new kind of component that keep the two bases intact and at the same time keep the strength intact.
Normally, a box spring beds are of solid wood that combines with a network of coils. These coils are of steel. This helps mitigate pressure build-up in the base without any issues. Tender Sleep Furniture offers these kinds of bases in droves for affordable pricing.
Bolster
Instead of relying on solid slats, box spring bases employ steel coils. They help you achieve a serene sleep. Stainless steel is generally flexible and in time with use provides the necessary support. The bases can absorb shock and can withstand your body weight. These kinds of bases are compatible with almost all mattresses we have on offer. Tender Sleep Furniture takes great pride in offering items that are not only affordable, but at the same time beneficial. Pocket Sprung mattresses that we offer have the tenacity to enhance the overall function of the coils and provide comfortable relief to you.
The network of coils inside the box spring beds can promote breathability and airflow for any mattress that you bring into the mix.
Persistence
The durability of the box spring beds depends solely on your use. By our standards, these bases can last up to almost a decade without any issues. In reality, spring bases are the perfect answer for you and your guest room, if you have one. With time and use, the coils that have provided you with the necessary comfort eventually wear down. And with time, each coil offers less support. The first sign is the noise will start to come from your base. Normally, you would use the usual tips to lessen it. But if it still comes, then it is high time to invest in something else. Your investment has finally run its course.
Affinity
As previously described, the box spring beds are compatible with any mattress you can add. Except for heavy mattresses, these are a no-go for these kinds of bases. They can put a strain on the coil network that can do more damage than harm. So, avoid investing in a mattress that is dangerous for your bed base. The ideal mattress that we're capable of recommending for the box spring beds will be the full orthopaedic mattress. This kind of mattress brings a balance between its quality. It is neither firm nor soft. In time, they will not cause any strain or damage to the box-spring.
Style
The overall design and style element for box spring bases is an enigmatic piece of home décor. Box spring bases are known to realize the overall height of the mattress, which in return makes it a lot easier for you regarding access. As we grow older, our bodies grow old as well. Our mobility becomes less responsive. So, getting out of bed becomes hectic. This oversight is resolved by box spring beds. Irrespective of what size you order, the box spring beds are bulky. As for the design element, the box spring beds can easily blend with any traditional home décor as they come in neutral colours.
Cost
Tender Sleep Furniture sells the Single Divan Bed base for £79 without any attachments. So, in truth, the box spring beds is not only affordable but cheaper as well. The price can increase if you add the various attachments to the box spring beds. These extras help enhance the overall feel and provide you with options such as,
Adding drawers will enhance your storage options. You have the option to add two to four drawers.
A headboard adds support for your head and neck. Prevents abrasion and looks nice.
Chrome Legs add a flair to the box spring beds. This means that the legs will not scratch either of your surfaces.
In general, the cost to purchase a box spring beds are far cheaper than you can imagine.
Grounded Beds

A grounded bed is a bed of solid wooden frames which comes with wooden slats. The spacing within the slats determines the overall strength of the grounded bed. Having gaps in slats helps enhance the overall feeling of the grounded bed. The plush velvet heaven bed by Tender Sleep Furniture is the perfect answer for a grounded bed. It brings classic design and modern aesthetics to your bedroom for no extra cost. It comes with a high footboard and a high headboard.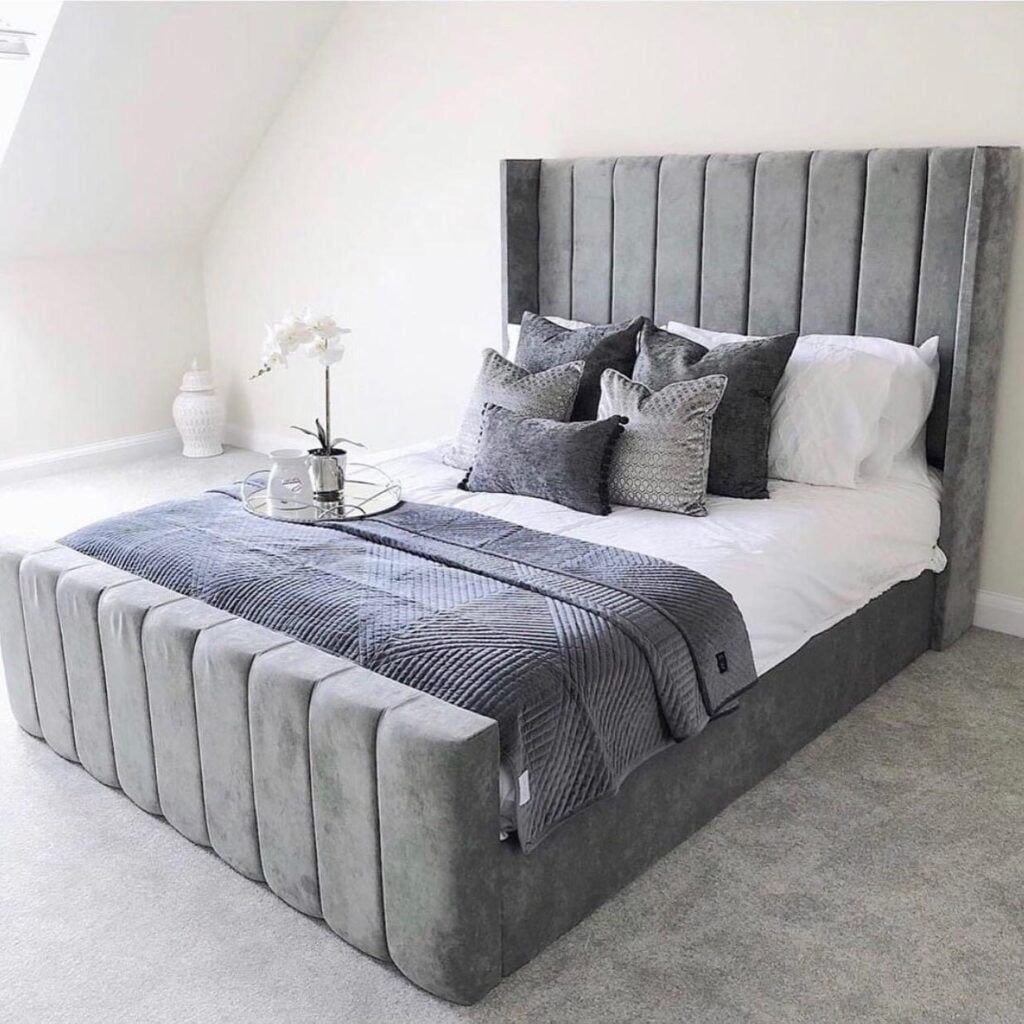 Sustain
Grounded beds come with solid slats as their base. A slatted base is perfect for these kinds of bulky beds. They provide the much-needed support and can support heavy mattresses as well.
Toughness
The plush velvet Lucy bed comes with a durable bed base. Without the use of spring coils that happen to wear down in time, the grounded bed with solid slats can last with you for decades to come.
Suitable
The plush velvet Lucy bed from tender sleep furniture is compatible with all mattress types that are available in the market today. It can accommodate mattresses that we don't offer. Orthopaedic mattresses are the best course of option for a firm mattress. The cost to purchase a grounded bed such as a double plush velvet heaven bed is £219. This value adds all the necessary attachments which include the headboard, footboard, and chrome legs.