If you want to modernise your bedroom while making the most of available space, the Berlin Sliding Mirror Wardrobe is the perfect addition to your home. With a wealth of benefits that will fundamentally alter the way you live, this gorgeous piece of furniture seamlessly blends style and usability. We'll go over the qualities, benefits, and justifications for why this item ought to be your top pick in this blog.
Mirror Sliding Wardrobe: Touch of Sophistication and Elegance
A stylish and useful addition to any bedroom is a mirror sliding wardrobe. The sliding doors on this style of wardrobe have mirrored panels, adding both functionality and aesthetic appeal. The mirror not only fulfills its primary function of reflecting your image, but it also gives the impression that there is more space, making the room appear bigger and brighter.
Moreover, due to the lack of additional clearance needed for opening, sliding doors are more space-efficient than conventional hinged doors. For bedrooms with limited space, this is a great option. In addition, the mirrored panels give the overall bedroom decor a touch of sophistication and elegance, enhancing the space's aesthetic appeal.
Optimization of Space
Maximising each square foot is essential in modern homes, where space is frequently at a premium. The purpose of this piece's design was to maximize available space. The sliding doors are perfect for smaller bedrooms or apartments because they don't require additional floor space to open and close traditional wardrobe doors. The wardrobe's modern and functional design allows it to fit into any space while still offering plenty of storage without taking up too much room.
Design with Style and Elegance
This wardrobe is a real conversation piece that gives your bedroom a touch of class. The mirrored doors function as a full-length mirror and reflect light, giving the impression that the room is larger. The room doesn't need an additional standalone mirror with this dual-purpose feature. The wardrobe is a versatile option that complements a variety of interior styles due to its clean lines, modern finish, and minimal aesthetics.
Sliding Wardrobe with Mirror: Visually Appealing & Functional
For any bedroom, a sliding wardrobe with mirror is a functional and fashionable storage option. It updates the aesthetic of the space with its sleek and modern design. The wardrobe's sliding doors are not only aesthetically pleasing but also very practical. Your clothing and belongings are easy to access as they glide along a track.
Similarly, a 2 door wardrobe bedroom set adds convenience because you can use it to get dressed or check your appearance without using the additional mirror in the room. You can select the wardrobe that best suits your storage needs from a variety of sizes and configurations available for this type.
Solutions for Ample Storage
Storage is one of a wardrobe's main functions, and this piece does it exceptionally well. The wardrobe has a number of cleverly created compartments, including shelves, hanging rails, and drawers, providing you with specialised storage options. Having designated areas for various items makes organizing your possessions a breeze.
Enhanced Viability
By including useful features that improve usability, this item goes beyond conventional wardrobe design. This makes it easy to access your clothes and other belongings—even in small spaces. The mirrors on the doors also give a useful full-length reflection and give the impression of depth, which makes your bedroom seem bigger and brighter.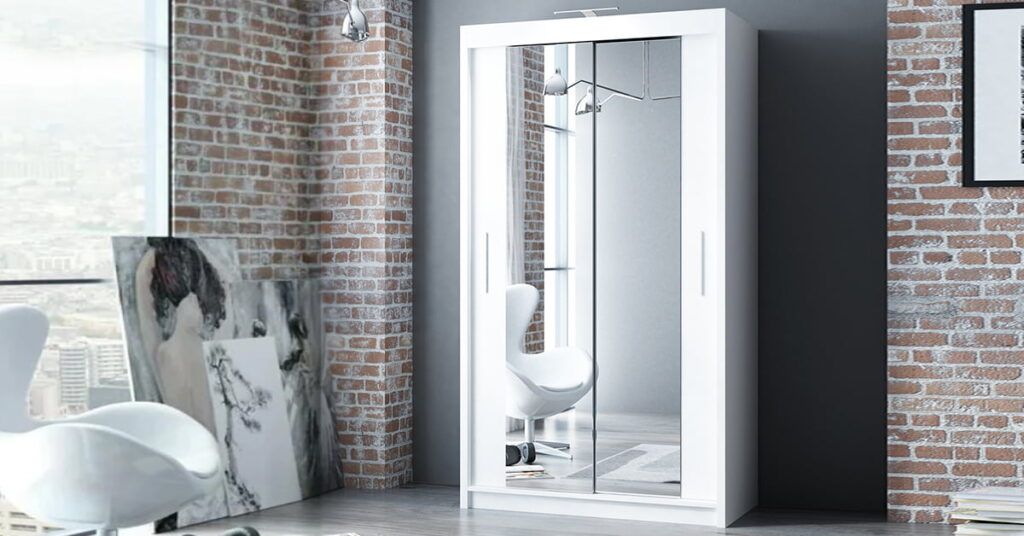 Durability and Longevity
A wardrobe is an investment that will pay off in the long run because it is made to withstand the test of time. This wardrobe offers durability and sturdiness because it is made of high-quality materials. The sliding mechanism is made to be used frequently, ensuring years of trouble-free operation. It guarantees longevity and is a worthwhile investment due to its sturdy construction and fine craftsmanship.
Conclusion
This wardrobe is in the lead when it comes to fusing fashion, utility, and space efficiency. With its contemporary style, roomy interior, and useful features, this wardrobe provides the ideal solution for contemporary living. A well-organized and aesthetically pleasing space will replace your cluttered bedrooms. Experience the joy of a chic and useful storage solution by upgrading your bedroom.