The selection of the ideal bed and mattress is essential if you want to enjoy a peaceful sleep. One alluring option that provides unrivalled comfort and support is a single divan bed with a pillow top mattress. We will examine the many advantages of this sleep heaven in this extensive blog post, illuminating why it's a superior choice for a restful slumber.
Luxury Single Divan Bed
A single divan bed without a mattress can be a great option if you are looking for a simpler and more portable solution. Your preferred mattress will have a strong foundation thanks to the sturdy base and wooden or metal frame of this type of bed. Without the included mattress, you have the choice to choose a mattress separately and customize it to meet your unique comfort requirements.
Similar to how you can complement your current bedroom decor with this piece thanks to the range of styles and designs available. Furthermore, some models include built-in storage options like drawers or shelves that can help you keep your bedroom tidy and organized. It is a practical and convenient option for any bedroom due to its space-saving features and customizable mattress options.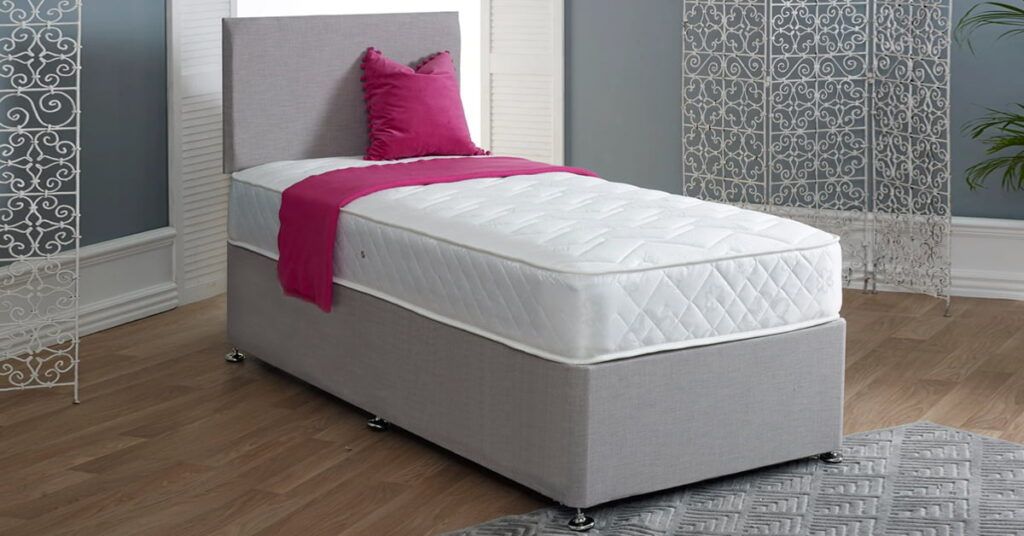 Single Divan Beds with Storage
A single divan bed with storage is the best choice for people who value practicality and making the most of their bedroom space. The storage compartments, which provide enough space to store clothing, bedding, and other items, can help you maintain a tidy and organized bedroom.
However, you can choose the number and arrangement of storage compartments based on your specific needs because there are so many different types of single divan beds available. If you have a small bedroom and need more storage or just want to make the most of the space you have, it is a stylish and practical option.
Single Divan Bed with Mattress
A single divan bed with pillow top mattress is a useful and adaptable sleeping option for people who place a high value on comfort and usability. A solid base, typically made of wood, and a welcoming mattress made especially for single-sized beds make up this kind of bed. However, the divan base gives the mattress excellent support and frequently has built-in storage options, like drawers or ottomans, allowing you to make the most of your bedroom's space.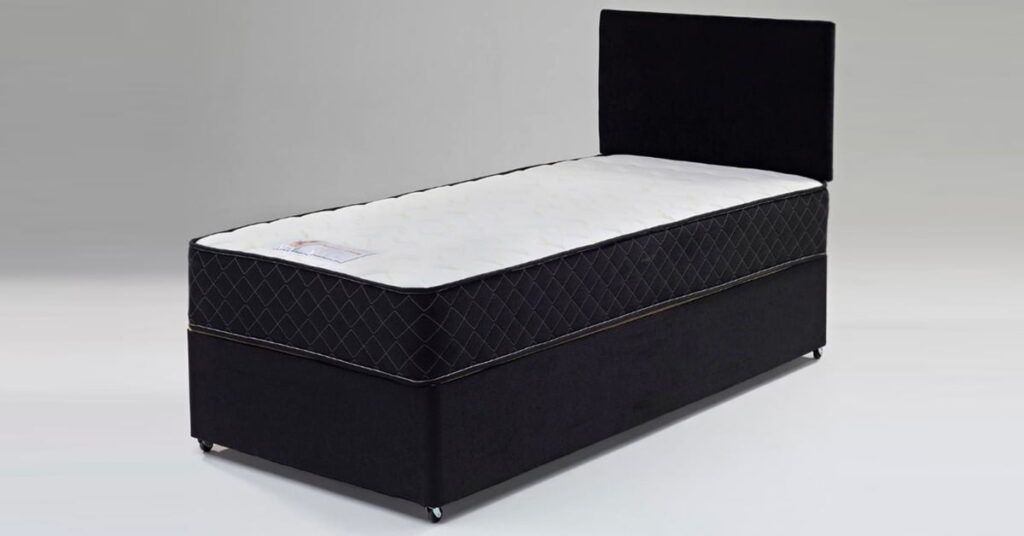 Likewise, you can select the firmness or level of softness that best suits your preferences from a variety of mattress options. It offers a full sleep solution in one unit, regardless of whether you prefer a memory foam mattress for pressure relief or a pocket sprung mattress for enhanced support.
Unrivalled Comfort:
It creates a sleeping environment that is like no other and a haven of comfort. In fact, the plush pillow top layer cradles your body and serves as additional padding to relieve pressure points. It adapts to the shape of your body, ensuring ideal spinal alignment and lowering the likelihood of aches and pains.
Enhanced Support:
It provides the best support to encourage restful sleep. Your weight is distributed evenly, and there is less motion transfer, thanks to the sturdy divan base. The pillow top mattress provides an additional layer of support, helping to align your spine and reduce the likelihood of back issues.
Superior Durability:
Your ability to sleep well over the long term can be improved by purchasing this piece. These beds are made with top-notch components and expert craftsmanship, which guarantees their sturdiness and longevity. The mattress's superior construction aids in preserving its shape and integrity over time, keeping its comfort and support for years to come.
Optimal Temperature Regulation:
The right temperature is essential for getting good sleep. Excellent breathability is provided by the mattress' pillow top layer, which allows air to move freely and successfully controls temperature. This feature ensures a comfortable sleeping environment all year long by keeping you warm during the colder months and preventing overheating on warm nights.
Reduced Motion Transfer:
The movement transfer that occurs when two people share a bed can occasionally cause sleep disruption. This problem is reduced to a minimum by using this mattress. To minimize disturbances from tossing and turning and guarantee uninterrupted sleep for you and your partner, the sturdy divan base and the pillow top layer work together to absorb motion.
Convenient Storage Options:
Space-saving options are always beneficial, especially in modestly sized bedrooms. Integrated storage features like drawers or ottoman bases are frequently included with a single divan bed. These are an excellent option for those looking for both comfort and functionality because they offer a clever and organized way to organize your bedroom and make the most of the space.
Allergy-Friendly:
It can be a great option for people with allergies or sensitivities. The pillow top layer of the mattress serves as a barrier to guard against the buildup of dust mites and other allergens inside the mattress. The divan bed base also provides a stable surface that is uninhabitable to dust mites, guaranteeing a cleaner and healthier sleeping environment.
Conclusion:
Hope, this blog can assist you in making your bedroom a tranquil retreat so you can sleep soundly. From unmatched comfort and support to superior durability and allergy-friendly features, this exceptional combination offers a variety of benefits that meet your sleep needs. When you invest in the ultimate sleeping oasis, you will experience luxury and relaxation every night.