This wardrobe is an excellent piece that enhances the beauty of your room. It provides enough space so that you can keep your clothes, shoes, bags, accessories and much more inside this wardrobe ensuring that your room stays well-organized. The attractive look of this wardrobe enhances the grace of your room, and it comes with a full-length mirror and optional LED lights. Customers gain more benefits, better illumination and long-lasting appeal by including LED lights in their wardrobes. The mirror sliding doors provide a magnificent eye-catching view, so you can view your outfit from head to toe; therefore, many people desire to have this wardrobe. However, due to its maximum storage capacity, it also provides the necessary options and enough space that you need. This super functional wardrobe with quality sliding mirror doors had a premium feel once you use it.
Attractive Features of the Wardrobe:
The attractive design of this wardrobe helps you to easily glide through the doors with a sliding mirror wardrobe that provides multiple options such as, it has multiple shelves, drawers, and hanging rails, so you can keep your precious things well organized; it will help to reduce your extra storage capacity issue, which is something everybody wants. This wardrobe helps you to decorate the overall look and style of your bedroom.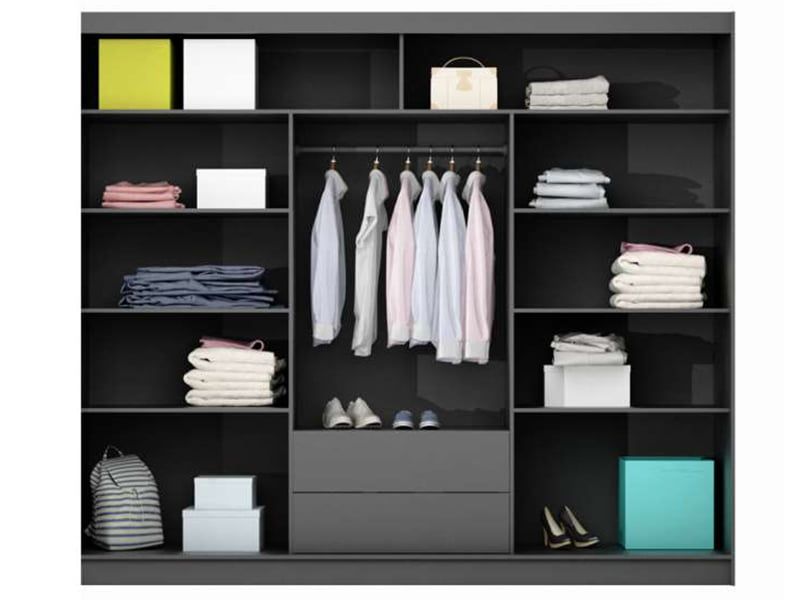 This kind of attractive wardrobe is highly in demand. Paris Lux Wardrobe has multiple features available, firstly, It helps you to easily select clothes, and shoes that you require. Moreover, it helps you to eliminate such clothes or accessories that you don't need. The contemporary storage solution saves space and adds more elegance and an aesthetically pleasing feel to your bedroom. Indeed, this wardrobe is cost-effective, and everyone can easily buy it. The long life of this product, as well as the affordable price, makes it more precious.
Anti-Scratch Full Length Front Mirror:
This wardrobe comes with an anti-scratch full-length sliding mirror, therefore, the sliding mirror on the door is the epitome of richness. Prominently, this feature allows the customer to checkout his new clothes from head to toe. The glass at the front door is the most attractive feature. Moreover, it fulfils the customer's desire for dressing and control in front of the wardrobe for better clothing selection. A sliding mirror's wardrobe also provides the necessary light reflection in the room for added brightness because a mirror can make a room look more comfortable and brighten it up; therefore, the Paris lux mirror sliding door wardrobe comes with optional LED lights that illuminate your room.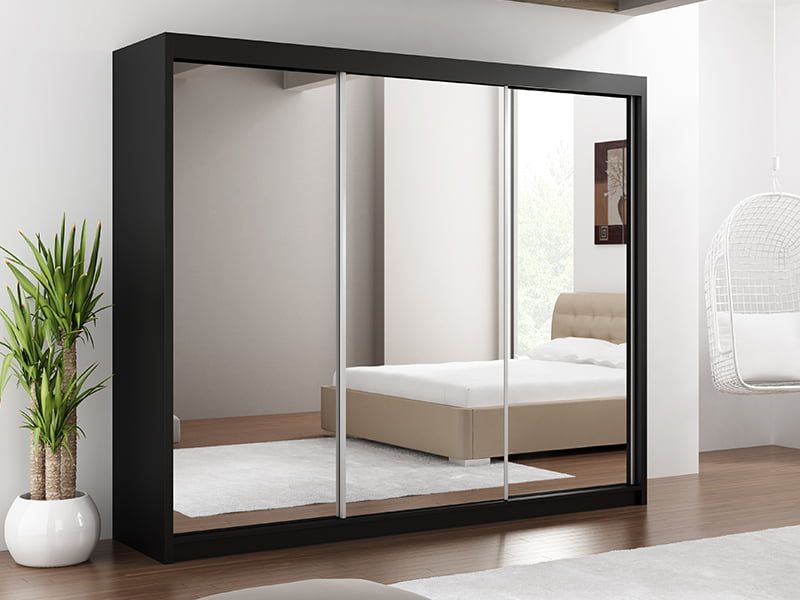 Advantages:
There are plenty of advantages the Paris lux mirror sliding door wardrobe offers; it is the most ideal mirror sliding wardrobe with multiple storage solutions, even for rooms that have limited space. This product is also available in different attractive designs and colours, currently, it is available in gray, black and white colour, so that will help to increase the decor of your room interior. Once you buy this product, you can bring new meaning to the luxury with this phenomenal sliding mirror. This product provides an amusing feature that would complement and decorate the look of your bedroom. Colours reflect the personality of a person who buys these kinds of luxury products and that is why we offer a wide range of colours to reflect the style profile.
These types of objects are the desire of many customers. Especially women who are keen observers, and they love to buy these kinds of lavish mirror sliding wardrobes. The glamorous look of this product can elevate any room. Keep in mind that a beautiful wardrobe is a perfect way to add more glam to your interior.
Quality and Affordability:
We don't compromise on the quality and affordability of this product, which is why we revolutionized this wardrobe by adding more features to make it more environment friendly. This sliding mirror wardrobe is a reflection of luxury with a great price perspective to offer affordability with more value on a limited budget.
The utility and look of this wardrobe say it all. The interior of the wardrobe contains 1 hanging rail in standard. 12 shelves are provided to fulfil the storage needs of the customer and keep things in an organised manner. A customizable option for the drawers is also offered in this wardrobe. The wardrobe can be assembled by following the instructions that are given with the box in the instructions manual. It is easy to assemble and is delivered in 4 flatpack boxes. All the safety standards are met for the manufacture of the wardrobe that make it compatible with the safety standards of the UK. i.e, UK Fire Safety Compliant. The dimensions of the Paris lux sliding wardrobe are mentioned below.
| | | | | | |
| --- | --- | --- | --- | --- | --- |
| Width | Height | Depth | Left Compartment | Middle Compartment | Right Compartment |
| 250 cm | 215 cm | 61 cm | 85.5 cm | 72.6 cm | 85.5 cm |