People who want better sleep after an exhausting day will find a faux leather bed to be a peaceful heaven. It will make your room's interior more opulent and decent. It is perfect for your room and has distinguishable features. The eye-catching design provides the best possible balance of fashion and comfort. The superiority of this item speaks for itself. Having complete relaxation available can increase the living space's comfort. The leather finish on this item enhances its glitz and appeal.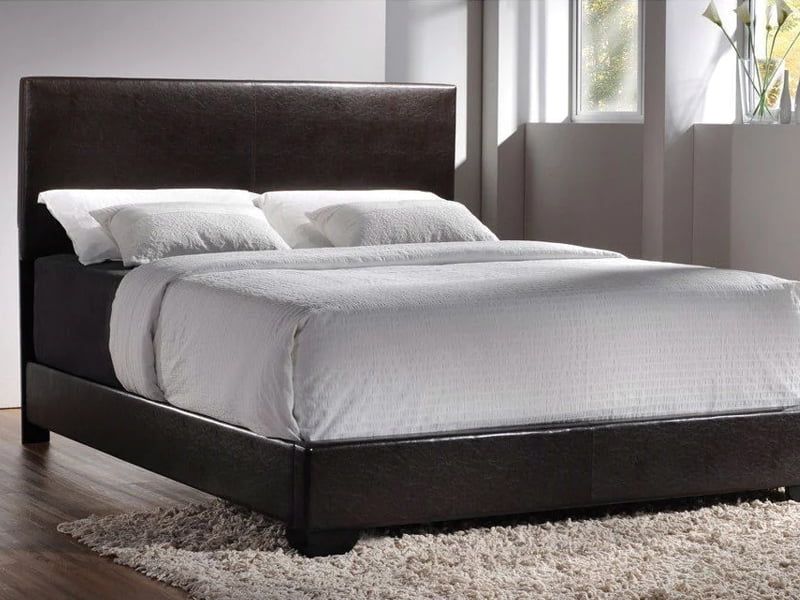 Opulent Design Parameters Faux Leather Bed:
A stylish element of your contemporary living style, the faux leather bed has a sophisticated design. Your bedrooms will complement a variety of interiors thanks to the bed's intricate stitching. It offers comfort and allure while emanating simplicity. This product offers the highest level of flair while blending in with modern interior design. Its current design allows it to be used in all types of living rooms.
Premium Quality Upholstery:
Enhance the beauty of your room with our faux leather bed frame that combines comfort and opulent decorating flair. It has an enduring quality and complements a wide range of furniture and decorating styles. This bed frame offers a variety of features to withstand the test of time. The optional mattress for the faux leather ottoman bed makes a wonderful addition to any bedroom. It blends seamlessly with any bedroom's decor thanks to its simple yet elegant style.
With the extremely stylish faux leather upholstery of the bed, you can design a cosy and distinctive bedroom. You must have this opulent item to increase the amount of love in your bedroom. Overall, we are selling this masterpiece for a great deal less than elsewhere. The padded leather headboard is a wonderful focal point that will enhance any bedroom.
Sturdy Frame:
We make the bed frame's base with high-quality material and include sprung slats for airflow through the mattress. Four substantial wooden legs, one on each corner, provide support. It is appropriate for all of your tastes and has a regal appearance. This item is for you if you have an obsession with luxury, style, and comfort. Along with this magnificent piece, we also offer a mattress as an optional extra for a fair price. Alike, to keep you comfortable and cool, the sturdy frame allows air to circulate around the mattress of your choice while providing good shock absorption.
Variety of Colour Options Faux Leather Bed:
The stunning design of this bed will completely transform any bedroom. It features a square headboard and premium white faux leather upholstery. This adds to the sense of luxury and comfort. Any modern bedroom will benefit from this remarkable bed's glamorous touch. Therefore, the bed frame is available in a variety of colour options, including white, black, and brown, that further add glamour to your room's interior.
Easy Assembly Procedure
We will deliver the bed in flat pack packaging and require the recipient to assemble it. To make things easier, we include an instruction manual in the box. Just adhere to the instructions in the manual to put this piece together. Similarly, customers of Tender Sleep can purchase this exceptional piece for a fair price. The design of this bed is truly divine, and words cannot express the majesty of it. We ship our faux leather double bed to every corner of the UK and it enjoys high demand.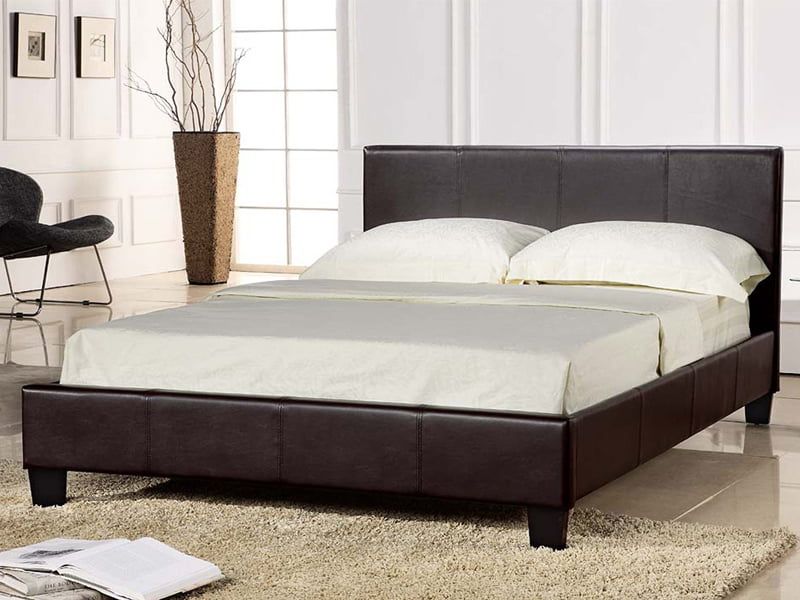 Stainless Steel Components
As previously mentioned, it comes with a straightforward instruction booklet that makes assembly incredibly simple. Hence, a timeless design never goes out of style, and this bed frame is no exception. In general, it has stainless steel accents and a headboard made of padded leather. We offer a wide range of optional mattresses with this amazing piece to save your space and time. You can get a lot of home furnishings at a discount by visiting our website.
Innovative Style
There are numerous colour choices for every variety at Tender Sleep. Make a wise choice of bed because the amount of time you spend sleeping can significantly affect how you live your waking life. Therefore, the mattress you choose to sleep on speaks volumes about your lifestyle. The bed is an accurate representation of your lifestyle's comfort and luxury. Our affordable, high-quality bed will improve the comfort, class, style, and decency of your room.