Tender Sleep justly regards the Shannon sofa set as one of their finest masterpieces. This product has the charm to amplify the grace of your room. This item can enchant anyone with its adorable appearance. This piece uses chenille fabric and leather upholstery to make it more comfortable and classy. It makes it more attractive and comfortable. The cushions on this sofa set are proof that sometimes simple designs are perfect for adding a style element to the product. These cushions provide comfort and softness that make you feel more relaxed.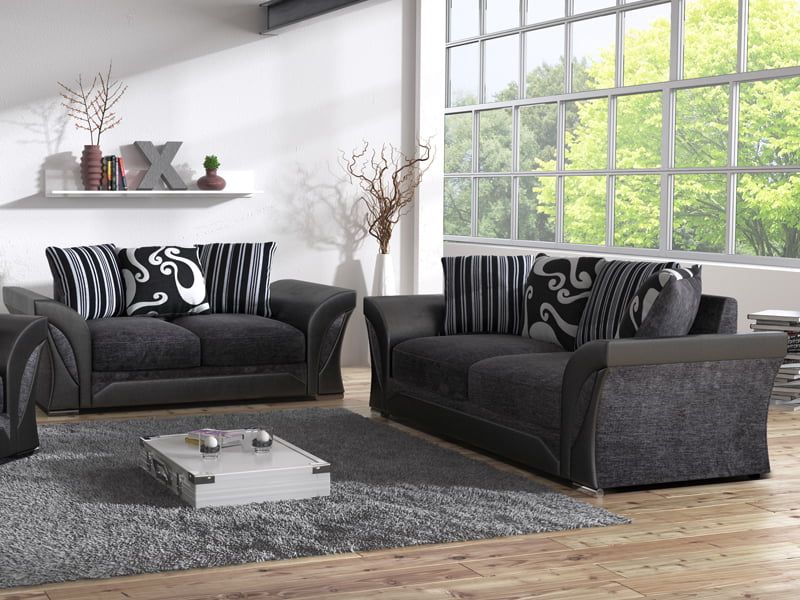 It allows everyone to feel the luxury in their living room. With just one glance, this item draws everyone's attention to your room and ups its glamour factor. The glory of your room is enhanced by adding a Shannon sofa set, which offers comfort and a luxurious feel for bringing style to your room. We offer this exceptional piece in black and grey colour. The black colour reflects power, which adds authority to the theme of your living room. The neutrality is added to the overall theme of the living room with the grey colour of the Shannon sofa set.
Opulent Look
The beauty of this piece is its opulent look, which leaves a long-lasting impression on guests. This will be the most comfortable piece for you to enjoy. This contemporary sofa will modernize your space. The luxurious cushions provided with this product add an extra perk for enhanced comfortability. This deal comes with a variety of options. The base is stabilized by the sturdy wooden frame, and this product looks great from every angle thanks to the chrome legs.
7 Interesting Features
Upholstery: The material used to cover the surface of a sofa, such as leather and velvet.
Frame: The internal structure of a sofa, typically made of wood or metal, that supports the cushions and gives the sofa its shape.
Cushions: The padded sections of a sofa, which provide comfort and support for sitting.
Arms: The raised sections of a sofa at either end, which provide support and a place to rest one's arms.
Legs: The supports that hold the sofa off the ground, which can be made of wood, metal, or plastic.
Seating capacity: The number of people that can comfortably sit on a sofa, which is typically two to three but can be more for larger models.
Functionality: Additional features such as recliner, sleeper, chaise and storage options.
Design Parameters
Therefore, it is a premium piece that is available at a reasonable price. The room has a classic aesthetic, which is enhanced by the traditional design, chenille material, and wooden frame.It is the perfect choice for you. It is a modern and contemporary design with a mix of luxurious chenille fabric and faux leather that will make a statement in any living space. With deep seating and casual modern styling, this sofa combines trendiness with comfort. Our happy customers are grateful to "Tender Sleep" for offering such a high-calibre piece at such a reasonable price.
Premium Quality Fabric
This piece will fulfil the rooms' decor and provide softness, durability, reliability, and affordability. This item draws attention to itself and enhances the aesthetics of the room. The zipped cushions are provided for extra luxury. The instructions are fairly simple; one can easily assemble this whole piece within a couple of minutes.
Free Express Delivery
Deliveries of the Shannon 3+2 seat corner sofa are available all over the UK. This classical, premium-quality piece can steal the show. This product is easy to keep clean; we make it a family-friendly sofa option. The silver swirl and striped cushions add a striking pattern and style to liven up any living area. The sofa's contrasting colours help to improve the room's appearance.
After a long day, the perfect place to relax in front of the TV is provided by this sofa's serene appearance, which gives it an extra special feel. The Shannon sofa set's thick back and seat cushions give you and your guests the maximum level of seating comfort. The vibrant and purely aesthetic style of this sofa is appealing. The 3+2 seater sofa is a suitable piece for every type of modern-style home.
It will add comfort and high fashion to any living space with its rounded, rolling arms and contrasting tones. It's an exceptional, high-quality manufacturing piece available at an affordable range for everyone. The Shannon sofa is a timeless and classic design that gives comfort and a feeling of luxury in every interior arrangement.